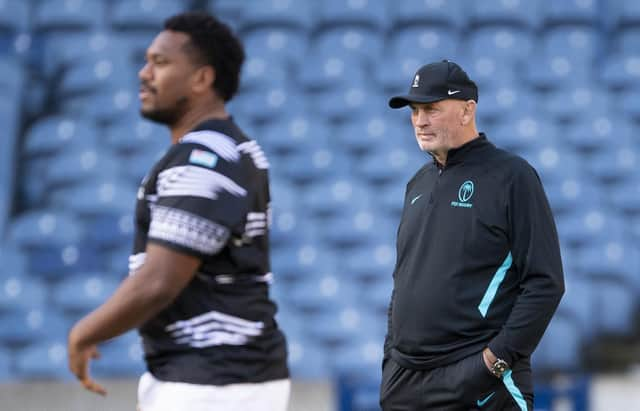 Having led Scotland to within a whisker of the Rugby World Cup semi-finals in 2015 there is a school of thought that believes the SRU were hasty in getting rid of Cotter a couple of years later and replacing him with Gregor Townsend.
Townsend is starting to feel the heat a little after a run of results which has seen Scotland win three from nine this year. The latest loss came at home to Australia last week and the coach knows a win against Fiji is a must, particularly with the All Blacks up next at Murrayfield the following weekend.
The 2023 World Cup is looming on the horizon and Townsend is seeking to avoid becoming the first Scotland coach to be turfed out at the group stage two tournaments running. It's pressure, for sure, but pales next to what is happening in his homeland, insists Cotter.
"I've just come from New Zealand. They lost four games this year. So if you want to talk about pressure, there's some massive pressure down there," said the Kiwi. "It's part of the game. That's why you get involved, you have good days and bad days. When it's good, it's great, and when it's bad, it's terrible. That's just the nature of the game."
Cotter insists he has no hard feeling about being replaced by Townsend five years ago and the fact that he then landed a job with Montpellier which reputedly made him the highest paid coach in the world probably softened the blow. He has enjoyed being back in Scotland this week and is focused solely on preparing Fiji for the World Cup in France.
"I've turned the page. It is five years on and I am well and truly absorbed in what we are doing at the moment," he said. "Myself and my family thoroughly enjoyed our time here, but it is what it is and we just get on and move to the next stage. It's like we say to our rugby players: keep moving to the next job.
"It feels good to be back. I've got great memories of being here. It's a great stadium and it's nice to see some familiar faces."
The coach has picked three uncapped players in his match-day 23, with lock Ratu Leone Rotuisolia starting, and prop Livai Natave and versatile back Sireli Maqala on the bench.
"Sireli Maqala is a young guy who came through the seven programme, who can play most positions in the backline, and having him as a 22-year-old coming off the bench at Murrayfield against Scotland will be a huge moment in his development," said Cotter. "We lost our loosehead prop during the week – snapped his bicep tendon on Tuesday so he has to get operated on – so we Livai Natave, who has never been off the island, getting a crack on Murrayfield, it doesn't get better than that does it? With the excitement of the crowd and the big feeling around these games, it will bring the best out of them."