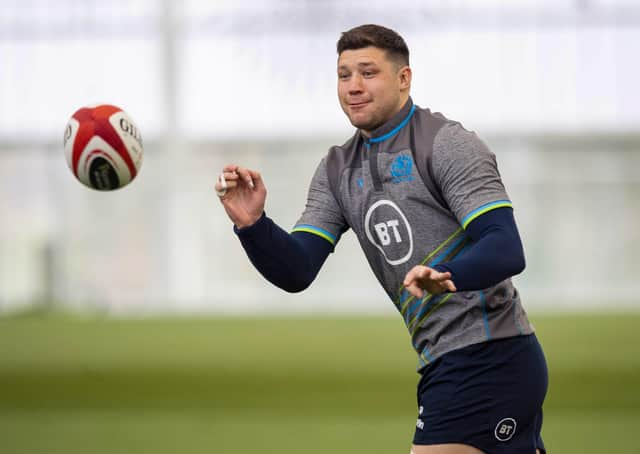 Lock forward Grant Gilchrist has likened this Saturday's match against Wales as a "cup final" as Scotland have the chance to end this prematurely halted phase of the Six Nations on top of the table.
Of course, it comes with the caveat of the current coronavirus crisis which has led to three matches – Ireland v Italy, Italy v England and France v Ireland – being postponed.
That said, if the Scots could end their 18-year drought in the Principality and leapfrog the English and French heading into the unfortunate abeyance, it would mark a remarkable turnaround after two, albeit narrow, opening defeats which had put pressure on the players and head coach Gregor Townsend.
"There are no bigger games than cup finals and this is like one. It is a straight shootout against them," said Gilchrist of the Wales clash. "If we lose, they finish above us. If we win, we finish above them.
"So it is an exciting time to go down there and leave nothing out there at the end. A chance to win three games would help us build so much momentum."
It would be the first time Scotland had won three championship games in a row since the old Five Nations campaign of 1996.
"I didn't know that. And the first time in the Six Nations, which shows how big a achievement that would be for us to win three in a row and something for us to be really proud of," said the 29-year-old Edinburgh second row.
It would also mark a satisfying end to a tournament which began in disappointment for the man who ended last year's World Cup as first-choice in his position but was left kicking his heels in the first two matches as Townsend preferred Scott Cummings, Jonny Gray and Ben Toolis in the second row.
Gray's injury led to a bench appearance in the 17-0 win in Rome but Gilchrist was back in the starting XV for Sunday's brilliant 28-17 win over France at BT Murrayfield and put in an impressive performance. "I've been champing at the bit to be involved so it was a big opportunity for me," said the 42-times capped lock. "Like every time you get to be involved with Scotland, you try to make the most of it.
"I think a strength of mine is playing with that edge so I always try and bring that out in myself. Spending a bit of time out of the team or fighting for your place just makes you better. Competition makes you better.
"I've been fighting tooth and nail in training but nobody gets to see that. Just when you get that opportunity, you get the chance to show you can put it out on the pitch.
"I was as hungry as ever and I know that to keep my place in the team, I need to be like that every time I put the jersey on, it's pretty simple for me."
Despite his shock dropping at the start of February, Gilchrist never had any doubt that he would feature at some stage in the campaign.
"I always believed I had attributes that I could bring to the table for the team – I was always pushing hard and I believed I could force my way in this tournament."
A considered, intelligent speaker, Gilchrist would never claim to be the "joker in the pack" but said his spirits had remained high during his time on the outside.
"I always try to be fun to be around. I'm not always the best craic but I always try to put something out there. It might not be funny but I try to keep the boys laughing," he said with a smile.
"I've been around the block and I've always had to fight for my place and I think that's a good thing.
"Throughout my whole career, there's never been a spell when I've been a guaranteed pick, I've always had to fight tooth and nail so I'm pretty much the same off the field and I fight the same way I always do. So it hasn't changed me too much.
"I felt, coming into the tournament, my form was pretty good with Edinburgh but I was also aware that we're blessed with quality players in my position and they were also playing well.
"Sometimes you've just got to take that on the chin and wait for your opportunity. Sometimes you do just have to wait, it's not always about how you're playing, it's about how other guys are playing and what the coaches want."
Good communication lines with management ensured Gilchrist never felt cast adrift.
"Gregor is pretty good – he said straight away he thought I was playing pretty well and that I'd get an opportunity at some point so I just needed to be ready to take it," said Gilchrist.
"I was just contributing as much as possible to the team performance so I was involved a lot in the first couple of weeks with lineouts and stuff, making sure the guys were really well prepared for the games, which is something I'd take pride in anyway.
"If you're not involved, you have to be engaged and that counts for just as much."
Subscribe to The Scotsman for unrivalled Six Nations coverage
The Scotsman is the best place to read the most insightful Six Nations reporting and analysis from our award-winning team of writers. And the only way to read more than 5 Scotsman articles per week is to sign up for a digital subscription, starting at just £1 per month for the first 3 months. Visit www.scotsman.com/subscriptions to find out more.