'Talk is cheap': Jamie Ritchie hits back at Dan Biggar over pre-match jibes as Scotland show Wales their Six Nations credentials
Scotland captain Jamie Ritchie hit back at Dan Biggar's pre-match comments about his team by saying "talk is cheap" following the 35-7 victory over Wales at BT Murrayfield.
Biggar suggested in his pre-match press conference that Scotland were being overhyped ahead of the duo's Six Nations meeting in Edinburgh and questioned how many medals they had won, saying: "Scotland played well last week against England but according to you guys they are the best team around aren't they? We'll have to see how they go on Saturday, and let's see if they can back it up because the pressure is all on them." But it was the Welsh fly-half who was left licking his wounds at full time as Scotland ran in five tries and steamrollered their bedraggled opponents in a ruthless second-half display.
Claiming he had not heard of Biggar's comments until after the match, Ritchie said: "I didn't know he has said anything like that but talk is cheap. We have not won anything yet, we have won two games and we are just looking forward to performing well against France. They have had medals in the past but he can say what he wants."
Ritchie was part of a pack that dominated the Welsh, but the majority of the plaudits went to Scotland's No 10 Finn Russell, who put in a sensational display and directly assisted three of the scores. "Finn is a world class player, if we as a team perform well then we give ourselves a platform to allow Finn to play his best rugby," said the skipper. "We have guys who he can put into space and finish off opportunities. He is great but it's also a team effort, we have to put him in position and give him the stuff which he thrives on. It's very much a team effort, we are in a good place and we have plenty to improve on. In the first half we could have executed a bit better but we are delighted with that win and now it's on to Paris [the match against France on February 26].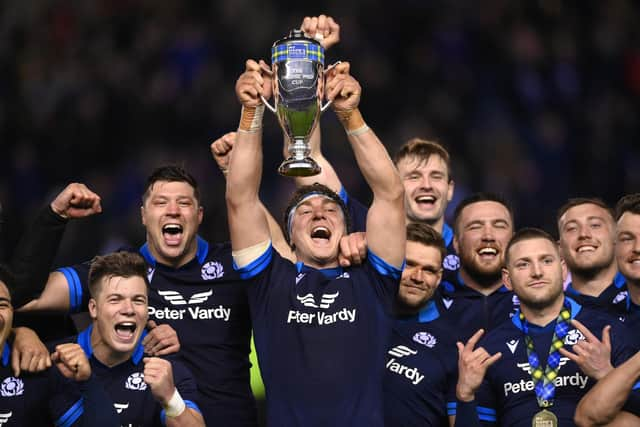 Winger Kyle Steyn was the direct beneficiary of Russell's magic. His second try came from a crossfield kick but the first try and a real moment of ingenuity as the Racing man offloaded with one hand as he was being tackled. Steyn could not be more effusive of the fly-half's invention.
"Amazing, eh?" Steyn said of Russell. "You've just got to expect anything when you are with him. That's what I learned through training and playing a couple of games with him. Whenever he's there, you just try and hover in and around and tend to get something. The problem is that he plays like he's got so much time on the ball. I just want the ball now! So it's more a case of holding my feet, that I don't overrun him. Just give him time to do his thing. We feel like we've got really good momentum and his decision-making around that area of the pitch is world-class."