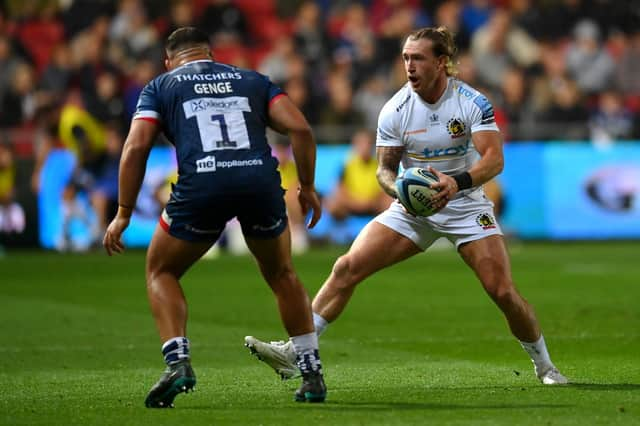 Hogg will look to help the Gallagher Premiership outfit win the Heineken Champions Cup, just as they did in 2020, before signing off on life in Devon, and Baxter admits that he was originally caught off-guard by the former Glasgow Warriors player's choice before coming to understand it better.
"I have to say that when he first talked about it (retirement), it was a bit of a surprise – yes," said Baxter. "But then when he talked about the reasons for it, what he wanted to do and how he wanted to achieve the end of his career, it made a lot of sense. He did take a period of time. It wasn't a snap decision. It was largely based – for all the right reasons – on his enjoyment of the game.
"I think he just really wants to have a period when he can relax and enjoy it and not worry about the state his body is going to be in, in six months' time, but get on and maximise everything now, in the last stage of his career. He is someone for whom enjoyment has always been a key factor in playing. If that starts to get tougher because of your physical condition, it takes a lot out of the whole point of playing rugby. I think that is really the decision that Stuart has come to."
Exeter take on Montpellier outfit on Sunday in the last 16 of the Heineken Cup and their hooker, Luke Cowan-Dickie, is to join the French Top 14 outfit at the end of the season. However, he is currently sidelined by an ankle injury, with no timescale yet as to when the England international will return.
"He is having an assessment today, which will give him some guidance about how the injury is recovering," Baxter said on Cowan-Dickie's condition. "The RFU (Rugby Football Union) are also investigating various things to see if there is anything they can do to speed up his recovery, because obviously they are concerned World Cup-wise. Everything is being poured into it, and I feel a bit sorry for the guy because he is a bit like a live experiment for everybody, really.
"He is in a period of recovery, and there is nothing saying definitively here and now that he won't be fit by the end of the season, but there is also nothing saying definitively that he will be. There is nobody at the club who wants Luke Cowan-Dickie to be fit more than me, because when he's walking around he is an absolute nightmare when he is not playing! He is like a caged lion at the moment, prowling around, trying to get on with things. If he he can get fit for us before the end of the season and before the World Cup, he will be flying."