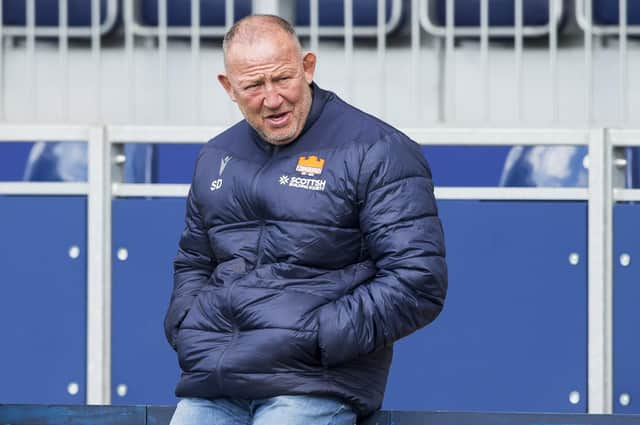 Diamond, an experienced operator who has coached Sale, Saracens and Worcester, has agreed to oversee the start of the team's pre-season programme. Mike Blair announced on February 24 that he was stepping down as Edinburgh head coach at the end of the season after two years in charge but the process of appointing his replacement looks like stretching into six months. Diamond was brought in by Edinburgh in March as 'lead rugby consultant' to work alongside Blair, initially until the end of the season. Part of his remit is to compile a report on the state of the club and Diamond promised it would be "warts and all".
Edinburgh suffered a disappointing 2022-23 campaign, finishing 12th in the United Rugby Championship, five places worse off than the previous season. It meant they missed out on the end-of-season play-offs. Douglas Struth, the club's managing director, said they would not be rushed into appointing Blair's successor. Edinburgh announced on Tuesday that their forwards coach, Stevie Lawrie, had signed a new one-year contract, and also that Michael Todd, the defence coach, was staying with the club. However, Gareth Baber, the assistant attack coach, has left.
"The quality of interest in the head coach role has been excellent," said Struth. "While we would hope to conclude this process very soon, it is important for the future of the club to get this right, and not to rush. For that reason, Steve Diamond has agreed to oversee the start of our pre-season programme until at least August. This allows us to take the necessary time to appoint a permanent head coach, safe in the certainty and security that a coach of Steve's quality and experience is leading from the front meantime, accompanied by the stability of existing assistant coaches Michael Todd and the recently re-signed Steve Lawrie."
Despite the head coach position not being filled, Edinburgh have continued to recruit for next season and have done deals for Scotland internationals Ewan Ashman, from Sale Sharks, Ben Healy, from Munster, Javan Sebastian, from Scarlets, and Scott Steele from Harlequins. They have also signed the Scottish prop Robin Hislop from Saracens. "Our playing group for next season is looking world-class, and around 90 per cent Scottish qualified – an important part of our strategy to ensure that local players can become legends here at Edinburgh Rugby," added Struth on the club's website. He also said that Edinburgh's average home attendance had risen to a record high in 2022-23. Their aim now is to give the supporters more success on the pitch, with Lawrie admitting it hadn't been good enough at times recently. "I'm looking forward to continuing to drive standards next season while improving consistency on the field," said the forwards coach. "We understand performances and results weren't good enough this year. It's now my role to work with the new head coach to ensure Edinburgh Rugby is back competing at the top end of the table."
There is still no clarity on Blair, who sees his future as a specialist attack coach. Whether that will be with Edinburgh remains to be seen, although there is a clear vacancy following Baber's departure.