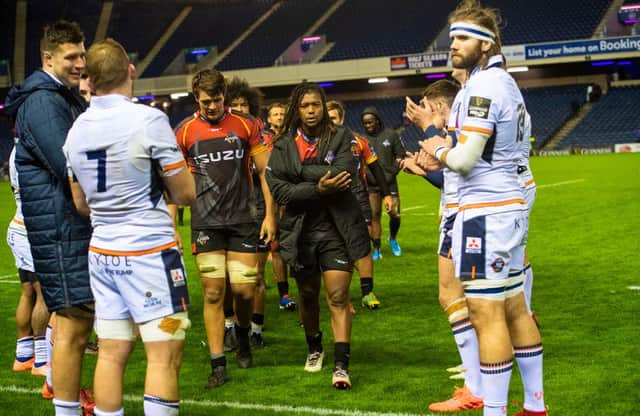 Edinburgh's players applaud Southern Kings after the match at BT Murrayfield back in January. Picture: Bill Murray SRU/SNS
Underperforming South African franchise Southern Kings' future in the Guinness Pro14 looks over after it suspended all rugby for 2020.
With a new season set to to start in October it would leave the cross-border championship, which involves teams from Scotland, Ireland, Wales, Italy and South Africa, the Kings look set to play no part after reporting financial difficulties.
It would leave the new Conference system lop-sided, although both South African sides played no part in the Pro14's return last weekend due to the seriousness of the coronavirus outbreak in that country.
Kings' chairman Andre Rademan said "hard, financial realities" meant their season could not continue.
He added: "We now have time to consider what is the best way forward for rugby in the Eastern Province in this fluid and financially challenging environment."
Rademan added they had "voluntarily withdrawn the team from participation in any planned domestic rugby competitions in 2020" following an urgent meeting on Monday,
Rademan said: "Following several weeks of interrogation of the Kings' financial state of affairs we were left with a straightforward choice.
"We could opt to field the Kings in the domestic competitions mooted by SA Rugby for the sport's post-lockdown resumption if we so wished.
"If we did so, it would require additional loans to the Kings or extra investment from the shareholders to the tune of R6.5m (£295,000), which would add to the organisation's existing substantial debt.
"However, as there was no contractual requirement for the Kings to resume short-term participation in the Guinness Pro14 competition, because of air travel restrictions, and as the Kings had no other commercial commitments to honour, the most prudent decision was to withdraw.
"This may not be a popular decision, but in the current circumstances it is the right decision."
There has been reports of more South African sides looking to join the Pro14, though the Covid-19 situation there leaves things in limbo currently.