If the falling off was unexpected, that was surely to Ireland's credit. Rather a lot has been made of their injuries and the need for replacements, while there has been little mention of the difference Richie Gray's early departure may have made. The departure of Ireland's hooker and then his replacement made little difference , none really to the set scrum. Given that hookers no longer hook, any sturdy prop should have little difficulty in moving to the middle of the front row.
Our claim to be by some way the third best team in the tournament will be valid if we beat the improving Italy whose performances have been better than their results. It's a bit worrying that, without Finn Russell we have no one who kicks goals regularly for his club. This is one area where Italy surely have the advantage.Moreover, while Scotland – and indeed Glasgow and Edinburgh – have tended to spurn opportunities to kick penalty goals, Italy , like France, seem to reckon that an 80 per cent chance of three points from a penalty is better odds than a 60 per cent chance of a try from a rolling maul.
It is unfortunate that the best Scotland team for more than twenty years should have coincided with outstanding Irish and French teams. More worrying , indeed depressing, is that , while Gregor Townsend's team seem capable of further improvement, the more distant outlook is bleak. At under-20 level, a gallant Scotland team lost very heavily to both France and Ireland. These countries seem to have got youth development right. In comparison the SRU appears clueless.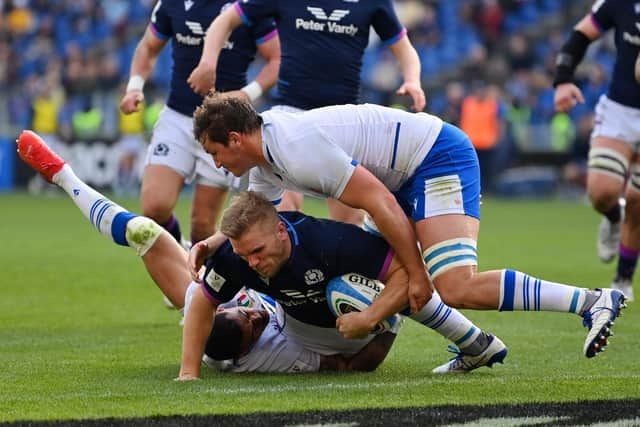 Astonishingly in this respect England seem in much the same condition as us, while their Six Nations' team was thoroughly taken apart by the superbly gifted French. Afterwards I thought that that there wasn't a single English player who would, if qualified, have forced his way into the French XV.
Even while, somewhat shamefully, indulging in taking pleasure in England's humiliation – after all we have received little sympathy south of the Border for some of our very heavy defeats at Twickenham – I felt sympathy for Steve Borthwick who had answered England's call when the RFU belatedly lost faith in Eddie Jones, only to find things were even worse than he or indeed anyone had supposed. Borthwick will put together a decent squad if the RFU stick by him, and he is fortunate that the cock-eyed World Cup scheduling has opened a fairly easy way to the semi-final for England. But, first they have to face the number one team in the world, in Dublin where the Irish haven't lost for a long time, and he has sensibly given most of those battered and bruised by France an opportunity to redeem themselves. Sensibly too he has restored Owen Farrell to the fly-half position, which suggests that at least England will aim to play most of the match in Ireland's half.
What must rile many English fans when they look across the Irish Sea is the size of the English contribution to Ireland's glory. There's the Head Coach and mastermind Andy Farrell, Owen's Dad, and his attack coach Mike Catt, holder of a 2003 winning World Cup medal. Then in charge of almost all-conquering Leinster there is Stuart Lancaster, brutally cast aside by the RFU after the disappointment of the 2015 World Cup. If revenge is a dish to be eaten cold, Lancaster might be excused if he orders a large portion this evening. Then there is also Graham Rowntree at Munster. It would be an exaggeration to say this marvellous Ireland team bears the mark "Made in England", but the English have had quite a hand in its making.
So we come to the last day of what has been a wonderfully entertaining Six Nations. Rugby has its problems – many of them indeed -but the game on the field is in splendid order. Ireland have two challenges today, first obviously to beat England and collect the silverware., second, to put on a show that can match that provided by Antoine Dupont and his Musketeers last week. Now that really will be tough.