They won 26-14 with a bonus point but the final scoreline in no way reflected the agonies the home side put their supporters through in the latter stages before Blair Kinghorn ran in a wonderful hat-trick try, his second treble against Italy in four years. It was a wonderful moment, a gloss finish to a campaign which yielded three victories but saw Scotland play second fiddle to Ireland and France, the world's best two teams. No disgrace in that. Of more concern will be that Gregor Townsend's side came perilously close to losing to Italy for the first time in 12 matches.
They had to endure an incredibly nervy finish, with Italy camped on their line and sensing a first win at Murrayfield since 2015. The visitors trailed 19-14 at that point but had all the momentum. Unfortunately for the Azzurri, they once again lacked the composure to finish things off and when Scotland were awarded the scrum, and then a penalty advantage, they blazed up the field, with a jet-propelled Duhan van der Merwe flying to halfway before playing inside to Kinghorn to finish off a thrilling try. It was a great Murrayfield moment, especially when Scotland could have kicked for touch, but it was cruel on Italy who had brought so much to the game and cut Scotland's 13-point lead to five and looked like they could steal it.
It wasn't to be. Kinghorn, playing at 10 in place of the injured Finn Russell, wasn't entirely convincing but scored three tries. It was that sort of match – you weren't quite sure what to make of it. Scotland's opening try was a brilliant acrobatic finish from van der Merwe but they were never comfortable. Tommaso Allan, a former Scotland age-grade international, scored 11 points for Italy and Paolo Garbisi landed a long-range penalty to put all the pressure on the hosts but Townsend's men held on to get their hands on the Cuttitta Cup.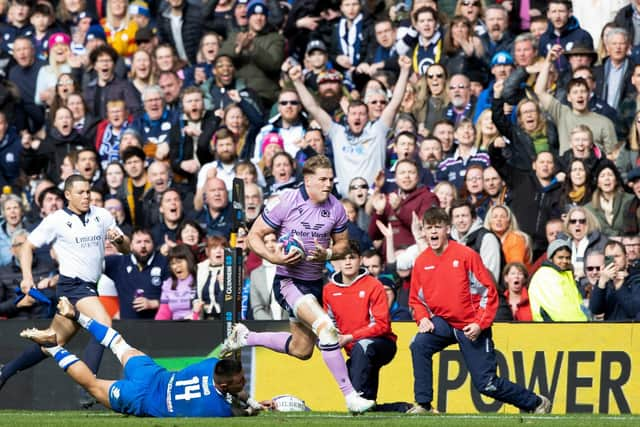 Scotland, in uncharacteristic mauve, were braced for an early onslaught. Italy never lack passion and they threw the kitchen sink at the hosts in the opening five minutes. The Scots conceded a couple of penalties – Allan landed one and missed one – but it could have been worse. Juan Ignacio Brex had the opportunity to play in Simone Gesi in the corner but his pass was wild.
Emerging from the torrid opening 3-0 down wasn't a bad return for Scotland and when Italy were penalised for tackling off the ball the hosts took the chance to venture into their opponents' 22, Kinghorn kicking to the corner rather than for goal, a signal of their intent. Van der Merwe tried to dance his way through on one occasion and then tried a more direct route. Italy stood firm but the big winger was not to be denied. Scotland took a tap penalty close to the Italian line but things were in danger of getting a little ragged until Huw Jones took possession of the bouncing ball and found van der Merwe whose finish in the corner was a thing of wonder. The Edinburgh man was fully airborne, outside the left-hand touchline, but still managed to touch down one-handed despite the efforts of Paolo Garbisi. It was a remarkable try.
Italy edged ahead again when Allan kicked another penalty after Jack Dempsey failed to release but Scotland were dominating possession and territory. Unfortunately, they lacked accuracy inside the Italian 22. George Turner and Ben White both went close as Scotland continued to spurn kickable penalties in favour of going for the corner. As the penalties kept coming, the Scots tried a change of tack, sensing Italian weakness at the scrum. Angus Gardner, the Aussie referee, penalised them for collapsing three times in a row which led to an inevitable yellow card, for Marco Riccioni, the Italian tighthead. Wing Simone Gesi was sacrificed as Pietro Ceccarelli was brought on to fill the gap in the front row but Scotland quickly made their numerical advantage count.
Ben White found Kinghorn from the scrum and the stand-off stepped back inside and scored as Sione Tuipulotu ran the dummy line. Kinghorn, who kicked the conversion to put the Scots 12-6 in front, had a mixed first half, throwing a couple of wayward passes as the home side dominated possession and territory. Their advantage at the interval should have been greater than six points but a lightning break up the right wing involving van der Merwe, Ollie Smith and Kyle Steyn came to nought when Italy managed to get a hand in.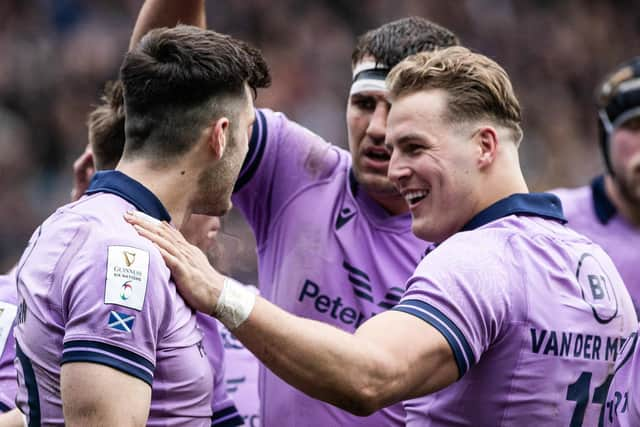 Scotland's third try wasn't delayed for long and once again it was Kinghorn who got it. The forwards did all the graft, Dempsey and Jamie Ritchie carrying hard before White flicked it out to the fly-half. Kinghorn spotted a slight gap between Brex and Sebastian Negri and used impressive strength to force his way through, with his conversion giving the hosts some breathing space at 19-6. But if Scotland thought they were home and dry, they had another thing coming.
Ali Price, on for White, failed to find touch and Italy worked it across the field before Garbisi threaded through a lovely little kick which sat up perfectly for Allan to score. The full-back failed with the conversion attempt and when Italy were awarded a long-range penalty shortly afterwards, kicking duties were transferred to Garbisi who landed it from 43 metres. Suddenly, Scotland's lead had been cut to 19-14 and Italy had the scent of victory in their nostrils. They were battering hard on the Scottish door but the home forwards in particular stood firm and when Italy coughed up a scum in the final moments the stage was set for Kinghorn's bravura finish.
Scorers, teams and cards
Scotland: Tries: van der Merwe, Kinghorn 3. Cons: Kinghorn 3. Italy: Try: Allan. Pens: Allan 2, P Garbisi. Yellow card: Marco Riccioni (Italy) 29min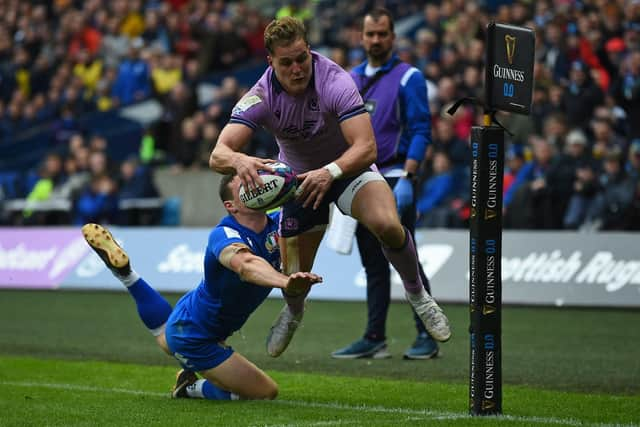 Scotland: O Smith (B Healy 67); K Steyn, H Jones, S Tuipulotu (C Redpath 67), D van der Merwe; B Kinghorn, B White (A Price 59); P Schoeman (R Sutherland 59), G Turner (E Ashman 50), Z Fagerson (WP Nel 70), S Skinner, J Gray (S Cummings 59), J Ritchie, H Watson (M Fagerson 50), J Dempsey.
Italy: T Allan; P Bruno, J Ignacio Brex, L Morisi (M Zanon 70), S Gesi (P Ceccarelli 30-40); P Garbisi, 9. A Fusco (A Garbisi 50), D Fischetti (F Zani 56), G Nicotera (M Manfredi 70), M Riccioni (P Ceccarelli 56), E Iachizzi (N Cannone 22-32; 45), F Ruzza, S Negri (M Zuliani 45), M Lamaro, L Cannone (G Pettinelli 60).
Referee: Angus Gardner (Aus).