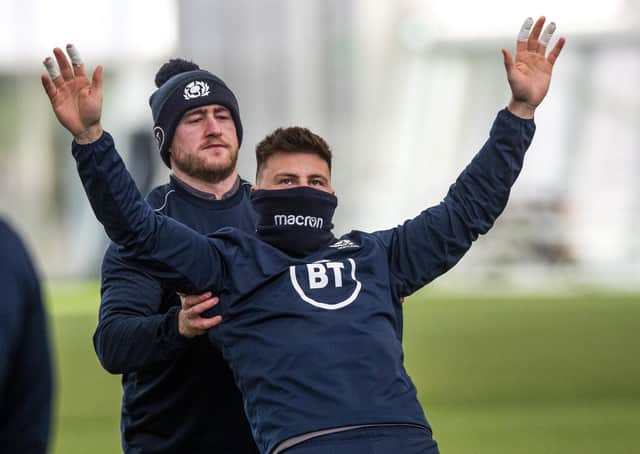 He likes how his old pal Galthie has added a purposeful kicking game to the team's traditional Gallic flair since taking the reins after last year's World Cup, and has mentioned on several occasions during this championship that it was a masterstroke to lure Shaun Edwards across the Channel to implement his simple but effective pressing defensive game.
But Townsend still believes that his side have got what it takes to claim a major scalp at Murrayfield tomorrow if they can neutralise the traditional French strengths of raw aggression and set-piece domination. He believes his team face a big step up from anything they have faced so far in this Six Nations but are ready to face the challenge head-on.
"France have always based their game – whether at club or the Test level – on what they call 'the combat', because they see the set-piece and the physical side as keys to victory," said the Scotland coach. "They get a huge amount of momentum and psychological advantage if a scrum goes forward for them, and the opposite is the case as well if their scrum goes backwards and gets penalised, then that could weaken their confidence.
"Our scrum has performed well this year and that is a credit to Pieter de Villiers [Scotland's new set-piece coach who picked up 68 caps for France between 1999 and 2007] and also the players in the pack, but this is a bigger test this weekend against a very good French eight.
"We've worked really hard this week around the scrum, and I have watched the sessions with interest to see the effort and to see how our bench front-row went against our starting front row. That competition is bringing more out of all of the players involved, so I'm excited to see how it goes on Sunday."
It is not, however, just in the pack that Scotland face a formidable challenge, with France's youthful backline also posing significant threats across the board.
"Antoine Dupont is arguably the best scrum-half in the world – in attack and defence he is exceptional – so we know we can't let him have any half chance to break around the ruck," acknowledged Townsend. "Romain Ntamack at stand-off is a fantastic rugby player who played really well against us last year and has a very good understanding with his half-back, who is a clubmate.
"Then you go further out across the back line and you see Virimi Vakatawa and Damian Penaud, who are outstanding ball players, and then there are players we don't know as well like Arthur Vincent and Anthony Bouthier from Montpellier, who have showed that they can play very well at Test level. They are an excellent team, there's no two ways about it, with very good individuals across the park.
"They're still a mix of styles," Townsend added. "Galthie's overall philosophy means they're going to have less ball than the opposition, but they can get it back through the way they chase kicks and force turnovers – and no team will be as dangerous as the French off turnover ball, so we've got to be smart in how we play. We've got to be patient and accurate throughout the 80 minutes."
All three of the changes Townsend has made to the side which started against Italy a fortnight ago are in the pack. Fraser Brown, pictured, comes back in for Stuart McInally at hooker, Grant 
Gilchrist replaces Ben Toolis in the second-row and Nick Haining is recalled at No 8 in place of the benched Magnus Bradbury.
"The six-day turnaround next week means we want to make the best use of both hookers in these two games," explained the coach. "We also want to give Fraser the honour of leading the team out on his 50th cap. He and Stuart have played well this year for their clubs and country and they are bringing the best out of each other. To have them both available this week is great.
"Grant started for us during the World Cup and he's been a very good player for Scotland when he's been available," Townsend added. "We know the consistency and experience is always there, and he's a really good lineout forward. With Sam Skinner being back fully available to sit on the bench [after a hamstring injury], we feel that now is the time to look at two players who have played really well for Scotland in the past.
"Nick came in and did a very good job for us in Dublin on his first cap, then Magnus became available again after that and started the next two games, but we gave Nick some feedback on what more we want from him and he has shown that he has taken that on board.
"His workrate has gone up in both attack and defence. The more he plays, the better he looks, so we feel he is the right call for this game."
Stand-off Duncan Weir is recalled on the bench and is in line to earn his first cap since March 2017, while Kyle Steyn is also likely to make his debut as a replacement.