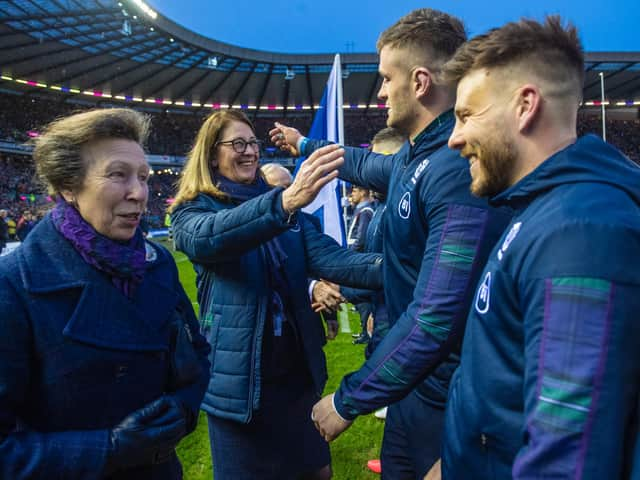 SRU president Dee Bradbury hugs son Magnus ahead of Scotland's match with England at BT Murrayfield. Picture: Gary Hutchison / SNS
All boys love their mum, that's a given, but it doesn't stop them from embarrassing us sometimes.
Scotland's No 8 Magnus Bradbury admits that he has taken some stick after his SRU president mother, Dee Bradbury, gave him a hug before the Calcutta Cup clash against England, but he says he wouldn't change it and takes it as a memory to cherish.
"That was nice for my family and my mother and I," said Bradbury of the moment his trailblazing mum, the first female president of a major rugby union, met the teams alongside the Princess Royal and naturally gave her boy a hug.
"I have had some stick for it. I wasn't sure whether to high five her or what. It was good," said Bradbury.
Pre-match formalities are one thing but Bradbury has been in the thick of it as Scotland continue their slog to some kind of redemption following a year of trauma on and off the field.
After a stabilising 17-0 win against Italy in Rome following defeats by Ireland and England, the Scots now face challenging tests against the resurgent Grand Slam-chasing French before a closing trip to meet wounded Wales in Cardiff.
"Consistency is key, we've had a good away win in Rome and to now beat this French team at home would be a massive step in the right direction," said the 23-year-old, who now has 13 caps.
He is part of a youthful all-Edinburgh national back row alongside capital clubmates Hamish Watson and Jamie Ritchie, right, on the open and blindside flanks respectively.
"We work well together, we know how each other plays now and it's encouraging to see," said Bradbury.
"Coming from club level, not necessarily playing a lot together as a back row with Bill [Mata] involved, it's nice to play with some good mates, it's good fun.
"Hamish and Jamie are in great form at the moment, they're playing some of the best rugby I've seen them play in a long time so it's good to see that and I can draw confidence from that. The guys on the flanks make my job easier and I can help them out as well.
"Obviously we've got a couple of fetchers and we all try to carry as much as we can and tackle as much as we can so I think we complement each other really well."
Bradbury knows that this collective understanding will be vital when, at BT Murrayfield on Sunday, they face a youthful French team who have lit up the tournament with impressive wins over England and Wales in particular.
"Every time we play at Murrayfield, I look forward to it. It's been special this year to have England at home and unfortunate not to get the result, and then France at home," said Bradbury.
"As a team, we fancy ourselves against anyone at home so our preparations will start next week when everyone is back together.
"At the end of the day, we're playing in front of a home crowd, it's a great experience for everyone involved.
"In the Six Nations, I look forward to every game. It is always special at home – you get off that bus to go to the changing rooms and the senior players tell us 'take your headphones off and listen to this when you get off the bus'."
Bradbury was speaking as the Scotland squad performed an open training session in Melrose, noting that preparation for the France game will begin in earnest from tomorrow.
"We've started to look at the players. We know, having played [for Edinburgh] against Bordeaux in the past, we know the players and how they play, so we have that in the back of our heads. But come Monday night when we're in camp, that's when the hard work will start," he said.
"A French team with that kind of momentum behind them, when they play confidently, it's going to be a tough game, a physical game and a fast game, I'm sure.
"We're going to try our best to stop them getting the Grand Slam. Some commentators get a bit ahead of themselves but in this competition in particular, any team can beat anyone. So we're going out there to win and that's what we're concerned about."
Having worn the favourites' tag in the Italian capital and just about lived up to it, Scotland face a different kind of test. "We don't see ourselves as underdogs, we see ourselves as a good team who can compete with anyone," Bradbury added. "We're going out there preparing for another physical, fast Test match against a team who are playing some good rugby at the moment. We understand the challenge that poses."
France have impressed everyone this year, and Bradbury is no different. "The youth coming through. How young that team is and how successful early on – that's a team for a while going forward and that can only get better. From their point of view, that's encouraging," said Bradbury.
"I tend to look at the back-row players being a back-row myself and they work really well, they bounce off each other really well. And then you have even more dynamic players on the bench coming on to replace them. It's going to be a good battle next weekend."