Six Nations 2023 predictions: Who will win? Star player, how Scotland will fare - our writers have their say
The 2023 Six Nations is almost upon us and we've asked our chief rugby correspondent Graham Bean, sports features writer Aidan Smith and sports editor Mark Atkinson to give us their predictions for the tournament.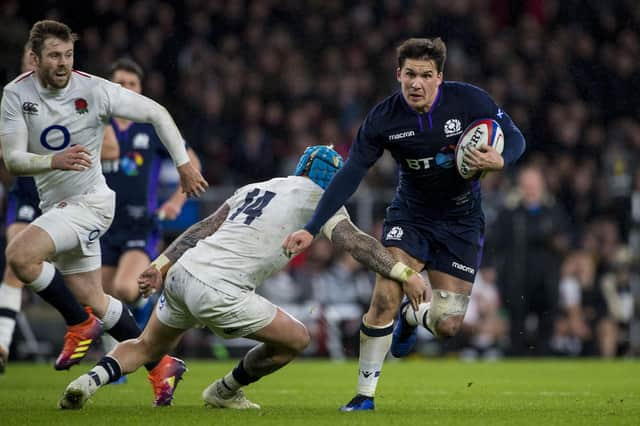 Who do you think will win the Six Nations?
Graham Bean: France, although I think the destination of the championship will hinge on their meeting with Ireland in round 2. If the French can win in Dublin then there is no stopping them. A Grand Slam may elude them this time around but I'd still bet on them for glory. Fabien Galthie's team have away games this season against Italy, Ireland and England but this France side are more durable on the road than previous incarnations. Antoine Dupont and co could come a cropper on their travels but I still fancy them to take the title with four wins from five.
Aidan Smith: Ireland. I might otherwise have picked France, but they have to go to Dublin. So, by the way, do England who should nearly always be champs given their resources but aren't. They'll be hoping for a new coach bounce from Steve Borthwick, vowing to turn Twickenham jeers to cheers. Wales, meanwhile, bring back Warren Gatland so maybe not so much a bounce in their case as a boomerang throw. So, yes, Ireland, our World Cup rivals. Beat them to get out of the groups or en route to Six Nations glory? There's only one answer …
Mark Atkinson: Ask me this question two months ago and I would have said, without a moment's thought, that it's between Ireland and France, but with the recent coaching changes at England and Wales, another element of intrigue has been added. Both teams should be revitalised by the appointments of Steve Borthwick and Warren Gatland respectively. However, asking either man to guide their nations to a Six Nations triumph so soon in the job is probably a step too far; England have injury issues and this Welsh squad is not as good as Gatland's previous versions. So I come back to the Irish and the French. I love watching both teams play right now. The match between the two in Dublin (more on that later) will be key. Ireland to sneak it.
Which match are you looking forward to most watching?
Graham Bean: France v Scotland. Scotland rarely win in Paris so when they do it tends to be memorable. For my generation, coverage of the away game in France would always be preceded by black and white clips of Jim Telfer's try in the 6-3 win in 1969. The ghosts of Colombes were finally exorcised in 1995 when the Toony flip set up Gavin Hastings in the 23-21 victory at Parc des Princes. The rollicking 36-22 win en route to the title in 1999 at Stade de France was even better and the last-minute thriller of two years ago was pretty special too, even if there were no fans there. More of the same on February 26 please.
Aidan Smith: The Calcutta Cup, always. Sam Johnson taking three Englishmen over the tryline was only yesterday, right? Which means Huw Jones taking two more was the day before. And the 33-6 thrashing a week past Tuesday. All the memories of past clashes are still vivid, and England's blond bombshell David Duckham, RIP, is in a few as well. Eddie Jones always brought extra needle to a contest which was never required – and given Scotland are enjoying their best returns since the mid-1980s this possibly backfired. The ban-dodging Owen Farrell will be keen to get down to it, though getting down has sometimes been his problem.
Mark Atkinson: Watching Scotland is always a joy but I'm going to pick the aforementioned match between Ireland and France on Saturday, February 11. Both teams should win their opening matches so they'll come into what I see as a championship decider in gameweek two in rude health. The Aviva Stadium will be packed to the rafters and the Irish crowd will be in full swing given it's their first home match of the tournament. According to the world rankings, this is a shoot-out between No 1 and No 2. There are so many good attacking rugby players on show that this just can't be a blockbuster match.
Who will be the stand-out player in this tournament?
Graham Bean: Antoine Dupont is not exactly a leftfield choice but it's hard to see past the France scrum-half and captain. The former world player of the year is that rare mix – brilliant individual player and also inspirational leader. Having said that, he was noticeably downbeat at last week's Six Nations launch in London when asked to assess France's chances of retaining the Six Nations. "Year on year it is really difficult to maintain such a high level," he said. "It is always hard going in as title holders and pulling off two in a row is tough." Mind games? Perhaps. What's not in doubt is his talent and just to underline it he switched to stand-off earlier this month to help Toulouse beat Clermont at Stade de Marcel Michelan for the first time in over 20 years.
Aidan Smith: I really wanted it to be Darcy Graham but the flying winger may only be fit enough for the second half of the tournament. By then perhaps we'll be looking forward to two matches at Murrayfield after victory in Paris, Romain Ntamck having been eclipsed by Finn Russell in a dashing 10s duel for the ages. Well, why not? Why can't it be Russell, 30 now, a dad now, acknowledging that every year left must be seized, and so building on that prodigal return in the autumn against New Zealand and Argentina and really going for it?
Mark Atkinson: I had the privilege of watching France's immensely talented scrum-half Antoine Dupont in the flesh back in the autumn when on duty for Toulouse. The Stade Ernest Wallon was packed – their first home game of the season against Toulon – and he orchestrated the whole affair. So, so gifted with his hands and feet, he is an artist on a rugby pitch, painting pictures most players just can't conjure up. A once-in-a-generation type. It's hard not to see him excelling once again. I'll also make a shout for Dupont's Toulouse team-mate, Italian full-back Ange Capuozzo, who burst on to the scene last year and at just 23 is one of the most precocious talents in the game.
How do you think Scotland will fare?
Graham Bean: Scotland ended their autumn campaign brightly, with Finn Russell particularly luminous as they dismantled an ill-disciplined Argentina. It would be lovely to take that form into the Six Nations but there are injury concerns around a number of key players. Darcy Graham, a hat-trick hero against the Pumas, is out until at least round 4 and Rory Darge is also sidelined. Stuart Hogg, Hamish Watson, Zander Fagerson and Duhan van der Merwe are all working their way back from various ailments and much will depend on how quickly they can get up to speed. Three wins from five would be faintly heroic.
Aidan Smith: No Slam, history would seem to dictate. To beat all-comers we need it to be an even year and to have England and France at home. And that was also the script in 1925, our oddity of an odd-year triumph. Four wins? That would probably get us the championship, last achieved in 1999, but our best since then has been three. Gregor Townsend has three threes to his name and another would have to include at least one victory from England, France or Ireland. With injuries to crucial men like Darcy Graham and Rory Darge, that would seem good going.
Mark Atkinson: In my opinion, the best Scotland can hope for is two wins out of five. Injuries and fitness doubts over key players make this a difficult Six Nations. We have one of the world's best finishers in Darcy Graham but if the Edinburgh winger even plays the latter matches, he won't be fully sharp. Stuart Hogg, Hamish Watson, Duhan van der Merwe and Zander Fagerson also fall into that category. It's hard to see the Scots beating England at Twickenham in Borthwick's first match and a victory in Paris is also unlikely. Our dismal record against the Irish speaks for itself, so it really has to be taking down Wales and Italy at BT Murrayfield.
What is your favourite Six Nations memory?
Graham Bean: The 38-38 draw with England at Twickenham in 2019 was as bonkers as it gets as Scotland came from 0-31 down to lead 38-31 in injury time. George Ford's converted try in the 83rd minute rescued the hosts but Scotland still went home with the Calcutta Cup, the holders retaining the trophy. Amid the bedlam there was one particularly comic moment as Darcy Graham, sporting a grin like a Cheshire cat, sat atop two England players. He'll be missed on Saturday.
Aidan Smith: What, I'm only allowed one? There are so many – a couple are mentioned on this page already – and it would be easy to nominate the 1990 Slam decider. Even though I gave up my ticket to watch Hibs lose in the Scottish Cup at Dundee United (what a clown), the excitement at my old paper, Edinburgh's Evening News, made up for missing it. Everyone was assigned rugby duties including the showbiz correspondent who loathed the oval ball and had to interview David Sole (who's barely spoken about the Slam since). But I'm going for 1971's Scotland 18, Wales 19 – the greatest match of all time anywhere.
Mark Atkinson: "And he's going to score in between the posts. An incredible try." My abiding memory of the Six Nations is from 1995, when aged just ten I was enthralled by watching Scotland defeat France at the Parc des Princes. I remember asking my father why there was a football pitch and a rugby pitch together (both sets of lines were clearly visible) and I loved Gavin Hastings, mainly because he was the kicker and, as a kid, tried to emulate him on the school playing fields (badly, I might add). As I've got older I've come to realise (a) the significance of that match but also (b) that current Scotland head coach Gregor Townsend played the most important part with an outrageous pass. The 'Toony Flip' belongs in a museum.