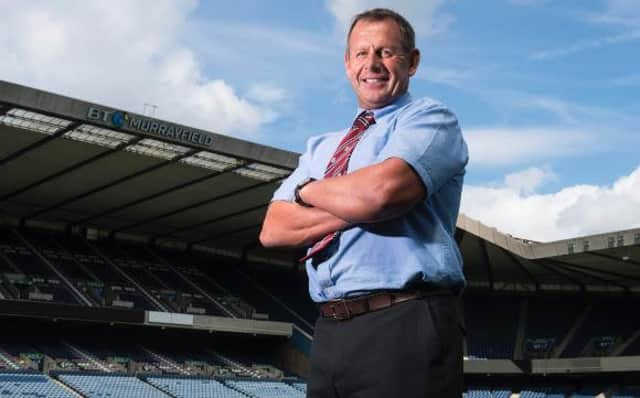 New SRU president Ian Barr.
Ian Barr has been confirmed as the Scottish Rugby Union's 128th President at the governing body's annual general meeting, which was held online due to the ongoing the coronavirus pandemic.
Barr, a 57-year-old farmer from Bonnyrigg, is the first president to be elected from Lasswade Rugby Club.
Having served as vice-president since 2018, he takes over from Dee Bradbury, the union's first female president.
"It's an absolutely great honour," Barr said. "I feel proud for my family and for Lasswade. I'm very humbled by the appointment and also very excited.
"I never expected to be captain of any of my teams where I played; I never really expected to be President at Lasswade – there was never really any desire or ambition to become President at the club, it just happened!"
He was first elected to the Scottish Rugby Council in 2012 and, on his first stint, served for five years, including a period on the Scottish Rugby Board.
The pandemic has made it a challenging environment for all sports and Barr knows rugby must try to negotiate a careful return to playing.
"We've really got to make sure we can work our way through the continuing challenges surrounding the coronavirus pandemic," he said.
"I'd call on clubs not to be selfish about their expectations for the coming season. We must continue to put the safety of our players, volunteers and their families first, continue to adhere to government guidance and not over concentrate on teams competing on a pitch on a Saturday or Sunday."
Professional rugby is scheduled to return next Saturday when Edinburgh meet Glasgow Warriors in the Pro14 behind closed doors at Murrayfield.
In addition to Ian Barr's ratification as SRU president other business concluded in the online agm included the election of Colin Rigby of Stewart's-Melville as vice-president.
Rigby received 112 votes while the other candidate, Keith Wallace of Haddington, had 97.
The meeting also elected Malcolm Offord (London Scottish) as Scottish Exiles representative, confirmed Gerry Tosh (Dundee HSFP) as National 1 representative, Eric Hugh (GHK) as National 2 representative and Bobby Frazer (Murrayfield Wanderers) as National 3 representative, plus Jim O'Neill (Irvine) as Glasgow South regional representative, all on the Scottish Rugby Council.
In addition Royal High Rugby's admission to full membership of the Union was approved.
The rest of the agm will take place once further easing of coronavirus restrictions on the size of gatherings is introduced by the Scottish Government.