Scottish Rugby issues statement as Crown Office investigates death of former internationalist Siobhan Cattigan
Scottish Rugby, the game's governing body, says it fully supports the investigation by the Crown Office and Procurator Fiscal Service into the death of Siobhan Cattigan and is also awaiting a possible civil legal action.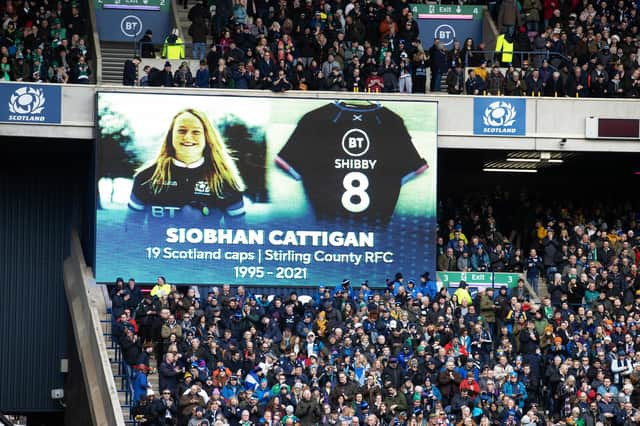 Cattigan, a forward who was capped 19 times by Scotland, died in November 2021, aged 26. Her parents think that their daughter's death was caused by an undetected brain injury, which led to her succumbing to an irrational thought and impulsive action. In an interview in the Sunday Times last year, Neil and Morven Cattigan said that "something catastrophic had happened to Siobhan's brain" and believed their daughter's death was linked directly to two serious concussion incidents she had suffered on the rugby field over the previous 18 months which they say had a profound effect on her personality.
Scottish Rugby initially resisted calls for an external review into Cattigan's death. The governing body then commissioned the law firm Pinsent Masons LLP to conduct a "fact-finding exercise… into the events and circumstances before and after the tragic passing…". This has been delivered to Scottish Rugby and, in a statement issued on Friday, the governing body said it would share its contents, but only if "legally appropriate" given the ongoing Crown Office investigation and possible civil action.
The statement read: "The Scottish Rugby Limited (SRL) and Scottish Rugby Union (SRU) Boards met on Friday, 7 July, to discuss the results of an objective fact-finding exercise commissioned by SRL into the events and circumstances before and after the tragic passing of Scotland international Siobhan Cattigan in November 2021.
"The external review was undertaken by Pinsent Masons LLP, following its instruction in the summer of 2022. The review's scope included – but was not limited to – examining some specific questions and allegations raised either directly to Scottish Rugby or through the media.
"Siobhan's passing is the subject of an ongoing investigation by the Crown Office and Procurator Fiscal Service (COPFS). Scottish Rugby is committed to providing its full support to the investigations undertaken by COPFS.
"Scottish Rugby is determined to share publicly as much of the review as possible. That being said, her passing may be the subject of a civil legal claim. Therefore, Scottish Rugby is carefully considering what information is legally appropriate and possible to share publicly at this time. Legal advice from Pinsent Masons has been sought in this regard.
"If any lessons can be learned by Scottish Rugby from the decisions taken and events occurring around Siobhan's passing, we are fully committed to doing so. As a matter of practice Scottish Rugby continuously reviews its existing processes to ensure they support a well-established and unwavering commitment to player welfare. This is a focal point in light of this current review. Scottish Rugby has contributed extensively to international medical studies and player guidance around concussion awareness for the past decade."
One of the most serious claims made by Cattigan's partner Ann Taylor and the family is that Cattigan told them she heard a member of the coaching staff on the sideline shout "get her ******* back on that pitch, get her back on" while receiving treatment for a head injury during an international match against Wales in April 2021. She is alleged to have heard the shout through the earpiece of one of the medical staff. Scottish Rugby is "categoric that this phrase was not heard or said".
Comments
Want to join the conversation? Please or to comment on this article.