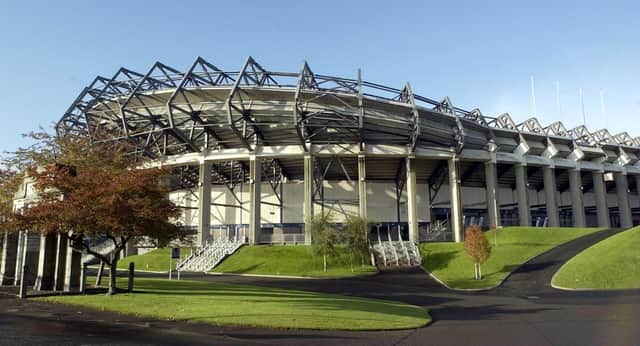 BT Murrayfield is home to the autumn test … here's how to get hold of tickets for the four must-see internationals
Ahead of the autumn test, Scottish Rugby Hospitality is offering one lucky reader the chance to win an outstanding hospitality package for them and a friend to watch Scotland face Argentina at BT Murrayfield next month.
Terms and conditions apply. (see here)
With tickets flying off the shelves – general admission to the New Zealand game is already completely sold out, and Australia is selling fast – hospitality packages are the way to watch the game in total comfort, with food, drinks and a group of friends around you.
Scotland will be playing Australia on October 29, Fiji on November 5, New Zealand on November 13 and Argentina on November 19.
There are three hospitality packages available (details here) - Murrayfield Boxes, the Centenary Club or the Thistle Suite, each offering a unique way to watch our heroes in action. Here's what other hospitality users had to say.
Meet legends past and present, have your own host on tap keeping the drinks and food flowing, enjoy a three course meal before the game, snacks during and a supper after.
User Valaris said: "I have been a regular customer at Murrayfield for many years, where the hospitality offered makes for a very memorable experience. From the moment we arrive we are met with a warm welcome, leading into an action packed experience with player interaction, great food and of course an excellent wine pairing. Great seats and the promise of a passionate victory make for a great day of rugby with friends and customers alike."
Enjoy premium hospitality, including your own private tunnel to your seats, private bar and toilets and a fine dining experience.
Customer Matthew Syme said: Thank you for a fantastic experience in the Centenary Club. My clients and I had a sensational time with the food, hospitality and service being impeccable. The real highlight for the entire party was the candid nature of the guests which you do not get to experience by watching television interviews. The presenter was engaging throughout and made the varied panel of guests feel comfortable to provide unrehearsed and unsanitized responses which gave such a fantastic insight into the game of rugby. All of the party agreed that this would be an experience that we would like to do again.
Match day hospitality to remember for every rugby fan. Buy your own private table or share the space with others and meet players, legends, and talk rugby before, during and after the game, all in your own space with your own facilities.
Chris Stuchbury said: " Had a great afternoon at the Thistle Suite for the Scotland v France international. The food was excellent, the host (Bruce Aitchison) was excellent, the guests before and after the match very knowledgeable. The serving staff and drinks hosts were attentive and polite. All in all a very worthwhile experience."
Here's how you could win two hospitality tickets
Scottish Rugby is already a fabulous day out, but a hospitality package for you and a friend makes this the must-enter competition of the month.
To be in with a chance of winning, click here and answer this simple question:
What grassroots team did Stuart Hogg play for as a youngster?
The closing date for entries is 11.59pm on Thursday, November 10. Terms and conditions apply and employees of either National World or Scottish Rugby may not enter. The editor's decision is final.
And if you are not lucky enough to win, book your own hospitality slots here, call 0131 346 5250 or email [email protected]