Scottish Rugby apologises to Siobhan Cattigan's family 'for any anguish we caused'
Scottish Rugby has apologised to the family of Siobhan Cattigan, the Scotland international who died in November 2021, aged 26.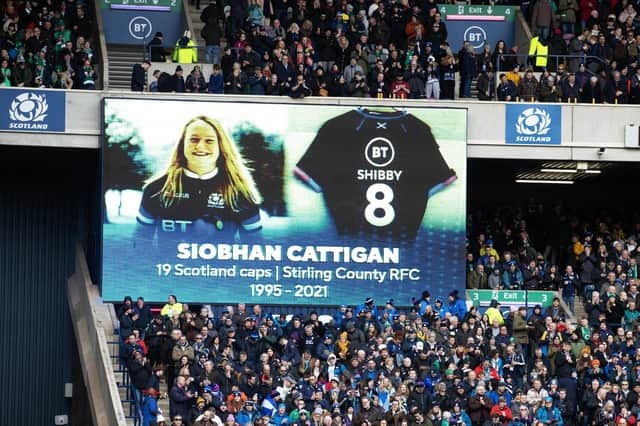 The game's governing body admitted it should have managed the tragedy better and acknowledged it "let the family down" by not visiting them or contacting them directly to offer condolences. Scottish Rugby also took responsibility for not relaying the family's wishes to her team-mates which meant some of them missed Cattigan's funeral.
In what is a major volte face by the union, John McGuigan, the new chair of Scottish Rugby Limited (SRL), has reached out to Cattigan's parents and her partner. Speaking at the Scottish Rugby Union's annual general meeting, McGuigan said: "I wish to apologise wholeheartedly for any anguish we caused Siobhan during her time with Scottish Rugby and to her family and loved ones following her passing."
Cattigan's parents think their daughter's death was caused by an undetected brain injury, which led to her succumbing to an irrational thought and impulsive action. In an interview in the Sunday Times last year, Neil and Morven Cattigan said that "something catastrophic had happened to Siobhan's brain" and believed their daughter's death was linked directly to two serious concussion incidents she had suffered on the rugby field over the previous 18 months which they say had a profound effect on her personality.
At last year's Scottish Rugby agm, chief executive Mark Dodson rejected calls for an external review into the death. But there has been "an objective fact-finding exercise", commissioned by SRL, into the events and circumstances of the tragedy, some of the results of which formed the substance of the lengthy apology delivered by McGuigan who met with Neil and Morven Cattigan, and Siobhan's partner Ann Taylor, through a third party. He acknowledged mistakes had been made as he addressed the floor at the end of the agm.
The full text of the apology said: "Siobhan was a hugely talented rugby player who played for Scotland, earning 19 caps. She was passionate about rugby being a committed ambassador for the sport, alongside her significant academic achievements and charity work. Siobhan's kind, empathetic nature and loyal, supportive manner meant she was a well-loved player, role-model, colleague and friend. It was therefore incredibly sad that such a positive, talented person passed at the age of 26.
"I'm therefore very grateful to Mr and Mrs Cattigan and Ms Taylor for inviting me into their home and providing a deeply personal account of Siobhan's time with Scottish Rugby.
"Having listened to the family I want on behalf of Scottish Rugby to say sorry.
"As the new Chair of SRL I wish to apologise wholeheartedly for any anguish we caused Siobhan during her time with Scottish Rugby and to her family and loved ones following her passing.
"Albeit Scottish Rugby did not intend to cause distress to the family through our actions it's clear we should have managed this tragic situation better. We have listened and heeded the lessons and, in Siobhan's memory, commit to making changes to ensure we are a better organisation in the future.
"Her parents, Neil and Morven, explained to me that joining the Scotland squad in 2018 was an incredibly proud moment for Siobhan and her family. However during her time as an international player with Scottish Rugby until her passing and thereafter, her family and friends firmly believe Scottish Rugby should have done more to support Siobhan and her memory.
"On joining the Scottish Rugby Ltd Board as Chair in June this year I was very keen to meet with Mr and Mrs Cattigan to understand their perspective and to find an appropriate way to honour and celebrate Siobhan's life as an international rugby player and support initiatives that were important to her.
"When Siobhan was with the Scotland squad her parents told me there were some situations when we, as Scottish Rugby, should have supported her better. They told me Siobhan had specifically mentioned medical and welfare care, as well as how information around selection was communicated.
"We also take responsibility for Scottish Rugby's handling of certain elements surrounding Siobhan's funeral, including not relaying the family's wishes to every player which meant some of Siobhan's team-mates did not get the opportunity to attend her funeral. We also let the family down by not directly contacting the family nor visiting after Siobhan's passing to offer our condolences.
"Since Siobhan's passing there have also been other events which should have been handled differently by the organisation, this also relates to how we referenced Siobhan and we recognise that Siobhan is one of "our people" too.
"Siobhan's family and friends appreciated that both Glasgow Warriors and Edinburgh Rugby honoured Siobhan's life as a Scottish international player.
"However Scottish Rugby should have handled; amongst others, the tribute made at Murrayfield prior to the Six Nations game vs Ireland in 2023 more sensitively. We acknowledge the family's criticism that the tribute should have taken place at a much earlier opportunity, with Siobhan's top laid down and been held when the players of both teams were on the pitch.
"As Scottish Rugby we are fully committed to support the family's work to maintain Siobhan's memory.
"During my meetings with Siobhan's family we discussed the range of actions we could take together to maintain Siobhan's memory. This discussion is ongoing."
Comments
 0 comments
Want to join the conversation? Please or to comment on this article.