Scott Hastings reveals fear and pride as son and husband joined Black Lives Matter march in US
Scotland rugby legend 'in awe' of Corey and Daniel for supporting the movement in San Francisco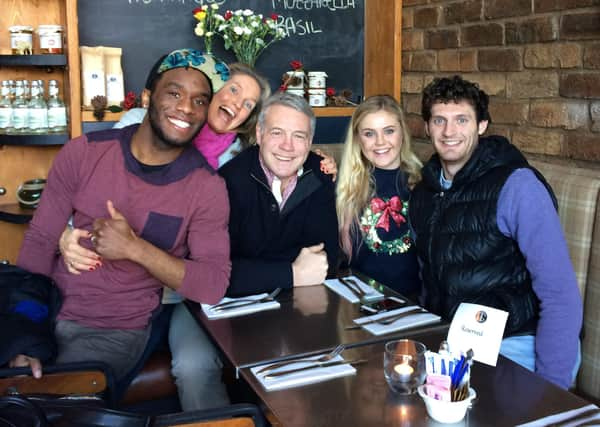 Two arms, one black the other white, linked together for a common cause. Two young men, one from Ohio and the other from a great Scotland rugby dynasty, marching in protest at the killing which shocked the world. Scott Hastings is a Grand Slam immortal although it is this striking image which is making him proudest right now.
The photograph would be a powerful poster for Black Lives Matter but in Hastings' home in Inverleith, Edinburgh, it is another family snap for the 65-cap centre, his wife Jenny and their daughter Kerry-Anne.
The white arm belongs to Hastings' son Corey and the black arm to Corey's husband Daniel. On 30 May, five days after George Floyd suffocated under the knee of a police officer, sparking global revulsion, outrage and demonstrations, the pair took to the streets of San Francisco. Meanwhile, 5,000 miles away, Hastings held his breath.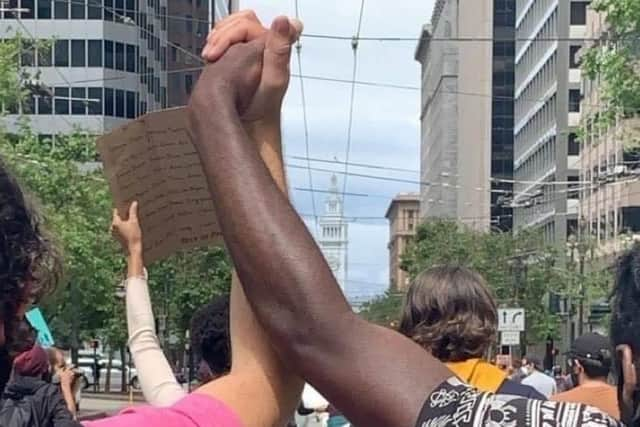 "Corey sent us a message," says Hastings. "Just in case anything happened to him," adds Jenny who reads it out:
"Dear Mum, Dad and Kerry-Anne, today I'm joining a peaceful protest, unarmed but united with Daniel. I can't live my life any longer without standing up against what I know is wrong and unjust. I need to show support for Daniel, my family, my friends, the black community and humanity.
"Things need to change and my actions need to start making my words accountable. I am writing this because I honestly don't know what could happen but need you to know the truth. I love you all dearly and I'm so proud of you. Thank you for making you who I am. I will always be with you. Please don't let my actions end on this day. Love, Corey."
Understandably, his parents were worried. "We were fearful for his safety," says Hastings, 55. "America had blown up, Donald Trump had waded into the situation with his crass comments which only made things worse, and there were riots in the cities, police stations being set on fire and shops looted. We went to bed that night not knowing what was going to happen."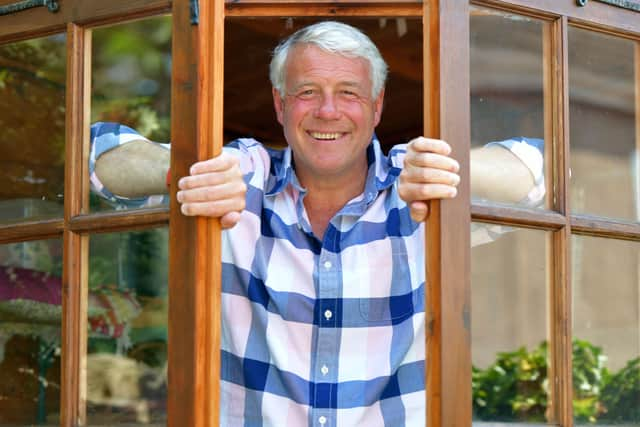 San Francisco's reaction to Floyd's death and the Black Lives Matter campaign for change began peacefully and although there were confrontations later in the day, with activists stressing the march had been hijacked by other groups, Corey and Daniel managed to stay out of trouble.
Says Hastings: "We told Corey that at the first sign of any to get out of the way. 'Please be safe,' we said, but we didn't try to stop him participating and nor could we have done. After a long wait because of the time difference we were able to hear from him. 'It was a great day,' he said. We were like: 'Really?' 'Yes, we marched right up to this line of police and took the knee'."
In the sunshine of his garden, Hastings blinks a few times then beams. "I'm in complete awe of my son." Referring back to Corey's letter he adds: "The words he uses! He's emotionally invested in this. He wants to make a difference."
He's also full of admiration for his son-in-law. "When the march reached San Francisco's City Hall Daniel felt compelled to grab the microphone and speak to the crowd. He made the local news. This is not something he would normally have done; neither he nor Corey has a history of activism. He was just empowered by the day – they both were."
Corey and Daniel hooked up seven years ago. "They got together online, as you do these days," says Hastings, "and it would be another couple of years before they met face-to-face for the first time. Then in 2016 they got married."
The civil ceremony was in Denmark where Corey, 27, a designer, was at the time working for Lego. No family attended – "A sore point!" laughs Jenny from the bottom of the garden – because Daniel's clan is sizable and probably wouldn't have been able to be well-represented.
"The boys want to have a celebration with everyone there and this year, perhaps in New York, was discussed until Covid struck," adds Hastings. The pandemic has affected their livelihoods – Daniel, 26, whose field is property services, moved to a new job at the beginning of March and ten days later had been made redundant – but they love life in San Francisco, having set up home in the Nob Hill district popular with young urban professionals.
Hastings' son-in-law was DanielLowe before meeting Corey but now bears the name of rugby royalty. "He's a very engaging character," says Hastings, "and it was great that when he came to Edinburgh for the first time to meet us he felt so comfortable here. 'No one looks at me as if I'm being judged,' he said." In America, meanwhile, the judging continues. "Just yesterday in San Francisco he was confronted by a police officer wielding a gun. 'Who's in that car?' he was asked, just minding his own business.
"He's a thinker and was the first in his family to go to university. We love having him around, he really brightens up a room and what's been fantastic is that my mum and dad, Gavin and the rest of the family have all really enjoyed getting to know him."
Corey played under-age hockey for Scotland and Kerry-Anne, 24, is currently following in his footsteps. "Corey tried rugby but soon found a sport he liked more. He asked if he could switch, maybe thinking that would disappoint me, but of course it didn't."
His son coming out was greeted with the same laidback response. "When he told us Jenny and I were absolutely fine," adds Hastings. "We were relaxed about it and happy to support as all parents should, although we did think: 'Should we have had a chat with you earlier?' Jenny did worry that he'd suffered a bit of angst, but we both agreed that it had been something for Corey to work out."
Hastings thinks back to unreconstructed rugby dressing-rooms of yore – "They could be quite macho places" – and winces at some of the banter which these days would be classed as un-PC. "But I do smile at the story told by the referee Nigel Owens, who's gay. A player was writhing on the ground, his captain came over and went 'Get up, you big poof', but then spotted Nigel: 'Oops, sorry ref!'"
Then Hastings mentions Australia's Israel Folau, who declared on social media that "hell awaits" gay people, and England international Billy Vunipola who then defended Folau's post. "Billy got booed a lot for that by his club's supporters and also when playing for England. I'd love to have a conversation with anyone in rugby who holds such views. It's not my son's fault he's wired the way he is. And by the way it's not a problem. Yet homosexuality is still viewed severely in other countries, just as it was in this country half a century ago. There needs to be more education – and more understanding."
Hastings then thinks of all the black players he's encountered in rugby and how the sport has treated them. "There have been lots: Andy Harriman, Chris Oti, Jeremy Guscott, Victor Ubogu, Steve Ojomoh. Rugby's always been inclusive – I'd like to think so, anyway – yet I'm sure these guys and others will have experienced discrimination. In rugby there's maybe been ribbing rather than outright abuse because it's a sport where you need these tights bonds – trust within the scrum, for instance – because of the sheer physical intensity."
Mention of Guscott's name immediately has Hastings volunteering the episode from Scotland's 1990 Grand Slam triumph when, in the heat of battle in the winner-takes-all showdown, he called the England great a "black b******".
"It has been an embarrassment to me," Hastings admits. "I said sorry to him after the game and he accepted my apology although he didn't actually hear me say it. [England captain] Will Carling was the only one who did. When I think back, it was awful. Not to excuse it at all but some fierce things were said in games: I got called a 'Scottish c***'".
Rugby, he says, has an in-house system for resolving issues. "A dressing-room can be a very honest place and also a discreet one. Players address each other, sort out the problems and long may that continue. But obviously what I said to Jeremy wouldn't be tolerated now – rightly so."
Hastings also reflects on his experiences at the 1995 World Cup in South Africa; unforgettable for the involvement of Nelson Mandela but somewhat less memorable for the rudeness displayed by Afrikaners towards black staff in the Scotland team hotel. "They were shouting at the waitresses demanding drinks, while we'd been all 'Please' and 'Thank you'. South Africa was pretty much an unknown land to me back then and I was shocked."
In his first post on a new blog Hastings has reflected on that tournament and also being at last year's World Cup as a TV commentator and seeing the Springboks triumph again. "It was a privilege to be in South Africa in '95 and to become friends with Chester Williams, who was the only black player in their side – and then to see Siya Kolisi come from a Port Elizabeth township to captain his country to victory in Japan. Sport had a wonderful ability to cut across colour, race, creed and religion to deliver these magic moments."
We speak a bit more about rugby today. How the 30th anniversary Grand Slam lunch at Murrayfield was cancelled as lockdown loomed but a gang of four – the two Hastings, Finlay Calder and Sean Lineen – resolved to mark the occasion anyway by gathering in a George Street restaurant: "It was completely empty, which was a bit strange, but we managed to raise a glass to us." How he's desperate for rugby's return but is worried in the wake of the pandemic about the future for clubs and youngsters. And how, having made his broadcast debut on Scotsport Rugby Round-up with Bill McLaren's advice echoing in his ears – "Listen, laddie, 90 per cent of your research won't be used but just make sure the ten per cent's there" – he's wondering about spreading his wings and moving beyond the oval ball game to other sports.
But the conversation soon returns to Corey and Daniel. Has Hastings been educated and enlightened by them? "Absolutely. Jenny and I are being educated by both our kids and we now include Daniel here. To listen to them is fascinating and instructive. Their understanding of the world is far greater than we ever had growing up.
"I think back to when I was abroad playing rugby or Jenny was in Australia. We had to rely on postcards and the £17 Lions phone allowance. The generation which has come after us are better connected, more informed and more engaged.
"Daniel has found his voice through Black Lives Matters. There's a weight off his shoulders now and Corey is right by his side supporting him and getting involved, too. As he said in his letter, they want to change things. I repeat: I couldn't be more proud."
A message from the Editor:
Thank you for reading this story on our website. While I have your attention, I also have an important request to make of you.
The dramatic events of 2020 are having a major impact on many of our advertisers - and consequently the revenue we receive. We are now more reliant than ever on you taking out a digital subscription to support our journalism.
By supporting us, we are able to support you in providing trusted, fact-checked content for this website.
Comments
 0 comments
Want to join the conversation? Please or to comment on this article.