Paterson wasn't born when Peter "PC" Brown struck the winning kick in 1971 and he was only five when in the 1983 success the other Peter – Dods – banged over three penalties and a conversion. "I must have been plonked down by my dad and older brother, both of whom played, to watch that one on TV," says Scotland's record points scorer, "and of course '71 was already legendary, because Scotland hadn't lifted the Calcutta Cup down there for so long and because of Uncle Dunc."
Duncan Paterson was one of six from Gala who smashed a 33-year hoodoo, contributing handsomely with a try and a drop-goal. "Growing up with all the stories of that game, and also what Dodsy had done later, I wanted to play for Scotland, too," adds the late redoubtable's nephew. Notice how he stops short of calling this a dream. Not to downgrade the ambition, or to suggest achieving it was a given, but in this town wanting to pick up the ball and run, or aim the egg between the posts, was simply "normal".
Paterson was warned about Twickenham, that it was Colosseum-like with the home fans all sat back waiting for the ritual slaying. "Everyone said it was horrible but I loved playing there, absolutely loved it," he beams. "Being drip-fed that stuff psychologically, that it was something to be endured, just inspired me even more."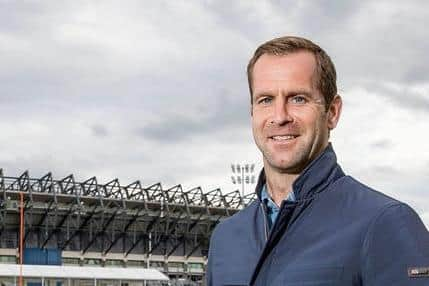 Alas, he lost every time. Six defeats in all, and in each of the first four contests England reached 40 points. Euphemistically, they kept the scoreboard ticking over and Paterson knows a bit about that, having been entrusted, aged 16, with the bag of numbers at Netherdale in 1984 when the All Blacks walloped the South 84-5.
Now, reviewing his career as a whole, he didn't do too badly. The second most-capped Scot of all time – 109 appearances, one fewer than Ross Ford. The only Scot to have played at four World Cups. The fourth highest try-scorer. And – way out on his own here – the man with the most points to his name, an astonishing 809. Still, chatting to him today, and proud as he is of those records, I reckon Paterson might be prepared to slip down the tables a bit if he could have won just once on the Cabbage Patch.
I count myself fortunate that we're talking at all. Despite once being as visible as any Scottish sportsman gets, he was always as slim of profile as he was of shoulders. Never one for the comical publicity photo or even the regular quote, he hasn't suddenly turned into a self-promoting nutter in his retirement. When a street in Galashiels was named after him a few years back he was too shy – or maybe embarrassed – to attend the unveiling.
Before I'm able to twist his arm and get him out for a coffee overlooking the harbour at Newhaven he'd insisted: "I'm a private person." But that's allowed, isn't it? Indeed in his case it's been to our huge advantage. If he'd been anything else he wouldn't have been Chris Paterson – calm, quiet, methodical, Zen. We needed him to be this unflashy to have struck the ball so beautifully and kicked all those points.
Mostly he did this from full-back which was where he made his international debut against Spain in a 48-0 romp in the 1999 World Cup, although his first-ever billeting to No 15 had been on a South African tour a short while before. Seven months later he was debuting against the Auld Enemy – and winning. This was the Murrayfield monsoon of April, 2000 when Duncan Hodge, then the regular kicker, scored all our points. "That was pretty special," says Paterson, 44. "Afterwards I was talking to Jason White – his first cap – when Gregor [Townsend] came up to us and said: 'I've not beat them in ten years of trying and you guys do it right away. Make the most of it!'"
Paterson savoured the win but was aware England were building something. Half of the 22 sent homewards to dry off and think again would be collecting World Cup winners medals in Sydney in 2003. "There were fewer Scots playing club rugby in England in those days so we'd be wondering: 'How much better are they, how much stronger?' It was obvious, though, that they were good."
Not least Jason Robinson. He was kept in reserve in Paterson's Twickenham baptism in 2001 but in the second half "ran right through us three or four times – he was brilliant". Paterson mis-remembers the score: "33-3, right?" Sorry, England got to 43. Ah well. Paterson scrabbled around for positives that day and thought he'd located some: "The players have to run the gauntlet of the car park to get to the changing-rooms – I loved doing that. This probably sounds mean and selfish but my attitude to the English supporters was: 'I'm doing this. You lot on the other side of the cordon can say all the nasty things you like but I'm here and I have the opportunity to affect this game.' Ultimately I didn't but maybe next time. That was always the hope."
So what happened in 2003? "Nathan Hines turned up with this atrocious haircut! And at one point we only had 13 men on the park [Simon Taylor and Andrew Mower were both sin-binned]. But England were incredible – so powerful."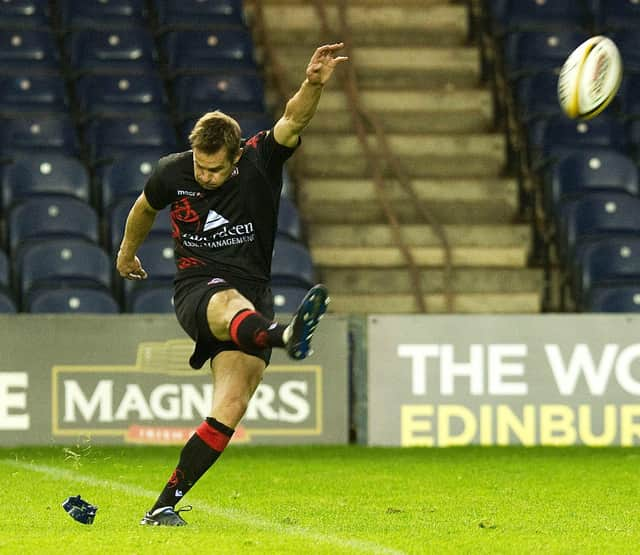 Rugby during Paterson's era was definitely a big boys' game. He remembers a turning point: "Australia turned up at Murrayfield and every one of their backs was over 100kg. It was the first time we'd ever encountered that. Geech [coach Ian McGeechan] said: 'Harder or easier to stop – what do we think?" Harder, the Wallabies won. Soon all backs were looking like forwards and forwards weren't exactly shrinking.
In the prevailing wind the thin-stemmed Paterson might have been blown clean out of the garden; he wasn't. At club level – Edinburgh, Gloucester, then Edinburgh again – efforts were made to bulk him up. "I was forbidden from sprinting during pre-season training and sent to the gym for double sessions but they never did much good."
His slight frame meant he was targeted. "I thought I was reasonably strong for a thin, wiry guy and could get purchase when I was on the ground. Off it, though, I had nothing to wriggle, twist and fight with. Brian O'Driscoll was one who realised this so he was always shouting to his team-mates: 'Lift him, pick him up!' So in these moments I passed.
"I never regarded my build, or lack of it, as a problem. All through my career guys were bigger than me but that only increased my desire to beat them. Rugby is for all shapes and sizes and the best players are often the best decision-makers – Dan Carter, Jonny Wilkinson – and not necessarily the biggest ones."
In that 2003 game Paterson – by then Scotland's kicker – notched all of our nine measly points. He'd kicked from tots level and realised he had a knack. So let's have a nerdy interlude and study his technique …
It was markedly different from the legendary Gala hoofers who went before him. Brown – alone among PC's contemporaries – would set up but then turn his back on the ball, wipe his snottery nose on a sleeve and hoick up his shorts. Perhaps not surprisingly given this apparent casualness, his clincher in '71 just cleared the crossbar and no more, squirting like a mealie puddin' fired from an amateur rocketeer's back green. Dods before striking would perform a little skip, like a setting step in Scottish country dancing which incorporated a shudder, almost as if he was preparing to prance in a freezing cold village hall. And with kicking tees not yet invented both had to use mud, readily available before hybrid pitches, and shape it like Patrick Swayze at the potter's wheel in the movie Ghost – though tragically for the Scots, without cosy assistance from Demi Moore.
Next to his countrymen, dare I say it, Chris, with just your left arm raised as a signature move, you were quite boring. Next to Wilkinson, too, who with hands clasped tight seemed to be imagining himself wrenching Excalibur from the stone. Paterson laughs. "I'm a simple guy. I needed to know I was in control of the moment. If you look back at old footage you won't see me handle the ball for any length of time. If the try-scorer chucked it to me I'd let it fall. I'd slow my heart rate right down. Focus on the part of the ball – maybe where the blue meets the white on the branding – I was going to strike. Then that arm had to touch my ear. Three things. A, B, C and then hopefully D – a successful kick – would result. It could only be three. I'm not sure many of us can process five or six at the same time!" More often than not the ball sailed between the uprights and the SRU have tapped into Paterson's simple, brilliant methods and retained his services as a specialist coach. On a weekly basis his inbox fills up with clips of kicks and he scrutinises and analyses from underage right up to Finn Russell and Stuart Hogg.
Twickenham 2005 – 43-22 – was an exciting contest with Scotland remembering the way to the whitewash for three tries. England, though, countered with seven. Two years later there was a similar outcome but of England's 42 points 27 were claimed by Wilkinson.
"Helped by a try when his foot was in touch!" smiles Paterson. "Seriously, though, that was a big comeback game for Jonny and while like me he hated the limelight and wouldn't have liked all the attention being on him, he'd been through a helluva lot with injuries, both physically and emotionally, and that day I just thought to myself: 'Good on you, mate.'"
In 2009 our dear, ancient foes' margin of victory was cut to 14 points and in Paterson's final appearance at Twickenham in 2011, just six. Right through the sequence he never lost belief that Scotland could, just maybe, notch up another famous victory to rank with '71 and '83. He did his damnedest to stand his ground (and not be lifted up and spun around): "One or two of the performances in my career of which I'm most proud were down there." I mention, from that last appearance, a try-saving tackle way out wide to halt Ben Foden. Modestly, he nominates a better one on Chris Ashton because it was in centrefield. "He could have gone either side but I managed to scrag him."
The era's rugby culture more or less determined the player Paterson became and the thing he would be best known for: kicking. "The way the game was, the physicality, player size, the laws, South Africa being world champions [in 2007] all contributed to that. But it frustrated me. I saw myself as attack-minded, someone who wanted to play." So did observers who campaigned for him to have more opportunities at stand-off. "It just became all about the kicking."
Well, beggars for tries like Scotland at that time couldn't really be choosers. Paterson's boot – and lug-connecting left arm – won us games we might otherwise have lost. In his other two Murrayfield victories over the English, he bagged five penalties in 2006 and four in 2008, the only other points coming from two Dan Parks kicks.
"There might have been frustration but kicking was a duty which came to me to help the team and so I gave it my all." Even now, he confesses, there are a few missed efforts which still niggle him. So how will he feel if his points record goes? "Och, it'll be fine, and I hope 809 will be beaten one day. I'd like someone else to enjoy it because that would hopefully mean we're doing well as a nation on the rugby field."
That field – Twickenham – would be just the place today for Hogg or Russell to improve their tallies. "I'll tell you one more story about the Cabbage Patch," adds Paterson, "and it's a bit embarrassing. In 2005 it was the venue for the Northern Hemisphere vs Southern Hemisphere benefit match in aid of victims of the tsunami in the Indian Ocean. Terrible tragedy, highly emotive occasion and everyone there for the right reasons. But in the tunnel beforehand I remember saying to Davie Humphreys: "It's Twickenham, I've got to win here, I must do it!'"