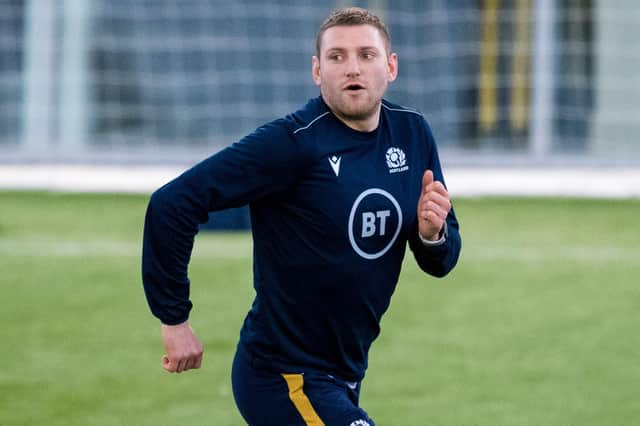 Finn Russell trains ahead of Scotland's clash with France on Friday.
The setting is Paris, his adopted home city. The match is a stand-alone occasion, the sole focus of attention for the rugby public this weekend, having been rescheduled from last month because of an outbreak of Covid in the French camp. And the stakes are high.
For France, there is a chance of snatching the title from Wales at the death of the Championship, just as they snatched victory from the same side at the end of last week's game to deny them a Grand Slam. To be sure of doing that, they would need to win by at least a 20-point margin, and with a bonus point: a tall order, but they are in an extremely confident collective mood and will certainly not fail for lack of trying.
For Scotland there is an opportunity to finish second in the final table. Granted, that is a more modest ambition, but it is one they have failed to achieve so far this century, and so would represent significant progress.
'A good one to watch'
"These are the games as a rugby player that you enjoy the most, because there is so much on the line," Russell said yesterday from the Scotland squad's training camp. "It's a massive game for both teams. If we manage to do what we're planning and get to second it's the highest finish we've had in the Six Nations.
"France are trying to win the tournament, so it should hopefully be a great game with both teams chasing bonus points and trying to win by certain margins. So it could be a good one to watch for neutral fans.
"Playing over in Paris I imagine they will be favourites, but we go there with a great opportunity for us to finish second. It will be an extremely tough but enjoyable game to play in if both teams are playing at their best. It should be a great game."
Racing certainties
One of the particularly fascinating aspects of the match will be the battle of wits between the Racing 92 playmaker and the French defence. This is his third season in the Top 14: long enough, some of his opponents may think, for them to anticipate his thought patterns. But by the same token, Russell now has a sound knowledge of how those opponents like to defend, so provided the Scots pack achieves something close to parity, the game could be decided on his ability to stay one step ahead.
"It goes both ways," he explained. "They know what I like to do in attack and I know what they like to do in defence and attack, so I'm feeding into the boys here about what the guys I play with at Racing might try and do.
"They have a lot of threats in attack. It's not just the Racing boys, it's one to 23 that are threats. In defence I know more about what the Racing boys will do, but the French are a great team.
"They'll have a few defensive moves to try and counter what we do, but we have a few to counter them as well. It makes for an exciting game, because with some of their star players like Teddy [Thomas] I have a slight insight in how they like to operate.
"For me, this is one of the best French teams they've had for a long time. It's always an exciting game. They'll play with a bit of flair and they have a lot of X factor.
"I play over there and I know what French rugby means to them and I know some of the boys individually. It adds to the matchday experience with me playing over there. I've never beaten them over there, but I have back at Murrayfield a few times. It would be nice to beat them over there, but the way they've developed and brought young players through will make for an exciting and a good game."
Thoughts on Maitland situation
For all his natural exuberance, however, Russell is very conscious of the political backdrop to the game. The enforced rearrangement has taken it out of the agreed international window, and Scotland's agreement with English clubs has limited them to naming no more than five players from those clubs.
The omission of Sean Maitland was apparently a selection decision, but one made within that five-man restriction, and Russell feels that the Saracens back-three player's absence could be significant. "He'll be a very big loss. For us and for Sean it's a big disappointment not having him here this week. I saw him on Sunday when we found out which five players would be staying up and he was gutted."
Having said that, Russell insisted that the squad would put the politics of the fixture behind them. "I'm not sure if it's fair or unfair – we just have to prepare as best we can with the players we have got.
"We can't think about that. We've just got to get ourselves prepared as best we can going into the game at the weekend. As a group of players, as a squad, if we sit back and look at ifs and buts – it's not fair, it is fair, that kind of stuff – it will be detrimental to our performance at the weekend. And we need to be solely focused on the game."
A message from the Editor: Thank you for reading this article. We're more reliant on your support than ever as the shift in consumer habits brought about by Coronavirus impacts our advertisers. If you haven't already, please consider supporting our trusted, fact-checked journalism by taking out a digital subscription.