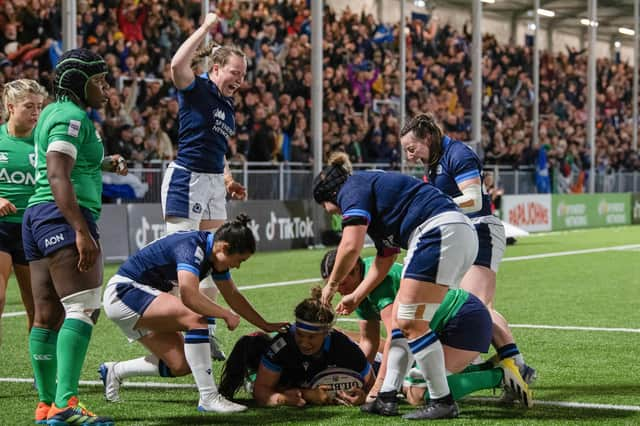 In front of a record home tournament crowd of 4,862 at the DAM Health Stadium in Edinburgh, they weathered early pressure from the dogged visitors, who finish bottom, before cutting loose.
It is the first time Scotland have won two games in the Six Nations since 2017 and, importantly, secures them a place in the second tier of the new WXV event being run by World Rugby later this year.
Player of the match Meryl Smith, the Scotland centre, said: "The atmosphere here at the game was just amazing and we cannot thank the supporters enough.
"We had a tough start to the tournament, but we always had belief and the last two weeks have been really good and we feel like we can build from here now."
A good start from the visitors saw them earn a penalty in the fourth minute and stand-off Dannah O'Brien kicked it over to make it 3-0. Ireland were the team playing with greater intent as the 20 minute mark came and went, but handling errors were proving their downfall.
In the 27th minute Scotland scrum-half Mairi McDonald had an attempted box kick charged down by Ireland's forwards and they had the hosts rattled.
From a lineout drive a couple of minutes later Ireland looked like they were going to score a try, but Scotland second-row got under the ball carrying just before the try line and it was a home scrum.
Scotland had their best passage of play so far in the 35th minute when breaks from winger Coreen Grant, centre Emma Orr and Malcolm almost put McDonald in for a try, but Ireland defended it well and won a penalty.
And right on the stroke of half-time the Scots got the game's opening try.
After some good phase play, a penalty earned a lineout near the Irish line and, once hooker Lana Skeldon had gone close, Smith ran a lovely line to go over. Nelson could not convert and it was 5-3 at the break.
That try gave Scotland confidence coming out for the second half and, in the 48th minute, from an attacking lineout Skeldon spun out of contact to dot down their second. Nelson's conversion fell short and it was 10-3.
Ireland fought back six minutes later when skipper Nichola Fryday scored a try and O'Brien converted to make it 10-10. This game was end-to-end now and in the 57th minute a great run by Smith eventually set up loosehead prop Leah Bartlett for a try which Nelson converted from out wide for 17-10.
With 15 minutes to go came the moment of the match. Back-row Rachel McLachlan fed 19-year-old winger Francesca McGhie and she showed amazing pace to score her first try for her country. Nelson converted the bonus point effort and it was 24-10.
Scotland thought try number five had come in the 74th minute via Malcolm, but it was disallowed. She did not have long to wait though, 60 seconds later she went over again and this one was given. Nelson converted and the icing on the cake came at the death when full-back Chloe Rollie scored try number six.