Scotland urged to 'take the positives' after 52-10 loss to England in Women's Six Nations opener
Scotland head coach Bryan Easson wants his players to take positives from the second half showing rather than dwell on the poor first half performance after they lost 52-10 to England in their Women's Six Nations opener.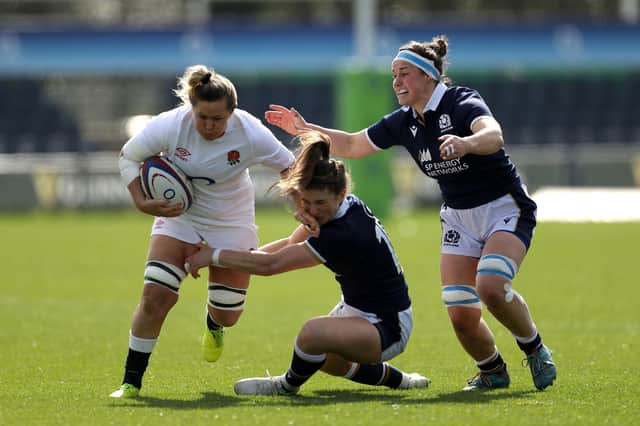 In the first 40 minutes at Castle Park in Doncaster, Scotland shipped 33 points before captain Rachel Malcolm had to withdraw due to a knee injury at the break.
Things did vastly improve after the interval before substitute Molly Wright was red carded to allow England to make it over the half century mark in this Pool A clash.
"We'll take positives from the game rather than look at the first half," Easson said after the 52-10 defeat.
"We were all disappointed with our first half, we felt at half-time that we'd just sat back and waited to see what England were going to bring to us.
"We put England under more pressure in the second half and it allowed us to have more ball."
England took the lead in the ninth minute when back-row Marlie Packer burst through a gap to score a try. Captain Emily Scarratt converted to make it 7-0.
Nine minutes later England made it 12-0 when scrum-half Leanne Riley wriggled over to score an unconverted try.
Scotland got a slight foothold in the game in the 23rd minute when stand-off Helen Nelson kicked a penalty and it was 12-3.
Five minutes later England scored their third try, a lineout drive seeing hooker Lark Davies barrel over for the five points. Scarratt converted.
Five minutes before the interval the home side bagged their fourth try - and a bonus point as a result - through tighthead prop Bryony Cleall with Scarratt converting. Scotland centre Lisa Thomson was yellow carded after an incident in the lead up to the try.
And England winger Jess Breach scored her side's fifth try just before the break, Scarratt converting to make it 33-3.
Back-row Malcolm was forced off at the break, so Evie Gallagher came on for her debut.
England's sixth try came in the 44th minute through stand-off Helena Rowland. Scarratt converted and it was 40-3.
After some good Scotland possession when they were back up to 15 players, England were penalised a number of times and No.8 Poppy Cleall was yellow carded.
Scotland took advantage, showing good patience to set-up centre Hannah Smith to score a try. Nelson converted and it was 40-10.
In the 57th minute England went down to 13 players when Davies was yellow carded for a high tackle on No.8 Siobhan Cattigan.
With England back to 14 players, in the 63rd minute Scotland replacement tighthead prop Wright, who had been on the pitch only a few minutes, was red carded for a high tackle when her arm hit England loosehead prop Vickii Cornborough in the head.
That meant it was 14 versus 14 for a few minutes, but once England were back to 15 they added an unconverted try through Poppy Cleall.
With two minutes to go they were awarded a penalty try and Scotland second-row Louise McMillan was yellow carded as things ended.
Next up Scotland face Italy on April 17.
Scorers: England: Tries: Packer (9), Riley (18), Davies (28), B Cleall (35), Breach (39), Rowland (44), P Cleall (71), Penalty try (seven points, 78). Cons: Scarratt 5 (9, 28, 35, 39, 44).
Scotland: Try: Smith (55). Pen: Nelson (23). Con: Nelson (55).
England: S McKenna; L Thompson, E Scarratt (C), L Tuima, J Breach; H Rowland, L Riley; V Cornborough, L Davies, B Cleall, A Ward, C O'Donnell, Z Aldcroft, M Packer, P Cleall. Subs: A Cokayne, D Harper, S Brown, H Millar-Mills, V Fleetwood, C MacDonald, M Jones, E Kildunne.
Scotland: C Rollie; R Shankland, H Smith, L Thomson, M Gaffney; H Nelson, M McDonald; L Bartlett, L Skeldon, C Belisle, E Wassell, L McMillan, R Malcolm (C), R McLachlan, S Cattigan. Subs: M Wright, P Muzambe, L Cockburn, E Gallagher, J Rettie, J Maxwell, S Law, L Musgrove.
Referee: A Groizeleau (France).