Scotland Rugby World Cup: Sione Tuipulotu on emotional reunion with his mum and reason for Lauryn Hill tattoo
Sione Tuipulotu is relishing the physical challenge that South Africa will present this weekend but there's also a sensitive side to the Scotland player, who fought back tears as he spoke about his mum coming over from Australia to watch the match in Marseille on Sunday.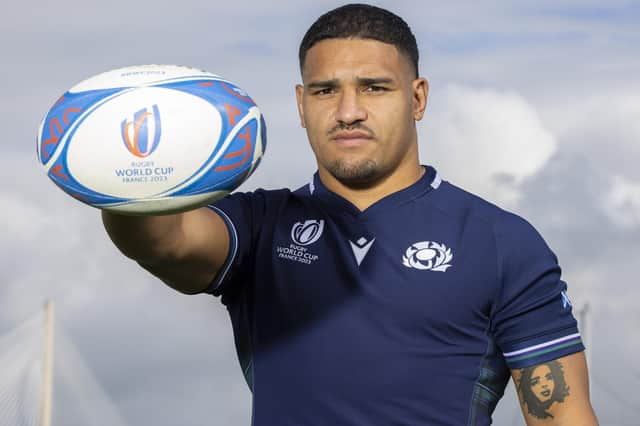 Angelina hasn't seen her son play since his time with the Melbourne Rebels but flew into France this week for the World Cup. It's a special moment for the family and Sione knows he needs to manage his emotions carefully in the build up to Scotland's opening game.
The Glasgow Warriors centre has a tattoo of American singer and rapper Lauryn Hill on his left bicep which serves as a reminder of the role his mum has played in his journey from Australia to Scotland via Japan. "It is an album cover, the Miseducation of Lauryn Hill, one of my mum's favourite albums," he explained. "Funny you should ask as she is over here, got here yesterday. She has not watched me play rugby for quite a while. I got this tattoo a long time ago as it reminded me of my childhood and my mum would always have Lauryn Hill playing in the background in the house. I had the privilege of seeing her a few times. Lauryn is awesome and so is my mum."
Tuipulotu's father, Fohe, is Tongan, while Angelina was born to Scottish and Italian parents who built a new life in Frankston, in Melbourne's south-east. Tuipulotu's maternal grandmother, Jaqueline 'Anne' Thomson, emigrated to Australia from Greenock and provides the link which prompted Scottish Rugby to lure Sione to Glasgow. Having represented Australia at under-20 level, he threw his lot in with Scotland and won his first cap against Tonga in 2021. He has flourished since and the prospect of seeing his mum again left him visibly moved on Thursday as he spoke to the media from the Scotland team hotel near Valbonne.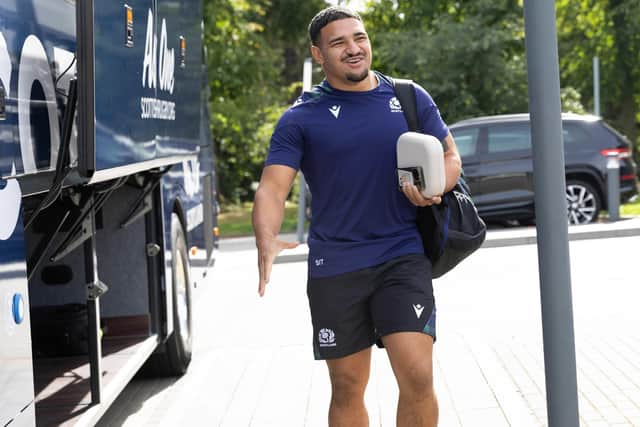 "I had a chat with her yesterday when she got to Paris," he said. "It was an emotional phone call. She just said how proud she was. My mum is part of my Scottish heritage and very proud when she sees me during the anthem and amid all the noise at Murrayfield. I can't imagine how she will feel this weekend playing the world champions. That is part of my motivation this week. It's not just my journey but her journey as well. Only I know what she has been through to get to this point. Her story is something I have always thought about in my rugby and it all comes together this weekend. She last watched me when I was in Melbourne playing for the Rebels. She was always there, like my dad who has been across to Scotland to watch me play. It is a bit special because it is my mum and I am emotional about it. When I first set foot in Scotland she said my confidence came back and she saw me as a young kid again.
"My mum doesn't really know much about rugby – my dad is the codehead of the family. But my mum is the most emotional person I have ever met, and people have always said I'm much more like her than my dad. When she comes to rugby games, it's quite funny because I don't know if she follows the game or is just watching me around the field, even when I'm not doing anything, just to see if there's any niggle. She'll always ask me after the game, 'what was that guy doing? Why didn't you get him?!'
"I'll catch up with her on Friday night. It's her birthday on Saturday so it feels very strange it all lining up like this, but I also feel it's meant to happen. I'll celebrate her birthday on the Saturday and hopefully she has a good Sunday as well. I'm trying not to think too much about my mum before the game because I know it will emotionally drain me, but just in the build-up to the anthem, I won't lack any motivation with my mum being in the crowd. After the game, if we can get it done, just to share that moment with her the day after her birthday would be something I can look back on in my life and appreciate."
Tuipulotu's career path hasn't always run smoothly. He burst on to the scene in Melbourne as a youngster and became the first home-grown player to play for the Rebels. But his time there was a little uneven and he moved to Japanese club Yamaha Jubilo ahead of the 2021-22 season. From there he joined Glasgow where his improvement has been rapid. Tuipulotu never doubted himself and sees the forthcoming World Cup as the culmination of all he has been striving for.
"I have always backed myself through my career," he said. "I have always been a confident player and when I moved over here if I was going to move as far away from my family I was going to make it happen. I always thought as a kid I wanted to be one of the best players in my position in the world. This is the tournament you get to prove that. There is no bigger challenge than this weekend. South Africa always have good centres and this is the last part of the challenge and I back myself to go out there and play my style and force my game on them. I have grown up loving the physical stuff, it is all part of my game. One of the reasons I am playing for Scotland this weekend is because I enjoy the physical side. When you trusted with that side of the ball you just want to go out there and deliver. There is no bigger task than tackling big South African boys. I am looking forward to it."
Comments
 0 comments
Want to join the conversation? Please or to comment on this article.