Scotland Rugby World Cup: Plenty of reasons for optimism as we look to upset the odds
There is general agreement that Gregor Townsend has put together the best Scotland team for years. Some say since 1999 when we won the last of the Five Nations championships. Others, more daringly, simply say "the best ever". Comparisons with the Grand Slam-winning sides of 1984 and 1990 seem to me pointless, the difference between the amateur game then and the professional one today being so vast.
No matter: we can agree that he has assembled a very fine team. We go to this World Cup ranked fifth in the world, higher than ever before. This is splendid. Unfortunately, thanks to the ridiculously early determination of the pools, two of the teams ranked above us, Ireland and South Africa, are in our pool. It is therefore possible, even quite likely, that "the best Scotland team ever" may be eliminated before the quarter-finals.
We have to beat one of them to proceed. Well, we have never beaten South Africa, the reigning champions, in the World Cup, and we haven't beaten Ireland, top of the world rankings, since 2017. Moreover in their last warm-up match South Africa inflicted a very heavy defeat on New Zealand.
We play the Springboks tomorrow. They have a formidable pack, with equal strength on the bench and a very fast and skilful back three. The odds are in their favour and, unusually perhaps, they are sure not to underestimate Scotland. They will remember that they lost their first match in the 2015 Cup – to Japan.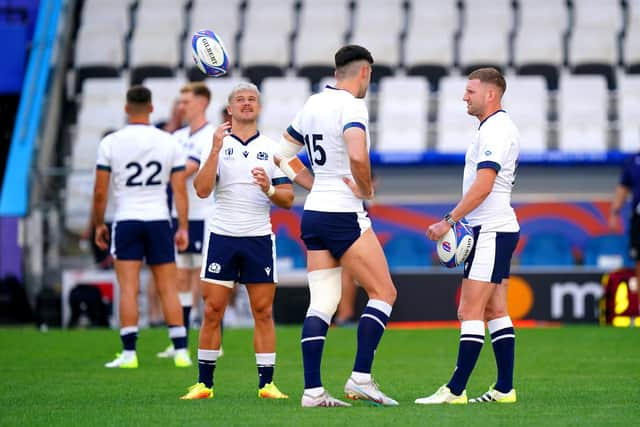 What's in our favour? What gives us any reason to think we may win? Well, the warm-ups have been satisfactory especially the away match against France, even if it ended in a very narrow defeat. Second, Townsend knows what is our best XV, something I don't recall being the case in any previous World Cup, and is able to field it. The pack has matched the very powerful and skilful French one and is strengthened by the return of Zander Fagerson from suspension. It has a back-row capable of competing on equal terms against anybody, and in Richie Gray one of the few players in world rugby good enough to steal South African ball at the lineout. Townsend has shown his faith in the forwards by being content with a 5-3 split on the bench, as against South Africa's 6-2 one.
Then, as never before in the Cup this century, we have a try-scoring back division. The back three of Blair Kinghorn, Darcy Graham and Duhan van der Merwe have between them scored some 50 international tries, while at 13 Huw Jones is the most dangerous running centre we have had in the professional era. He has a fine understanding with his club partner, Sione Tuipulotu, who is both powerful and creative. Next we have a magician at 10 – a crafty one at that – in Finn Russell, the best fly-half in the Northern Hemisphere and – some would say – the world, while in Ben White we have a scrum-half who moves the ball quickly. This is a back division as good as there is in the world. Given at least parity up front and a supply of clean ball it can score tries against anyone.
So there's a chance, and a good one. Looking on the dark side, Scotland have too often been slow starters and a slow start tomorrow might enable South Africa to take a grip on the match which would be very hard, even perhaps impossible, to loosen. Playing New Zealand a fortnight ago they did just that. Arguably New Zealand lost that match in the first quarter. Moreover they were under so much pressure that they conceded penalties and a couple of players were yellow-carded.
South Africa are rightly favourites but they have their weaknesses. They are not as consistent as the great All Blacks team were in the days of Dan Carter and Richie McCaw, and recently their goal-kicking has been less than reliable. Of course you hope they are given very few chances to kick at goal.
It could be a fine match. The South African forwards may dominate, in which case our backs will be on short rations which may make them reckless. Victory may still be unlikely, but I have talked myself into optimism. It's our most interesting World Cup match for a long time.