Scotland Rugby World Cup: Jamie Ritchie backs his team to beat everyone in Pool B
Scotland have exuded a quiet confidence all week in France and there was no sign of it dipping when they arrived at the famous Velodrome in Marseille on Friday to train in the stadium ahead of Sunday's match against South Africa.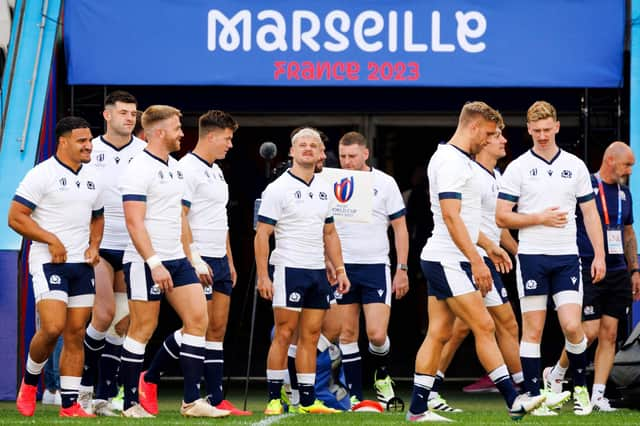 Opening their Rugby World Cup campaign against the holders is not something to be feared according to Jamie Ritchie, with the captain adamant that they can not only qualify from Pool B but win every game. Given they must also play Ireland, who top the world rankings, as well as Tonga and Romania, it's a bold statement of intent. Scotland have been able to name a full-strength XV to face the Springboks and Ritchie said the overriding emotion ahead of Sunday was excitement as he prepared to lead his country into their tenth tilt at the World Cup.
"That is why we play the game," he said. "These are the moments all of us strive towards and set our goals for when you are a kid. It is important you enjoy these moments and you do look forward to them. If you let it become fear the moment gets away from you. The most important thing in any environment is enjoying it and this has to be enjoyed. We are not paid to train, we are paid to play so that is what we enjoy doing.
"Our motivation is completely internal. We have self-belief. We know that if we perform on the day we can beat everyone in this group. For us we have done well with an underdog tag but to be honest I don't think we need it. I firmly believe if we perform to the best of our abilities we can win all the games in this group."
Gregor Townsend was more circumspect when addressing the same topic, with the Scotland coach acknowledging that he was prepared to play the underdog card when appropriate, citing last month's match against France in Saint-Etienne as an example.
"We had nothing to lose in that game," said Townsend. "We were playing the favourites for the World Cup in front of their own supporters and we said to go out there and play like there was nothing to lose. For a lot of that game we did that and almost came away with a win, so that mindset is a good one to have. But we also need the mindset that we can win and if we're ahead in the game, we need to put the foot down and keep playing, keep doing the things that got us ahead. You've got to balance that underdog spirit with the mindset that we're here to win."
Scotland lost the match to France in Saint-Etienne, their only defeat in four warm-up games they played going into this tournament, but Townsend's side produced a stirring fightback in the final 20 minutes after trailing 27-10 early in the second half. The Scots brought it back to 27-27 in the final minutes only to lose 30-27 when Thomas Ramos kicked a latst-gasp penalty. Scotland trailed at half-time in all four preparation games and while it's not something to be encouraged, Townsend has been heartened by their ability to play their way back into games, particularly in the home clash against France when they were trailing 21-3 but eventually won 25-21 with 14 men following Zander Fagerson's early red card.
"We didn't want to be 21 points behind against France but this team have shown they are capable of coming back, whether it's in Paris, or at Murrayfield when a man down, or Saint-Etienne with the crowd and momentum against us," said Townsend. "It would be nice to be 15 points ahead but we've got to deal with whatever situation is presented at any time in the game."
With Darcy Graham passed fit and Zander Fagerson returning after serving his suspension, Townsend is able to call upon all his big hitters. He will need them against opponents who are coming to the boil at exactly the right time. South Africa completed their World Cup preparations with a 35-7 win over New Zealand at Twickenham and arrived in France full of brio. They named their team to play Scotland two days early and then declined the opportunity to do a training run in the stadium on Friday. With Rassie Erasmus and Jacques Nienaber at the helm, South Africa are no strangers to mind games but Townsend has been around long enough not to be sucked in.
Asked to define what success looks like for Scotland in this World Cup, the coach said, "delivering what we believe we are capable of".
"We will be tested, no doubt," Townsend added. "There will be times when South Africa have dominance, South Africa have points on the board. There will be times when we aren't able to execute things as well as we like and that's not because it's the first game of the World Cup it's because of the opposition and what they bring with their pressure. But we've got to find a way to win and that's what this World Cup is about, finding a way to win. So success is obviously winning.
"It's the biggest opportunity you'll get: a World Cup game, playing the world champions. And we believe we've been building to our best performance and I know that's a continual journey and we'll say it again as we go towards the Tonga game, but really this is where it'll count for our players to deliver what they have been delivering in training and what they have been delivering in other games, in games we've played this year, and we have every faith they will be able to do that."
Comments
 0 comments
Want to join the conversation? Please or to comment on this article.