Scotland Rugby World Cup: Huw Jones-Sione Tuipulotu combo has its origins in Glasgow Warriors' Mad Monday
They bonded over a few end of season drinks but it was more than 18 months later before Huw Jones and Sione Tuipulotu finally got to play together.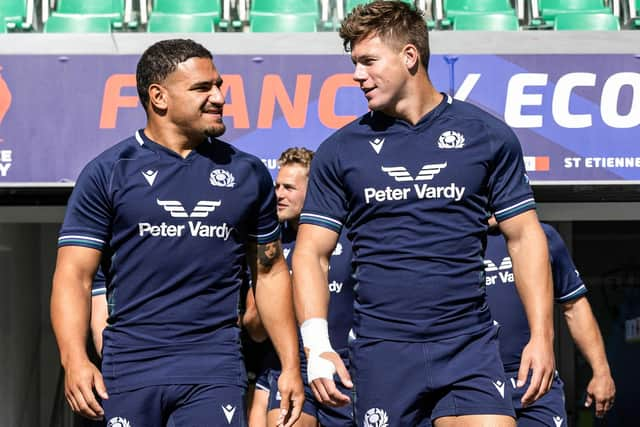 Not that you would have known it from the way they quickly dovetailed. There's a chemistry between the pair whose impact in the centre for Glasgow and Scotland has even seen them rewarded with their own combined nickname. Huwipulotu was trending on Twitter during the Calcutta Cup win over England in February and the two players went on to link up to good effect in all Scotland's Six Nations matches.
They are now at the World Cup and expected to start in Sunday's Pool B match against South Africa in Marseille. They have worked hard on their game and often stay behind after training to hone their skills but they don't do everything together as Jones was at pains to point out at the team hotel in the south of France
"We're not joined at the hip!" he laughed. "Thankfully we've got our own rooms here as well. But we get on so we do hang out outside rugby as well. The reason we do our extras together is because a lot of the time we are next to each other on the field, so to get those little plays that we do working well in different situations, that's quite important."
Tuipulotu and Jones first met at a Glasgow Warriors social event at the end of the 2020-21 campaign. The former had just arrived at the club after a spell in Japan while the latter was on his way out having agreed to join Harlequins for the following season. "It was a crossover period," said Tuipulotu. "I came over for the Scotland summer tour, but then it was cancelled because of Covid. I went back to Glasgow and it was their Mad Monday weekend, the party week. That's where I met Huw and started to like him - I was like, this guy's alright! He ducked off to Harlequins after that but we had a couple of good nights on the beers before he took off."
Jones returned to Glasgow after a season in England but a back injury prevented him from playing until last December. He and Tuipulotu finally lined up together in a Challenge Cup win over Perpignan nine days before Christmas but it was a hard-fought victory over the Stormers in the URC in January that really caught the eye and the pair were named as starting centres for the Six Nations opener against England. A 29-23 win at Twickenham in their first Test as a partnership sealed the deal and they've been Scotland's first choice combo ever since.
"Ah, they're a joy," enthused Pete Horne, Scotland's assistant attack coach who also works with the pair at Glasgow. "They can do absolutely everything. Sione is one of the most talented players I've ever worked with. He's so big and powerful with such a good ball-carrying game – he can bang as well, he can hit really hard – but then he's got great touch, he's got such a good ability to find a great pass, to get the ball in and out of his hands, and he also makes everyone around him better as well with the way he communicates, and I think that really helps Finn Russell as well.
"Then Shuggy has just got more x-factor than anyone I've ever played with. He can turn a game. His running lines are just absolutely brilliant. He's got this ability where he looks absolutely cooked, then he'll just suddenly get the ball and be able to go at 100 miles per hour. So, he's a really special athlete and the two of them complement each other really well, with Sione's playmaking ability does bring Shuggy into the game."
Comments
 0 comments
Want to join the conversation? Please or to comment on this article.