Scotland Rugby World Cup: Gregor Townsend explains why changes may be kept to minimum for Tonga clash
Gregor Townsend has indicated that he is likely to stick largely with the side which lost to South Africa when he picks his team for Scotland's second game of the Rugby World Cup against Tonga in Nice on September 24.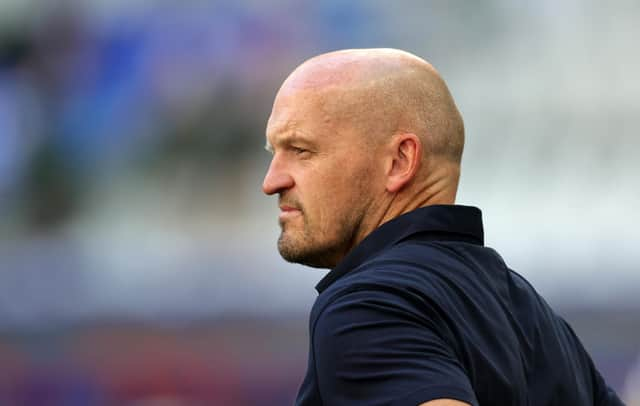 The Scots have a fortnight between their first two matches in Pool B and the unusually long gap will prove useful for recovery after the bruising defeat by the Springboks in Marseille on Sunday. It was a demoralising start to the campaign for Townsend's team who had come into the tournament in good form but found no way past the world's best defensive side.
South Africa won 18-3, restricting Scotland on the scoreboard to a single Finn Russell first-half penalty. It was their lowest-scoring outing since their first game of the 2019 World Cup when they were defeated 27-3 by Ireland and the first time Scotland hadn't scored a try in a match since the 2020 Calcutta Cup at Murrayfield which England won 13-6.
Tonga now becomes a must-win game for Scotland who cannot afford to lose again in Pool B if they are to have any hope of finishing in the top two and reaching the quarter-finals. "We'll review the South Africa game in more detail," said Townsend. "There are a few areas we have to improve, but I believe the team that played on Sunday is more likely to get that second opportunity."
After Tonga, Scotland will travel north to face Romania in Lille on September 30 and then Ireland in Paris on October 7, the match that is likely to make or break their knockout hopes. Townsend said he was glad his players now had time to recuperate. They will be given a few days off to spend with visiting family members. "It's definitely a good thing," he said of the break. "South Africa is probably going to be our most bruising game, although Tonga, Ireland and Romania will probably say they will be as physically challenging. But given the heat, the fact it was our first game and guys were cramping up, we could do with some recovery time. We now know what's going to be in front of us - three games we must win."
Townsend said there were no known injury concerns in the aftermath of the South Africa game and again addressed the controversy in the first minute when Springboks centre Jesse Kriel made head-to-head contact with Jack Dempsey as he tackled the Scotland No 8. The frustration for the Scotland coach was that neither referee Angus Gardner nor TMO Ben Whitehouse felt the incident was worthy of review, despite it being replayed on the big screen at the Stade Velodrome. England's Tom Curry was sent off for a similar incident against Argentina in the same stadium the previous night and Scotland are waiting to see if Kriel's tackle will retrospective punishment."We did pass a message on to Jamie Ritchie to ask the referee if he had heard from the TMO and then it was shown on the screen," said Townsend. "The referees obviously have to be helped by TMOs, but if they've seen an incident on the screen, referees can also say, 'OK we need to look at that again'. It's frustrating that it didn't get discussed."But look, that's not the reason we lost. The reason we lost was that we weren't accurate enough. We didn't play well enough in the third quarter when we had got ourselves in a position where we normally kick on. We should have kicked on but we didn't on Sunday. That's more frustrating than the incidents we are chatting about."We didn't start all that great. We were in our 22 and our half for the first 10-15 minutes, lost our first lineout and put ourselves under pressure a couple of times with ball in hand. They were kicking to our wings but we ended up coming through that period with a real strong scrum, dealing with their kicks and putting some attack plays together."It would have been great to have more points on the board than just three, but having gone through that first half, it was there for us to improve our game and disappointingly South Africa grabbed the game at the start of the third quarter and it was hard to bring back. It was definitely harder to attack with the ball being that little bit slippery. If you're behind on the scoreboard, it's that little bit tougher to be accurate but we know we have to be more accurate than we were on Sunday."