Scotland Rugby World Cup: Dave Cherry on rough times in Nice - I was told, 'if it kicks off, we are all in'
He spent a season in Nice mixing it in the rough and tumble of France's sixth tier and now Dave Cherry has returned to the Cote d'Azur as a fully fledged member of Scotland's World Cup squad.
It was a tough school at Stade Niçois where local sides were only too happy to have a go at the city slickers. But the 32-year-old believes it was the making of him, helping pave the way for his pro contract with Edinburgh and, ultimately, his breakthrough into the national side. Cherry is one of three hookers selected by Gregor Townsend for the 2023 tournament and will spend the next few days trying to convince the head coach that he deserves to be part of the match-day 23 for Scotland's Pool B opener against South Africa on Sunday. Townsend's team are basing themselves in NIce for the group stage, stirring some memories – good, bad and ugly – for Cherry, who endured some hairy moments in the south of France where the laws of the game weren't always strictly observed.
"It was Federale Two. I don't know how that equates but there were no touch judges," explained Cherry, offering an eye-opening insight. "I have videos of it. 'The good old days,' as you would probably say. There would usually be a right barney and it would start with the scrum. That was how it went, week in, week out. Nobody particularly liked the club Nice.
"I remember going to the first game in some village and in the dressing room beforehand I was told, 'if it kicks off, we are all in.' I was thinking, 'yeah yeah, I have heard this before,' and it really did kick off. I flew in and found myself at the bottom of a ruck and that was that. There were handbags flying everywhere. It was sink or swim. Luckily I swam and the French adopted me and liked the fact I got stuck in with them and the rest is history, I guess. It wasn't ideal, how we had to play in that league, but the goal was to get promoted and we did, and thankfully I got a contract at Edinburgh off the back of that. It was not the usual path that a rugby player in my position would take but I would not have changed it. It has shaped me."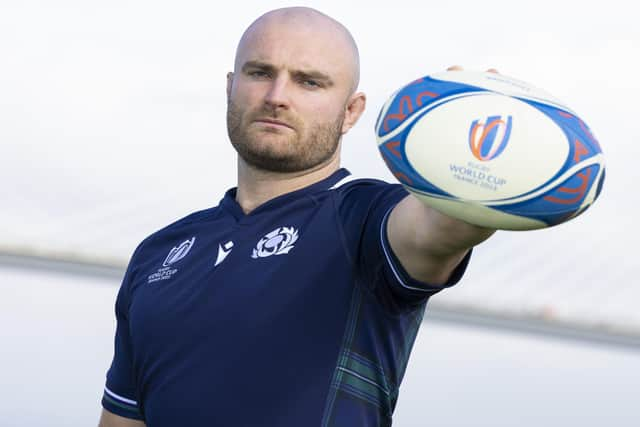 The Scottish Rugby Union had a partnership with Stade Nicois at the time and Cherry was one of several players from Scotland who moved to the French club. Cherry was the one who flourished and not only on the rugby pitch – he met his partner Olivia in the city and the couple are now expecting their first child. "Nice has a special place in my heart," he said. "I met my fiancée here, I got engaged here and now we're based here for the Rugby World Cup so it's three pretty big things in my life that have happened in Nice."
Their baby daughter is due in 20 days' time. "My partner's handling it incredibly well," added Cherry. "She's putting me at ease rather than me putting her at ease. She's handling it amazingly. I'll go back when I can, fitting it around games. We'll cross that bridge when we come to it."
Comments
 0 comments
Want to join the conversation? Please or to comment on this article.