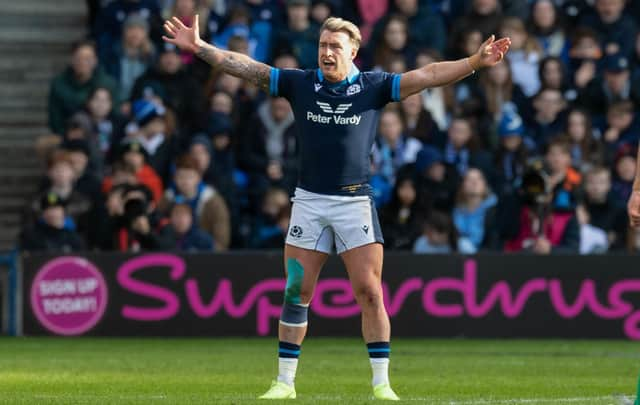 His body has taken a fair battering and in the last two seasons it seemed that he had lost the edge of the speed that helped to make him so remarkable He was at the top level from his first international appearance as a very young man in 2012.. A hundred Test matches for Scotland and 27 international tries - this is no mean record. He has not always been a lucky player.. The accidental injury he suffered on the last Lions tour of New Zealand when he was at his peak was a wretched misfortune. There may still of course be golden days in France this autumn, but whether this is the case or not, we have an awful lot to be grateful for.
We have been well served at full-back for a very long time now, at least from 1957 when Ken Scotland made his first appearance. Ken Scotland, Stewart Wilson, Andy Irvine, Bruce Hay, Peter Dods, Gavin Hastings, Glenn Metcalf, Chris Paterson, Stuart Hogg: that's a list that any other Six Nations country would be hard to match. Moreover one can add other very good players who took possession of the number 15 jersey from time to time: Robin Chisholm, Colin Blaikie, wee Arthur Brown of Gala, Ian Smith the Army dentist,and Hugo Southwell. Now, to succeed King Hogg, we have Blair Kinghorn if he settles at 15 or young Ollie Smith of Glasgow, no longer a starlet but a shining star. There can't have been many years when the selectors scratched their heads to think who they might dare field at 15.
Of the star list of eight I've offered, Peter Dods is perhaps the one most often overlooked, coming as he did between Irvine and Hastings. No doubt he lacked their glamour. All the same he was full-back throughout the 1984 Five Nations which culminated in our first Grand Slam for almost sixty years. Of Scotland's 86 points in the four matches he scored 50, including a try against Ireland. Moreover Peter Dods had one success that evaded Ken Scotland, Andy Irvine, Gavin Hastings and Chris Paterson: a Calcutta Cup victory at Twickenham in 1983. The next full back to match that was of course Stuart Hogg. When Hastings, injured, missed all four matches in 1989, Dods was back for wins at Murrayfield against Wales and Ireland, defeat in Paris and a draw at Twickenham .
If we have been consistently strong at full-back, this hasn't always been the case at 12 and 13. This makes the present situation more remarkable. Not only were Huw Jones and Sione Tuipulotu selected in a poll for the 2023 Six Nations Team of the Year, ahead of the French and Irish centres. But there is unusual reserve strength. It's a bit like City busses, You wait for ages at the stop and then they comes up in a group. So, as reserves in waiting, we have Chris Harris – a Lion in 2021 , Camerin Redpath , in sparkling form for Bath, and Strafford McDowall playing splendid stuff for Glasgow in the absence of the Scotland pair. In Limerick last week he scored a terrific try from 30 metres out, shaking off would-be tacklers like a Newfoundland dog emerging from the sea.
That was a tremendous game from Glasgow. Thomond Park has surely rarely been as silent at half-time when Glasgow led 28-0. Then when Munster fought back to 12-28, we saw something rare in Scotland today: a well-timed and beautifully delivered drop goal from Glasgow's fly-half Domingo Miotti.No doubt as an Argentinian he was reared on memories of the great Hugo Porta and watched, perhaps hero-worshipped, El Mago, Juan-Martin Hernandez, both master of the drop.
Meanwhile before this column is in print, Edinburgh's season will have been revived or extinguished in their European Champions Cup match at Leicester's Welford Road. Surely they won't have been as careless and slapdash as they were in Galway last week. Surely not…perhaps. Glasgow on the other hand should be approaching their Challenge Cup game at Scotstoun against the Dragons with eager confidence.