Scotland can wing it at World Cup with Darcy Graham and Duhan van der Merwe in top form
It was a delight to watch Darcy Graham playing again for Edinburgh last week. He always gives theimpression of enjoying the game.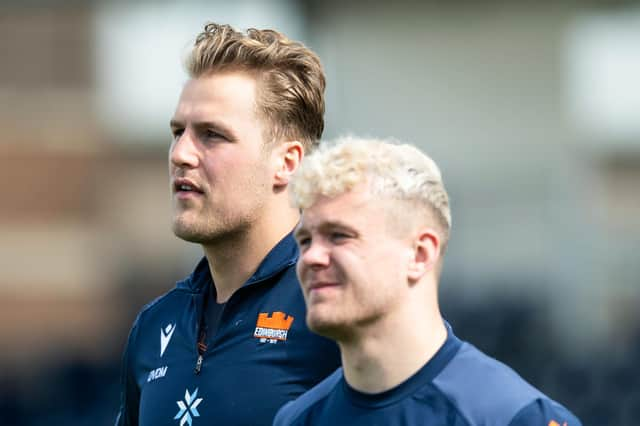 Though as a Hawick man he is doubtless as committed to winning as anyone who has worn his club's famous green jersey, he still, like his great Mansfield Park predecessor Jim Renwick, gives the impression of playing for fun. There's an impishness about him. At the same time he arouses the spectator's protective feeling in a way that is quite unusual.
We missed him in the Six Nations, even though his replacement Kyle Steyn, played very successfully, admirably indeed. I think this is partly because with Graham you feel that anything may happen at any moment.
Evidently we are lucky in our wing-men today. At the same time they may be thought lucky to be playing just now. The game over the last two or three years has become more open, more adventurous, and therefore with more opportunities for the wings to see action. Happily the days, quite common in the now distant past, when the wing three-quarter was often a lonely figure hovering on the touchline and ignored by his team-mates, seem to have gone.
In Graham and Duhan van der Merwe we have, of course, a delightful contrast. It would be wrong to say that one is all wit and inventiveness and the other all power and pace. Graham is a powerful chap himself and van der Merwe is as likely to side-step a defender as simply to run through him. Neither will confine himself to parading along his touchline. Van der Merwe's remarkable try at Twickenham began more than half-way across the field. Graham, too, may pop up anywhere.
More tries are scored in international rugby than was the case in the past. Arthur Smith, by common consent, one of the finest wings ever to play for Scotland, and twice a Lion, scored only 12 tries in his 32 internationals. But he played in a barren restrictive era and when scores like 6-0 or 6-3 were quite usual - those 12 tries were about half the number Scotland scored in his 32 games.
Roger Baird in the 1980s was a wing of rare ability, a prolific try-scorer at club rugby, second-top try-scorer on the 1983 Lions tour of New Zeland, but never scored a try for Scotland, though he set two famous tries in motion and gave the scoring pass for others. But, as I say, tries were rarer in his day than now.
There are some almost forgotten men among Scottish wings. One was Billy Steele of Langholm, the RAF and several English clubs, a Lion in South Africa in 1974, and a lovely player who drifted through defences, finding space where there didn't seem to be any. He would rank high in my list of great Scottish wings, as would Chris Paterson though he is more often thought of as a full-back and should, as many of us thought, have actually played his international rugby at fly-half.
Then there were the Grand Slam-winning wings of 1990, Tony Stanger who scored that most famous try against England, and Iwan Tukalo, possessed of a defence-splitting side-step. Both were great or very near great players.
There's a lot of competition on the wing XV if you set out to select an all-time Scotland XV and even quite a lot if you restrict yourself to the professional era. So, for instance, while recognising van der Merwe as a terrific try-scoring wing, you might find yourself asking if he is to be preferred to the Flying Dutchman Tim Visser, who also gave the impression of scoring tries for fun, as the saying goes. And how would the speedster Thom Evans have ranked if his career hadn't been abruptly ended by a horrible injury?
Be that as it may, we are lucky to be approaching this autumn's World Cup with such a pair of wings as Graham and van der Merwe, and with Steyn in reserve. But there's an awful lot of rugby to be played in the summer before the tournament begins. So we must keep fingers crossed that our wings aren't clipped.