Sam Skinner has no regrets over Edinburgh move as World Cup dream moves closer after agony of 2019
Having missed out last time in the most agonising of circumstances, Sam Skinner is determined to be part of the Scotland squad which travels to France for this year's Rugby World Cup.
Skinner ended up watching the 2019 tournament on his own in the Exeter Chiefs team room after an injury in a Scotland warm-up game ruled him out. The forward, who joined Edinburgh from the Devon club last summer, is now keeping everything crossed that he stays fit and in favour for the autumn. "Of course it's a dream to go to a World Cup, especially for Scotland," said the 25-times capped lock. "It's a massive dream of mine and I'm going to put my best foot forward. All I can do is control what I can. If something blind-sides me like that, then it happens and it's life, isn't it? Worst things have happened to people. It wasn't ideal last time round but that is just professional sport sometimes. Hopefully I'll just keep my head down, work hard and find myself with a plane ticket to France."
It was against France four years ago that Skinner's hopes of playing in the 2019 World Cup were ended. He suffered a hamstring injury during the 17-14 win over the French, less than a month before the tournament was due to begin, consigning him to a watching brief back in Exeter. "I remember sitting in one of the Chiefs' dining areas because I was in rehab at the time while everyone else was out training. I was watching us play Samoa. I remember Sean Maitland scoring a try from a cross-kick. I was just sat there in this silent room watching it by myself, desperate for us to get four tries because we had lost to Ireland first up and basically had to win every game from there on. I remember very well being sat by myself watching this World Cup go ahead without me. But that is all just part of it."
While they managed to beat Samoa 34-0, securing a bonus point in the process, and then thumped Russia 61-0, the opening defeat by Ireland combined with the loss to hosts Japan in their final group match saw Scotland eliminated at the pool stage for only the second time in World Cup history. The task facing Gregor Townsend's side this year looks even harder, with an opener against holders South Africa in Marseille, then matches with Tonga and Romania before a final Pool B showdown with the Irish, now ranked the best in the world, in Paris on October 7.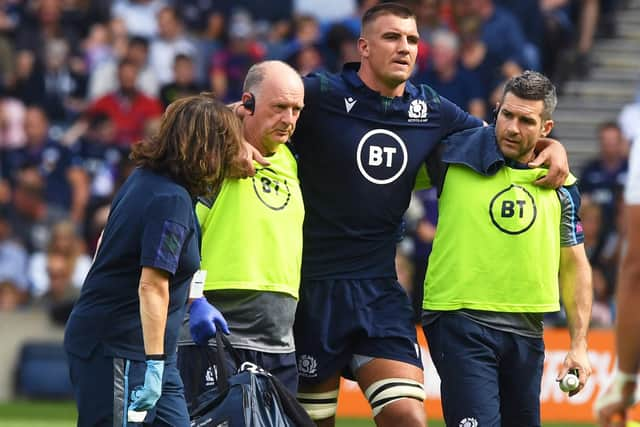 Skinner and his Edinburgh team-mates in the Scotland squad should be fresh, at least. The club's season ends on Friday, against Ulster in Belfast, meaning the club's international contingent will have an extended summer break before the first World Cup warm-up game, against Italy at Murrayfield on July 29. There will training camps and fitness tests between now and then but an unintended consequence of Edinburgh's failure to reach the United Rugby Championship play-offs is that their campaign will be over before April is out. "It feels like the shortest season of my life, I can't believe it," said Skinner. "That being said, next season will be different as well because there is a big World Cup at the start of it. For some boys pre-season will start earlier so it will come round just as quick. But to be standing here in April thinking we will be finishing next week is a very different feeling."
Despite Edinburgh's travails, Skinner has no regrets about making the move north. Born in Exeter, the 25-times capped forward enjoyed great success with the Chiefs, regularly challenging for the top honours and winning a Heineken Champions Cup and Premiership double in 2020. By contrast, Edinburgh have struggled this season, winning just two of their last 10 URC games. Skinner, who qualifies for Scotland through his father from Ayr, knows the club's form needs to improve but he feels settled in the city and has enjoyed the change of scene. "I have loved it. Life away from rugby and also the rugby side of things have been a real freshen up for me. I have really enjoyed challenging myself in a new environment and meeting new people and seeing how things are done differently. It has been really exciting and it is an amazing city and an amazing place to live. Although it has been fantastic, the obvious elephant in the room is that we have not been as successful as we all would have liked as a team and that has been challenging. There are no regrets but disappointed it has not been as successful as it could have been. It has been a fantastic decision for me to come up here and I have loved it."
While Skinner would obviously like to have been involved in the finale to the club season, one of the benefits of his move to Edinburgh has been his game time being more carefully managed. The 28-year-old has played 13 games for Edinburgh this season and three for Scotland. It contrasts with his final campaign at Exeter during which he played 29 times, 19 games for the Chiefs and ten for Scotland. The hope is that the reduction in the number of minutes on the field will ensure he is fresh for the World Cup. "Yep, I'm ready to go," he said. "I've had half the games I had last season. That was one of many reasons why I chose to come up here and I've loved every bit of it this year."
Comments
 0 comments
Want to join the conversation? Please or to comment on this article.