Rugby World Cup: Scotland ready to get physical with a South Africa who are 'going to come through the front door'
The two great cities are where the start of Scotland's Rugby World Cup campaign is centred and it begins in earnest for Gregor Townsend's side on Sunday night when they face South Africa in the magnificent Stade Velodrome, home to Olympique Marseille.
The Springboks are well known as abrasive operators, a physical side who dominate opponents with their ferocious forward power. They may feel more at home in Marseille which has a lawless feel to it at times. Motorbikes and mopeds seem to dominate the city, seemingly dividing their time between road and pavement and creating an unholy din. In this cauldron, where temperatures are expected to reach 28 degrees by kick-off, Scotland will look to noise up opponents with some devilment of their own.
The stuff coming out of the camp all week has been positive, bordering on the bombastic. John Jeffrey, the 1990 Grand Slam icon and now vice-president of World Rugby, kicked things off by proclaiming the current side "the best ever rugby team to represent Scotland". Captain Jamie Ritchie said on Friday that they were capable of winning all their group games. And Darcy Graham is already talking about quarter and semi-finals.
To be fair to the winger, he did caveat it by saying they were taking it one game at a time and why shouldn't the Scots be confident? Gregor Townsend has got them playing a brand of rugby that is admired worldwide and has proven effective in recent years when beating England (three times in a row), France (home and away) and Australia. It hasn't, however, been enough to get the better of Ireland or South Africa, two sides Townsend has never beaten during his 70 matches in charge of the national team.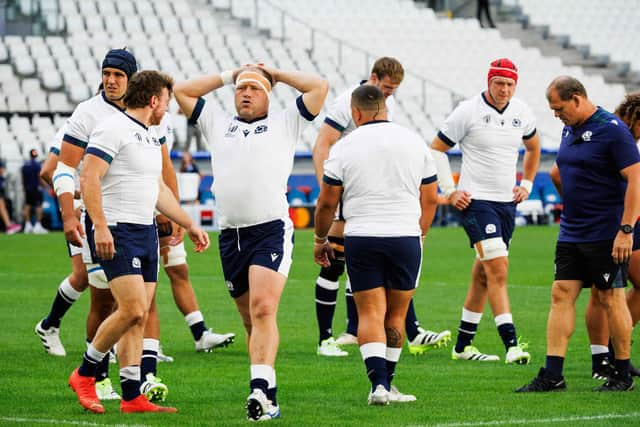 To be fair to the coach, they are ranked first and second in the world currently and it's fifth-ranked Scotland's misfortune that they must play them both in Pool B of this tournament, along with Romania and Tonga, the latter in Nice in a fortnight. Scotland are basing themselves close to Nice for the duration of the group stage but relocated to Aix-en-Provence in the build-up to the South Africa game. It's a good deal more genteel than Marseille. There will be nothing particularly decorous about the Boks' tactics on Sunday, although the presence of Manie Libbok at stand-off has smoothed off a few of the rough edges. The Stormers player is a more creative 10 than the absent Handre Pollard but South Africa are still expected to try to pummel Scotland up front.
"You know they are going to try to come through the front door so physically we have to be on the money," said Steve Tandy, the Scotland defence coach. "We believe in our physicality and in the way we want to go about imposing that physicality whether it is at the breakdown or the tackle contest. Their game has gone to another level when you look at their transition play, the threat of their back three and Libbok's kicking game – his little dinks and things like that – so we have to be on the money in that transitional phase. But, first and foremost, you have to pitch up against South Africa otherwise you are going to spend a lot of time on the back foot."
A good start is vital and Scotland can take encouragement from doing that in the recent warm-up game with France in Saint-Etienne. Unfortunately, they dropped out of the match either side of half-time before staging a rip-roaring comeback, eventually losing 30-27. It was the performance, if not the result, that the Scotland coaching staff were looking for and if they can eradicate the bad spells they might just have a chance in Marseille.
"We are all searching for the 80-minute performance and hopefully we get close to that on Sunday, but I don't think that's the game – there are ebbs and flows in every game," said Tandy. "We have been down on the scoreboard at times, but then you look at other games in the Six Nations when we've been up and protected a lead, so the good thing about our group is that we've been through a lot of different situations so have that experience of doing different things. So, if we are behind then I think we'll have the confidence to believe we can come back, but then you look at the England game when we scored some amazing tries, then had that period when they were pounding our line and we held out. I know this will ramp up a few levels on Sunday, but we believe in what we've done. We respect what South Africa have done, but it is also about making sure that we know who we are and I believe we do."
This is Scotland's tenth time at the Rugby World Cup and their best performance remains the semi-final appearance of 1991. Jeffrey was part of that but played down the achievement this week, claiming that they had an easy draw and semis was the least they expected on home turf. There have been another six quarter-final appearances and two group stage exits but it's important to note that Scotland have only won twice against Tier 1 nations in the competition's history. Ireland were defeated in 1991 and Italy in 2007, both in the group stage. On Sunday, in one of Europe's great sports arenas, they will seek to claim their biggest ever World Cup scalp. They will try to play the game at tempo, getting quick ruck ball for Finn Russell to work his magic. Eight of the South Africa starting XV are over 30 and seven of them play in Japan, which is not quite a rugby retirement home but the short seasons do appeal to older players. Can they handle Scotland's pace? They won't win with speed alone and Tandy is confident they will match their opponents physically.
"I have no concerns on that front," he said. "I see this group at work every day, I see them in the gym, I see them doing close quarters skills, I see them defensively, I see them at the breakdown and there is no doubts about this group."
Comments
 0 comments
Want to join the conversation? Please or to comment on this article.