Rugby World Cup: John Jeffrey backs 'best ever Scotland team' to qualify from group of death
John Jeffrey, a World Cup semi-finalist, has declared Gregor Townsend's side "the best ever Scotland team to take the field" and challenged them to prove it at this year's tournament which kicks off in France on Friday.
The Scots are basing themselves on the French Riviera and attended a formal welcome ceremony on Monday at the Masséna Musee on Nice's famous Promenade des Anglais. Jeffrey, now vice-president of World Rugby, was on stage to greet the squad and enthused about the entertaining way they play the game and how it has galvanised support behind the team. He believes Scotland can qualify from Pool B and reach the quarter-finals even though they will have to overcome Ireland and/or South Africa to do so, the sides ranked first and second in the world, in the so-called group of death. Scotland, ranked fifth, begin their campaign on Sunday against the Springboks in Marseille, then play Tonga in Nice on September 24, Romania in Lille on September 30 and Ireland in Paris on October 7. The top two from each pool qualify for the last eight.
Addressing the squad at the welcome ceremony, Jeffrey said: "Guys, you are ambassadors for our game and you are ambassadors for our country. What you've done over the last two years has been fantastic. You've embraced everything that is great about our heritage, about Scotland. The way you play your game is exciting, it's attractive and it's also successful. What you've done over the last 18 months, two years, you've taken the support to a different level. The country is behind you, former players are behind you, the likes of which I've never ever seen before. Not only do players and fans in Scotland support you, but fans round the world do. When you go to sevens tournaments, Fiji are always everybody's second favourite team. At fifteens, Scotland are now that, purely and simply because of the brand of rugby they play. So congratulations for what you've done on the pitch and off the pitch, you've set the benchmark."
Jeffrey, 64, was capped 40 times by Scotland and was a cornerstone of their 1990 Grand Slam team. A year later, he helped them reach the semi-finals of the World Cup which remains their best ever performance on the global stage. Despite this achievement, he rates the current team higher but has urged them to prove it in France.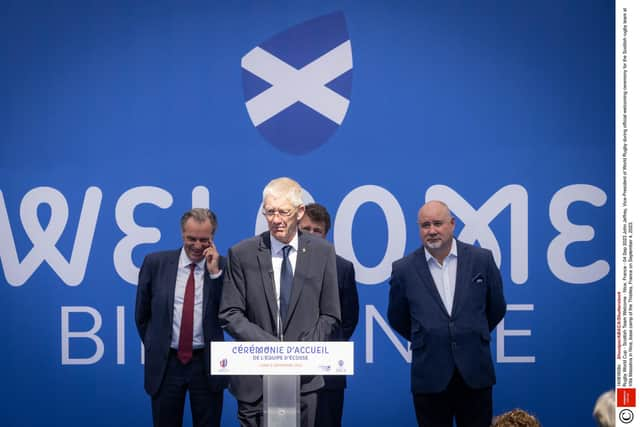 "I know, because I've been there myself and failed, and I've spoken to former players, and this is without doubt the best ever Scotland team to take the field," he said. "So all I would say to you is: you are always remembered in history by your records. Make sure, as the best ever rugby team to represent Scotland, you set the record books right over the next four weeks."
Scotland have not beaten South Africa since 2010, losing their last seven matches against the Boks who go into the World Cup as defending champions. They lifted the trophy in Japan in 2019 after losing their opening match to New Zealand and Jeffrey is adamant Townsend's side can spring a surprise in Marseille's Stade Velodrome on Sunday.
"Can Scotland qualify? Of course they can qualify, absolutely," he said after the ceremony. "If you want to ask me when do you want to play South Africa I would say first up. Okay, you are not going to catch them cold after what they did to the All Blacks but the jeopardy of playing them last is, one of us is in, one of us is out … Playing them first up we do get a second chance. South Africa lost their first game in Tokyo and went on and won it. So, we can beat them. It is a big ask but we have beaten them before. The question then is can we beat Ireland? Gregor always tells me he has this game plan to beat them and I believe him, I've got to believe him. Then who knows? Will it be a jeopardy game? Both teams could be qualified by then but don't tell the Springboks I said that!"
Jeffrey himself enjoys a rich World Cup history. He played in the inaugural tournament in 1987 in New Zealand and Australia, scoring four tries, including a hat-trick against Romania, as Scotland reached the quarter-finals. Four years later he was part of the side that beat Ireland, Japan, Zimbabwe and Western Samoa to reach the semi-finals only to be pipped 9-6 by England in a tense match at Murrayfield. Despite the achievement, Jeffrey believes it was a missed opportunity for one of the most talented Scotland squads.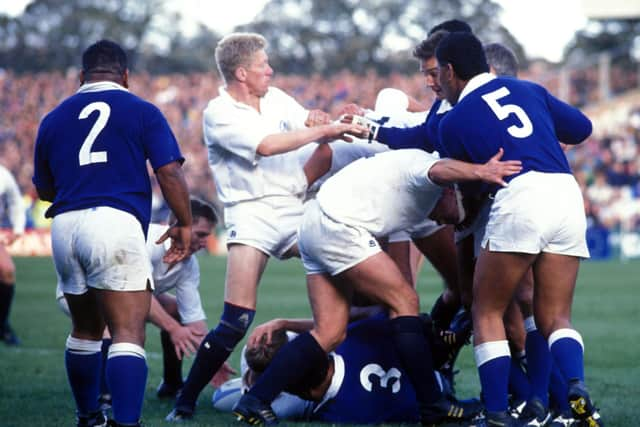 "Look at the draw we had," he said. "We all sat down and looked at the draw the night before the World Cup and we thought if we didn't get to the semi-finals it would have been a failure, and we did and we messed up. It was a regret. We did not play well at all that day and got off to a really bad start but we had such an easy draw. Compare that to the draw this team has got. It is not comparable. To qualify from this group they have to beat number one and number two in the world. Then they think, we might get a break, but they would play New Zealand or France in the quarters."
Comments
 0 comments
Want to join the conversation? Please or to comment on this article.