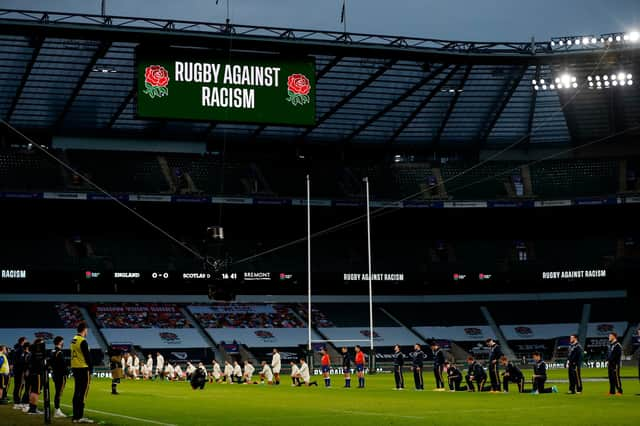 Some players stand and others take the knee ahead of the England v Scotland Six Nations match at Twickenham. Picture: Adrian Dennis/AFP via Getty Images
Scotland recorded their first away win over England since 1983 on Saturday but have faced a backlash after only four of their players took a knee during "a moment of reflection" before the game.
The Scottish Rugby Union insists it stands firmly behind the fight against racism and that it is down to individual players to decide how they show that support in future.
Six Nations Rugby, the body that runs the Championship, takes a similar stance and issued a statement which said: "Six Nations Rugby and its participating unions are united in fighting racism.
"Ahead of the Championship a decision was made that we would continue to mark this with players taking a moment of silence and an on-screen message ahead of the national anthems.
"In line with our approach during the Autumn Nations Cup, there was no request to take a knee.
"It is important that players are free to demonstrate their support for this important issue in the way they see fit.
"It is an entirely personal decision and we respect each player's right to make their choice."
As well as the four Scotland players – Ali Price, Jonny Gray, Chris Harris and Cameron Redpath – 11 members of the England squad took a knee before the match.
No players kneeled before the weekend's other Six Nations games – Italy v France and Wales v Ireland.
The "moment of reflection" at Twickenham was also to commemorate those who had died during the Coronavirus pandemic - including Capitain Sir Tom Moore - and former England international players who had passed away in recent weeks, including their ex-captain, John Pullin.
The SRU is planning to hold another "moment of reflection" when Scotland host Wales on Saturday, and head coach Gregor Townsend said it has been left "100 per cent" to his players to decide if they will make any further gesture.
He told BBC Radio Scotland: "We obviously stand against any racism and discrimination in our sport."
Taking a knee has become a global symbol in the fight against racism since American footballer Colin Kaepernick knelt during the US national anthem at the start of NFL games in protest at police brutality and racial inequality.
The gesture has been adopted by football and Formula 1 but international rugby appears reluctant to follow suit, leading to situations like the confused picture at Twickenham which attracted criticism.
Price, the Scotland scrum-half, felt compelled to take a knee before the Calcutta Cup but believes his team-mates who remained standing were equally respectful of the anti-racism message.
"It felt like the right thing to do," said Price of his gesture. "In any of the games I've played previously, it was never something that was there. In some games we've gone straight to kick-off, in some we've had a moment's silence for whatever reason. It was a decision I made.
"Everyone is individual. Everyone has their reasons as to whether they would or wouldn't. For me, it was just a moment of reflection. I took the knee, got back up, the anthems played and we got on with the game.
"If I had stayed standing and bowed my head and reflected then I would have had the same thought processes that I did when I took the knee. It was a decision I made."
Price thinks a discussion may take place about what should be done before the Wales game but stressed each player was free to choose
"There may well be a discussion but I feel again it's an individual's decision. We're all grown men."
Price cuts a thoughtful figure who doesn't shy away from the bigger issues. Player welfare is close to his heart and he is keen to stress the importance of openness, particularly when it comes to mental health.
"I feel we should speak as normal human beings," he said "I'm a normal guy, no different to anyone. My job is my job and I feel that if you have an opinion you should say it.
"Mental health is a massive thing nowadays. People bottle things up and don't speak out. If you've got a platform I feel it is good to spread positive messages. I think a lot more people are realising that.
"Just that generic 'let's talk about the game' is hiding a lot of what goes on behind the scenes - the stories of players who don't get selected and how they are battling injuries or have been out of the game for months. Who's looking after them? It's important to talk just as normal human beings.
"If a guy's contract runs out and suddenly he doesn't have a job, is this just forgotten about? No, he's still a human being, still around. I think it's important to be open."
Price's candour is refreshing and he was honest and open about the position he and his team-mates found themselves in at Twickenham.
"It's the first time I'd been in that kind of situation. Walking out on the field I didn't have in my head was going to happen.
"I knew we were applauding the loss of lives through Covid and for captain Tom. I then knew there was a moment of reflection to recognise and try to stamp out racism in sport. It was a moment in time and I decided to do it."
Message from the Editor:
Get a year of unlimited access to all The Scotsman's sport coverage without the need for a full subscription. Expert analysis of the biggest games, exclusive interviews, live blogs, transfer news and 70 per cent fewer ads on Scotsman.com - all for less than £1 a week. Subscribe to us today