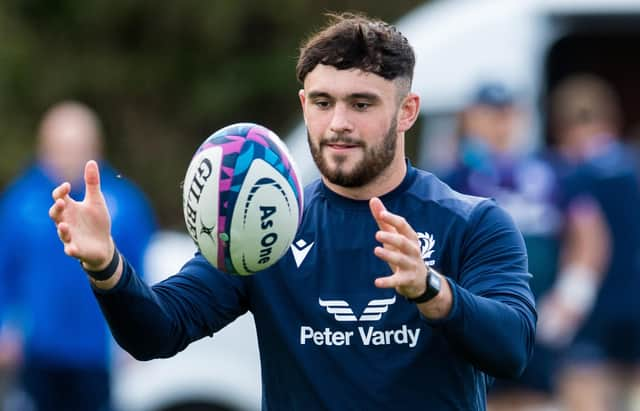 The club held an internal disciplinary hearing in the aftermath of the guilty plea and announced on Tuesday that the three-times capped Scotland winger had been dismissed. A statement said: "Glasgow Warriors has today… concluded McLean's actions and subsequent criminal record through his admission of guilt to charges under the Domestic Abuse (Scotland) Act constituted gross misconduct and breach of contract." McLean, 22, has the right to appeal.
Glasgow announced last week that the player had been suspended after admitting that he maltreated his girlfriend for almost two years. Prosecutors said he called her a "bitch and a slut" and sent her abusive text and social media messages. He also used a tracking system on her phone to follow her movements. She was left with a burst lip and black eye when he pushed her away. McLean pleaded guilty at a court hearing to abusive behaviour between April 2019 and January 2021. At a further court appearance last week, Sheriff Matthew Auchincloss deferred sentence until next month while a report is prepared on his suitability for the Caledonian Men's project, a domestic abuser programme.
His club said on Tuesday: "Glasgow Warriors fully acknowledges the seriousness of domestic abuse and recognises the impact it has on the mental and physical welfare of those affected by it. The club was already working with Police Scotland to support and promote its male education campaign 'Don't be that Guy' and further workshops are planned in the coming weeks."
Al Kellock, the Glasgow Warriors Managing Director, added: "Glasgow Warriors prides itself on being a family centred club and are proud to always represent our fans and our city. Rufus' admitted domestic abuse and his actions cannot be condoned which has resulted in his employment with Glasgow Warriors ending.
"We have taken this matter extremely seriously. Sadly, with any crime there is a victim and as a club we want to acknowledge the impact on the young woman involved. We are committed to ensuring our players continue to be positive role models and recognise the privileged positions they hold. We found the recent work with Police Scotland on male education to be hugely instructive and we are grateful for the opportunity to continue working with them in the near future."
Mark Dodson, the Scottish Rugby Chief Executive, said: "I fully support the approach taken by Glasgow Warriors in ending Rufus McLean's employment with the club. There is no place in today's society for any form of abuse and his actions have impacted not only his club and rugby in Scotland but more importantly the life of his former partner, which is both sad and regrettable. We will continue to take a strong stand against any behaviour which either breaks the law or brings our game and its values into disrepute. We are fortunate to have many role models across our sport who inspire others and have earned our wider respect. This is not a position we take for granted and are committed to ensuring our standards on and off the pitch remain to the highest level."