Rory Sutherland hopes Scotland recall can help find club as he opens up on 'tough' times after injury and Worcester collapse
Rory Sutherland is hoping his surprise recall to the Scotland starting XV for Sunday's must-win World Cup showdown with Tonga can help him in his "stressful" search for a new club.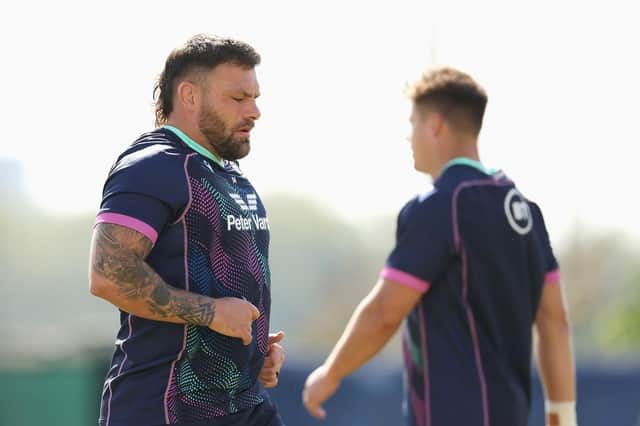 The 31-year-old prop is in the unusual position of being deemed strong enough to start for the fifth highest-ranked team in the world at the global showpiece event but unable, so far, to land himself a contract for the campaign ahead. After a short-term deal with Ulster last term was not extended, largely due to the impending arrival of South African loosehead Steven Kitshoff at the Belfast club after the World Cup, Sutherland is intent on using his second start for Scotland in 19 months to showcase himself to any potential suitors.
"It is a massive opportunity for me this week," he said after being selected in place of Edinburgh's Pierre Schoeman, who drops to the bench on Sunday. "It is high stakes for me at the minute, but it's about coping with that pressure day to day, and making sure I channel it into the right things, which means putting out a good performance this weekend."
Asked if his uncertainty at club level was stressful, Sutherland said: "Absolutely. There is always a bit of pressure around that but like everything else – other adversities I've overcome during my career – you have to learn to park it, put it to the back of your mind, take things day by day, week by week, and focus on what is important in the here and now. For me, that's playing against Tonga this weekend."
Two years ago Sutherland was part of the British and Irish Lions squad after fighting back from a horrific groin injury that left him in a wheelchair, sidelined for 14 months, and facing the prospect of early retirement in his mid-20s. His career resurgence veered somewhat off course, however, when he left Edinburgh to join Worcester after the 2021 Lions tour, only for the English Premiership club to suffer financial implosion last autumn. This left him in limbo before he fixed himself up with a temporary move to Ulster that at least allowed him a platform to secure his World Cup place.
Sutherland is still irked by what happened at Worcester as it has caused his family, who had settled well in England, so much upheaval over the past year. "It's been tough personally," he said of the recent turbulence at club level. "It's been hard on my family, my wife and my kids. What happened at Worcester was a horrible shame and it was very hard for all the players.
"To leave Worcester and go to Ireland, leaving the wife and kids behind, was a very tough decision for me to make but it's worked out now. Those eight months were tough but I got the opportunity to go out there and play good rugby for a very good side and I really enjoyed it. I think that's helped me maintain my rugby and stay at this level. It's been a tough few months but we're through the other side and we're at the World Cup now so I'll try and leave that behind and look forward."
While Sutherland's CV stands up to scrutiny, he believes the availability of players in the game is currently outweighing demand. "Going back to Worcester and the likes of Wasps folding, it has flooded the market with players," he said when asked why he feels no club has signed him yet. "And me going to Ulster and then not being able to continue there (as the IRFU only allow one overseas player per position at each club) has not really helped.
"It also comes down to the salary cap because if people are not looking for a loosehead then they are not going to bring one in as an extra. We're really hopeful that we'll find a contract, but we'll just have to sit tight and wait and hopefully something comes along."
Getting the chance to play at a World Cup is going a long way to offsetting Sutherland's concerns about where his next pay cheque is coming from. It is something I have always wanted to do," he said. In 2015, when I first turned professional, (former Scotland head coach) Vern Cotter called me out for the latter stages of the World Cup and I warmed up as 24th or 25th man but I missed out there, so I'm really happy and grateful to be here."