Rory Lawson reveals Scotland's secret ingredient for beating South Africa: Bill McLaren's Hawick Balls
It is 2009 and a wacky entrepreneurial idea forms in the mind of Gregor Lawson, eldest son of former Scotland scrum-half Alan. With two friends he starts selling giant inflatable party costumes – sumo wrestlers, dinosaurs, zombies, mutant three-headed dogs and killer sharks halfway to gobbling up their wearers. The business is a big success.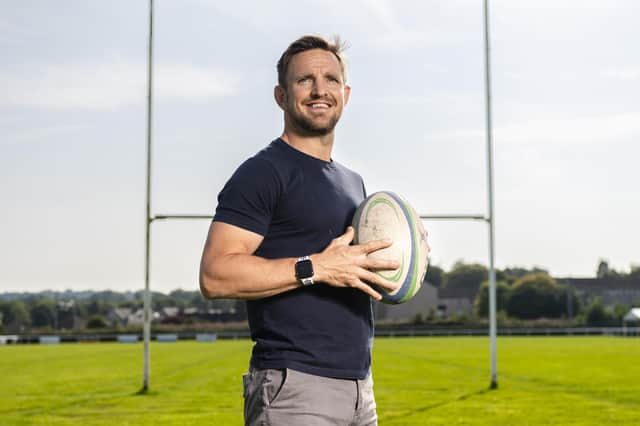 Flash forward a year and wee brother Rory is facing up to a bunch of guys who could well have rung up Gregor and requested: "We need the biggest and scariest outfits you've got. We have to look like absolute monsters. Can you do us 15 of them by Saturday?" But Rory – even though he knows these aren't Springboks impersonators bicycle-pumped to look more ferocious but the real thing – is a big success, too. And he remains the last Scot to captain us to victory over South Africa.
With Scotland striving for what would be just the third win of the post-apartheid era tomorrow, in the opening match of their Rugby World Cup quest in Marseille, it seems like a good idea to track down Lawson, 42, to find out how his team triumphed where so many have succumbed.
I find him at Falkirk RFC where he's promoting the National Lottery's grassroots funding of the game. For an example of the part played by some of the less glamorous clubs in the development of our rugby stars, look no further than Finn Russell. Still in his teens, our great hope in France played here in 2011, the year after the Springboks were downed.
We're in the clubhouse bar with photos of Russell on the walls. Outside, kids are gathering for practice on this sultry late summer evening and Lawson points out the name on the back of many shirts. "Everyone's a Finn fan," he says. But this guy also served. And he's got a good story.
Lawson, a No 9 like his dad and capped 31 times, is full of admiration for Russell's old club as a hub of the community and the "sense of belonging" it offers players and their families. Lotto money has already paid for a new shower block and a gym will be ready next month. He knows he was blessed in his development, coming from rugby royalty. Along with Dad, who's part of Murrayfield folklore for try-scoring heroics against England in the 1970s, his grandfather was Bill McLaren. And thanks to "Papa" Lawson was never short of kit.
He says: "Some of my great memories growing up were of days at Nana and Papa's house overlooking Wilton Lodge Park. Papa had the key to the padlock on the big hut and – this was before Health & Safety – the door would swing open and Gregor and I would be dodging our way past javelins, discuses, shots and, for rugby, tackle and ruck shields – fantastic gubbins for two small boys. We'd drag it all out and create assault courses and chuck balls around. Then we'd run down to the Dunk at the bend of the Teviot and skim stones.
"If it was international week Papa would eventually have to slope off to his study to swot for the game. The room was chaotic: rugby annuals, VHS videos right across one wall, multiple coloured pens, Post-Its and of course his player cards, one to 15. It's the centenary of Papa's birth next month and in commemoration Hawick Museum are reconstructing the study. Good luck to them. It'll be a challenge to do justice to that glorious midden!"
As Lawson explains Gregor's different path in life – his company is called MorphCostumes and the kid brother reckons outfits must number one thousand – we might wonder if the older boy didn't much care for rugby and, feeling the pressure from three generations, chose something as far removed from it as possible. "Well, Gregor played for Heriot's and Scotland Sevens. He loved the fun and the craic of the game but full-time training and squatting two-and-a-half times his own body weight wasn't for him. He was always quirky and imaginative and what he's doing now suits him fine.
"But while Papa had hung up the microphone before I made my Scotland debut he did commentate on a special game for Gregor and myself for Heriot's at West of Scotland for Rugby Special. My brother was full-back and there was an 8-9-15 move where I put him in for a try. Papa was just like when Dad scored those great tries against England. No dramatic acknowledgement, but the raising of the voice by a crucial micro-decibel."
McLaren died in 2010 but ten months after his passing would play a part in that South African triumph, of which more shortly. So was it always going to be rugby for Lawson? "I think so. My first memory of it was chasing a ball about the garden of the family home in Limekilns. If you asked Mum she'd say I was an absolute handful. There's a photo of me aged four with my leg in a stookie, having jumped off a wall which I knew was too high.
"Mum reckons she knew I was going to play from the age of seven, which amazes me because it seems so young, but apparently at mini-rugby I would always run straight to the biggest lad and chop him down.
"I was in the crowd at Murrayfield in 1990 [the Grand Slam decider]. A fantastic day, despite a pillar in the West Stand obscuring my view of Tony Stanger's try. And of course I was so proud of Dad, watching his great tries on the Bill's Best Bits video and getting to see him turn out for Heriot's at the end of his career. Rugby was a different game back then: you worked Monday to Friday as an accountant, stumped up for your Scotland match jersey and took unpaid leave to represent your country. There's nothing I love more than sitting with guys from the amateur era and listening to their stories."
Now a leadership coach and broadcaster, and married to India with two young sons, Lawson's dark blue debut came in 2006 against Australia at Murrayfield. "Papa had four debentured seats in section 17 of the West. I saw Mum and Dad right away – a hairs-on-the-back-of-the-neck moment and maybe the one time in your career when you're allowed to let your emotions go a little bit. All those away games with the school, all the trips to Stirling County – they'd been everywhere. Without that I wouldn't have a hope of being on the pitch that day."
He came off the bench with the game gone. "My heartbeat was thumping through my chest, my palms all sweaty. The first thing I had to do was defend a centre-field scrum. Either Stephen Larkham or Chris Latham would be coming down my channel. It was Latham. I went to hit him but it was like colliding with a Ducati motorbike travelling at 160mph. He kept going and scored. That was my initiation to international rugby – not exactly the start I wanted."
He would go on to play in two World Cups. France shared the one in 2007 and, having it all to themselves this time he's sure the tournament will "set the country alight". In 2011 in New Zealand, Lawson captaining, there was the agonising last-minute loss to Argentina. "Let's be honest," he says, "we did not have a vintage group back then."
Maybe not, but there was keen competition at scrum-half. Just as his dad arm-wrestled Dougie Morgan for the shirt, so Lawson had to vie with Mike Blair and Chris Cusiter. Did he keep voodoo effigies of his rivals, papier-mache likenesses moulded from old match programmes and perched on kicking tees? He laughs: "It was hard not to harbour some resentment when I wasn't selected to start, and I say that now having both these guys as great pals. I struggled when I felt I should have been picked but wasn't. I had a different skill set and took pride in it but in truth I probably wasn't the threat they were. That came from how we played at Gloucester with me moving the ball quickly to 10. Looking back I always did what was best for the team, sometimes at the expense of myself as an individual."
His last game for Scotland was the defeat to Tonga in 2012. He scrolls through his phone for a photo of him being upended and almost speared into the ground, an image summing up a gruesome result which did for head coach Andy Robinson. But before then there were still some good days, a couple of great ones, and also some poignancy, such as on the 2010 summer excursion to Argentina when McLaren was surely watching from the high stand as two grandsons, Lawson and Jim Thompson, teamed up together for Scotland. Thompson had been the cousin who became like a brother to Lawson after the death of his mother from cancer. "Janie died just before a game at Murrayfield. Papa intended to spend the day at her hospital bedside but she urged him to do the match. Jim came to live with us. He was 16, so coming into really informed years. My parents were brilliant with him – Janie would be so proud of how he and his brother Alex have turned out – and it was lovely that we were able to tour together."
Five months after that came the South Africa win, although five weeks before it, Lawson having broken a hand, his involvement seemed unlikely, never mind that result. "Robbo [Andy Robinson] wanted me to captain the side against New Zealand the week before but trying to hit Parksy [stand-off Dan Parks] with passes at training there was no chance, my grip was so bad." A good game to miss, as it turned out, with the All Blacks running in seven tries in a record mauling.
"The next week I was still throwing absolute spuds at Parksy. Robbo asked again and by the Wednesday I thought, okay, let's give it a go." On a grotty, sodden afternoon, Scotland lined up: Hugo Southwell, Nikki Walker, Joe Ansbro, Graeme Morrison, Sean Lamont, Parks, Our Man, Allan Jacobsen, Ross Ford, Euan Murray, Richie Gray, Scott Macleod, Nathan Hines, John Barclay and Kelly Brown.
"A big memory is the tunnel beforehand, and the thud-thud-thud of the Springboks' aluminium studs on the concrete walkway. Then we joined them there and as both teams waited on the cue I dared to glance to my left. There was Victor Matfield, Tendai Mtawarira – the Beast – Bismarck du Plessis, Jannie du Plessis, Ryan Kankowski. I immediately thought of Papa's great one-liners, from another South Africa game: ' … And there's Vleis Visagie, born when meat was cheap … ' These guys were just enormous human beings. And they were the reigning world champions."
As the Springboks will be again tomorrow, so can we win? "We can," Lawson states firmly, "although we must get out of the blocks. Last time in Japan we were 19-0 down [first game vs Ireland] after 20 minutes so we mustn't start a World Cup like that again. The first scrum will say a lot. A penalty to South Africa and you might think 'Uh-oh' so let's hope for a good fight and parity. Every lineout must stick and the first-phase strike moves need to be bang-on, but Gregor [Townsend, head coach] and Finn will have tricks up their sleeves to expose the Springboks' defence."
Still bothered by his injury in the warm-up, Lawson admits to not remembering much about the game in 2010 other than Parks kicked like a dream, scoring all Scotland points from the boot in a 21-17 victory. The build-up, though, is imprinted in the mind: "Papa had died at the start of the year so on the Thursday, the team's day off, I was always going to go down to Hawick and put flowers on his headstone. Mum and Dad were having lunch with Nana in the High Street and I joined them for a bowl of soup. They could tell I was anxious about the game – my debut as captain on top of it being my first start at Murrayfield – and about what I was going to say to the players after that hammering from the All Blacks. So they sent me across the road to the sweet shop for some of Papa's Hawick Balls!
"In the team room at our hotel there were plenty of guys more experienced than me. I guess I was showing vulnerability, admitting I wasn't best-placed to tell them how to beat South Africa, but there were some who wouldn't have known about Papa's favourite sweets and how, with special access to training, he'd offer them to players down they years: 'They'll give you an extra yard, you know.'
"I had two jars in front of me. Whether my team took them or not I said we all needed to find the extra yard – in the defensive line, the kick-chase and reaching the ruck before the opponent to get the jackal. The Springboks wouldn't be expecting a battle but we could shock them. If we all individually fought for that yard in our contacts with mighty men then we would win by a collective inch over 80 minutes."
And for Lawson the after-match is vivid, too, though he doesn't quite know how. "The party lasted long into the night. Big Jim Hamilton poured sambuca down my throat and then lit a match. My parents saw this happen and Jim's lucky that Mum didn't catch him. She got very protective of her son, who'd just been turned into a fire-breathing dragon!"
Comments
 0 comments
Want to join the conversation? Please or to comment on this article.