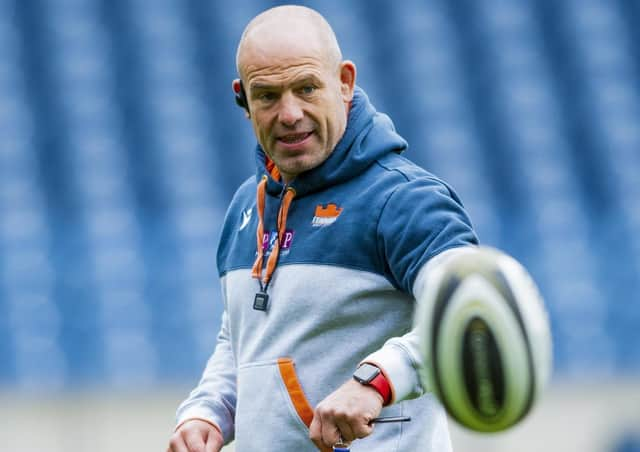 Edinburgh coach Richard Cockerill has described as "sensible" the agreement between the SRU and the Rugby Players Scotland union to settle on wage cuts due to the coronavirus crisis.
Players from Edinburgh, Glasgow, Scotland Sevens, Scotland Women and the academy have agreed reductions as the governing body anticipates a 2020 shortfall of £18 million.
"We all understand that times are a little bit difficult for obvious reasons," said Cockerill.
"We've got no income so we can't continue at the same levels of outgoings.
"The players and the players unions have been pretty sensible along with all the staff at the unions to make it work.
"I'm just happy it's done and we can get on with playing rugby.
"I tried to keep out of it as much as possible as it's really a player-union thing. But everybody appreciates everybody has had to make sacrifices."
Cockerill, who himself has agreed a new two-year contract extension to 2023 is confident the issue will have no bearing on his players as they prepare for Saturday night's Guinness Pro14 semi-final against Ulster at BT Murrayfield.
The coach has a full squad to pick from, the Scotland trio of lock Ben Toolis, above, scrum-half Henry Pyrgos and back-rower Jamie Ritchie all back from injury and in the mix. "We've got to pick our best players, and Ben is fit to play, Grant Gilchrist is fit to play, Jamie Ritchie trained today and is available for selection. We're hoping Henry Pyrgos will be fit, and he'll be important to us if he's available," said Cockerill.
"There's a little bit of risk and reward there, but everyone's pretty much in the same boat, no-one's played enough minutes. There is the odd player – Jamie Ritchie and Ben Toolis for example – who haven't played a minute at this stage, but needs must in the second row for example. Ben being involved and potentially coming off the bench to help us will be 
valuable."
Cockerill is sure his players are ready to rise to the occasion and shake off their record in knockout games. "I think we're ready," he said. "The boys want to show how good they are and how much they have improved. We have a lot of Test players who will start for Scotland in the autumn and the Six Nations and expect those guys to be able to perform and make sure they are ready to play in these games.
"All our guys want to play for Edinburgh. We finally have a club where the club team is more important than the national team in the first instance. If you do well for us you can go and play for the national side because you deserve to. This is part and parcel of it. We want to try to win the Pro 14 because we have the opportunity to do so. Whether we are good enough we'll find out in the next couple of weeks."