Richard Cockerill has dragged Edinburgh out of their long malaise
Capital side are worthy league leaders and it's down to their coach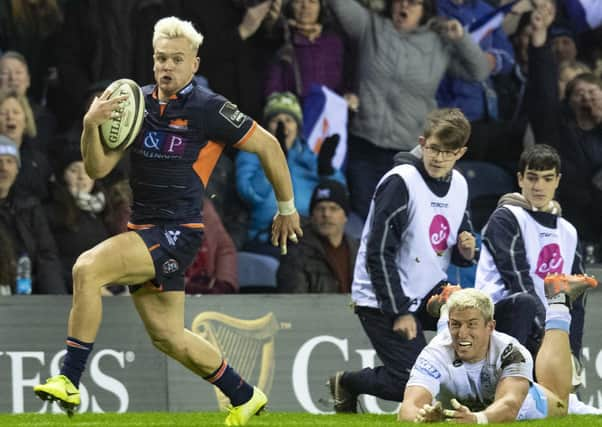 And it all seemed to be going so well. A thought many of us have probably had in recent weeks as the cloud of the coronavirus crisis circled then plunged us all into uncertain darkness.
Sound the cliche klaxon but "in these uncertain times" the plight of Edinburgh Rugby is not a pressing concern, but the team's strong achievements this year deserve recognition. Building on the fine work of their estimable head coach Richard Cockerill, the capital pro team have broken their long malaise.
Aside from that remarkable year of 2012, when Michael Bradley improbably steered a squad slumbering in the then Pro12 to the brink of the Heineken Cup final (the 22-19 semi-final loss to Ulster in Dublin was the fly in the ointment), it has been a tough decade and more for Edinburgh.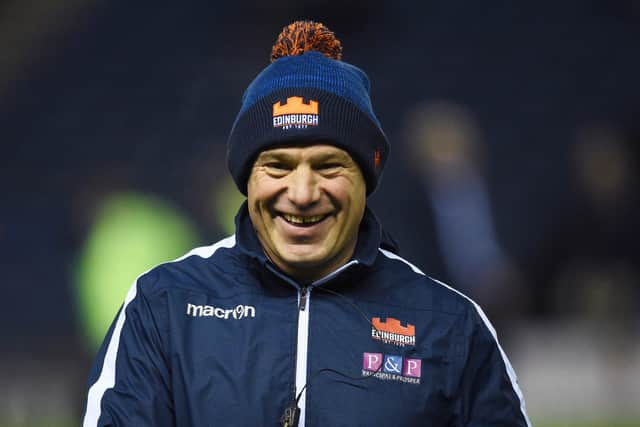 Cockerill has changed the weather. Well not quite, he's not that powerful. The no-nonsense former Leicester and England hooker has been a breath of fresh air, though.
We journalists love and (slightly) fear him in equal measure. A question can receive an open, gold-spun answer you never dreamed of. Picture scenes from the old movies of raincoat-wearing, trilby-hatted hacks rushing and knocking over the rank of public telephones and put it in a modern setting.
A question could also get a (probably deserved) slap down from Cockerill. Straight up and honest, and always shaking hands – back when that was a thing – with all in the room before a press conference, long may he continue in the shaky world of Scottish rugby journalism.
Contracted until 2021 and currently taking a 25 per cent pay deferral, Cockerill would rather the focus was on the efforts of his players than himself over the course of a promising season which now looks almost certain to be wiped.
In the way rugby works, a World Cup had to be handled at the start of the season, meaning a reserve squad stepping up to the plate for Edinburgh while their international players were in Japan. In previous years that would have spelt doom, but Cockerill has looked to develop depth and it paid off.
Away wins at Cardiff and Munster were stand-outs. There was a mishap away to Benetton in northern Italy but the table doesn't lie and Edinburgh are top of it.
The highlight of the season has to be the 1872 Cup-levelling 29-19 win over Glasgow Warriors three days after Christmas, with Darcy Graham stealing the show with two tries, the second a thrilling dash down the line.
In Graham, still just 22, Edinburgh have a diamond. By his own admission he had a poor World Cup but, with a bit more polish, he will sparkle. He may not be a giant in modern terms but if there's anything we've learned from watching Scottish rugby down the years, it's always bank on the Borderer. From 7ft to 5ft, they know how to play rugby. It's in the DNA.
The rich South African flavour which has enriched Edinburgh down the years continues with loosehead Pierre Schoeman becoming an instant cult hero and hoping to represent Scotland at the next World Cup in France in 2023.He must wait, and so too likely will Duhan van der Merwe, the stand-out in Edinburgh rugbyland right now. The powerful and lightning quick wing was champing at the bit to be included in this summer's tour to face the country of his birth, in two Tests, and New Zealand, in one, but the global pandemic looks to have scuppered that.
Another 22-year-old, scrum-half Charlie Shiel, is a talent to watch out for when normality resumes. The son of former Scotland centre Graham, he is currently grieving the sad passing of his grandfather, the former Scotland captain and Lion Dougie Morgan.
The Scottish rugby family will be sending their best thoughts to him and looking forward to seeing him back at scrum-half, scoring tries like he did in the closing stages of the bizarre 61-13 win over Southern Kings on 4 January.
Edinburgh were sloppy in the early part of that match, and the South Africans went down to 12 men at one stage. But the job got done emphatically in the end.
Similarly, when a home draw with French hot shots Bordeaux-Begles is deemed "disappointing" you know there is something good about to happen. Edinburgh lost away in France and were due to return there for the quarter-finals of the Challenge Cup.
A new, long-awaited bespoke 7,000-seater stadium on the Murrayfield pitches is progressing but the development is currently in lockdown. But this will pass and Edinburgh will soon have a place to call home. Termed by the SRU as "The Eden Project" it had to overcome initial planning difficulties. But build it, as and when permitted, and they will come. The future's bright. Volcanic orange bright.