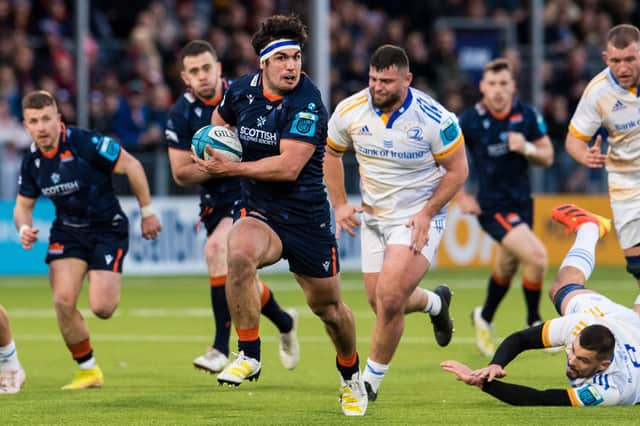 For all their poor recent form in the league, Edinburgh remain a team who are capable of significant achievement, and boast a squad which, from Pierre Schoeman at loosehead to Emiliano Boffelli at full-back, is bursting with quality. So they know they can win at Welford Road. But they also know that, to do so, they will have to play at their best and shrug off the self-doubt that was evident at Connacht last Saturday in the defeat which finally put paid to their URC play-off hopes. Stuart McInally, for one, is confident that they can do so. The hooker believes the team will be buoyed by the return of the quartet of internationals who were rested for the trip to Galway - Schoeman, Jamie Ritchie, Hamish Watson and Duhan van der Merwe. And, with the league no longer a live issue, he is sure the team will be able to focus with real urgency on the task in hand.
"You don't lose quality overnight," McInally said. "We've got a real boost this week with all the internationals coming back - we had some back last week, we've got everyone back this week. "And it's our season now. This is our season. We're going down there, throw everything at them, and then we'll see what we get. We've got a good group of players, a good group of coaches here. We've been on the wrong side of a lot of results this year. A lot of the results that last year we'd won by four or five points, this year we've lost by four or five points. And it's for us as a group of players and coaches to try and make sure those results start to turn in our favour."
McInally does not pretend to have any simple explanation for the loss of form which has seen his side slide slowly down the URC table. But he is convinced that the remedy lies largely within the players' grasp.
"It's a hard one to answer," he conceded. "At the weekend, we went there with a really strong team and we were really disappointed with the result. I was really flat over the weekend, really disappointed, because we put pressure on ourselves to deliver and we didn't. So much of that was self-inflicted. We looked at all the stats on Monday, and the majority of the stats we saw, it's a winning result by a good margin. But then we see the stats about turnovers conceded. They played very well in the first half and took all their chances; we didn't take all of ours. And away from home, [conceding] 40 points, it wasn't good enough. So we've got a lot of things to address in defence. It's so exciting going down to Leicester. We're taking a step out of the league now and getting back into Europe, and we're looking forward to taking on the English champions."