Ollie Smith opens up on 'stupid, brain fart' Johnny Sexton trip that caused Scotland v Ireland ruckus at World Cup
Glasgow Warriors and Scotland full-back reflects on Rugby World Cup highs and lows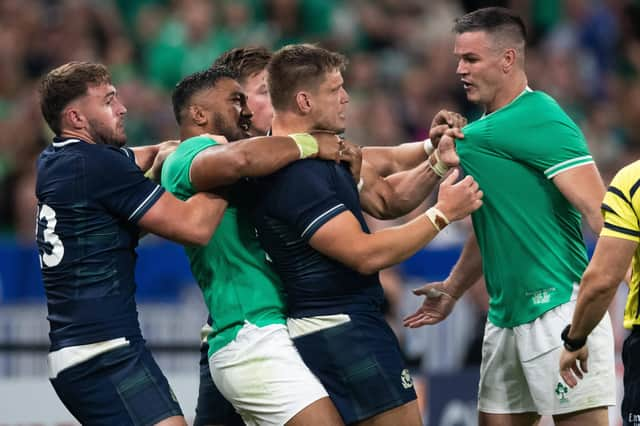 Ollie Smith describes it as his "brain fart moment".
Scotland were already 26-0 down in the World Cup showdown with Ireland when things kicked off. The whistle had gone as Johnny Sexton knocked the ball past Smith who flicked out a boot to try to trip the Irish totem. Cue mayhem.
Everyone seemed to get involved, with George Turner rushing to Smith's defence as Sexton squared up to him. Bodies hit the deck and off to the left Scotland prop Pierre Schoeman and Ireland hooker Dan Sheehan became embroiled in their own private battle which saw the pair tumbling over an advertising hoarding, limbs entwined. It lent a slapstick air to proceedings but referee Nic Berry was less than impressed and sent Smith to the sin-bin. The Scotland full-back is suitably sheepish as recounts the incident.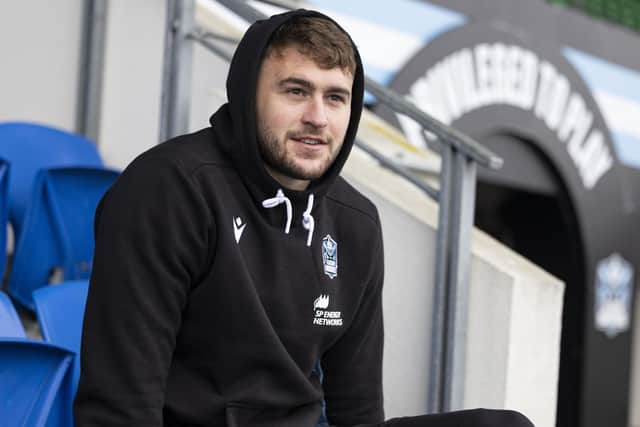 "It was a bit of a brain fart moment from me," he said. "I didn't even think it was going to be a yellow card if I'm honest. It did kind of kick off a bit. I didn't really expect it to kick off that much. As I was walking away, I just felt someone come behind me and go into Johnny Sexton. I was like: 'Oh, alright, we're in this now'. It was handbags, really. Then you see Schoeman and one of the Ireland boys go flying over an advertising board. The boys got pretty pumped up. I apologised to Sexton and the ref. It was a stupid playground move from me. But it is what it is."
It was a frustrating evening in Paris for everyone connected with Scotland and things would get worse after Smith's yellow card. Sheehan scored Ireland's fifth try almost immediately, before Garry Ringrose added a sixth to move Ireland 36-0 ahead. Scottish tries from Ewan Ashman and Ali Price stopped it from being a record defeat but Gregor Townsend's side ended up on the wrong end of a 36-14 scoreline.
It seems a long time ago now and Smith is back at the day job, helping Glasgow Warriors to wins over the Stormers and Ospreys to give them a share of the lead at the top of the United Rugby Championship. "It's nice to be back into a routine," said the full-back ahead of this weekend's home clash with Benetton Treviso. "It was a long summer. I missed a lot of the boys, so it's nice to see some familiar faces again."
The World Cup didn't go the way Scotland wished but the tournament was a formative experience for Smith who, at 23, was the youngest member of the squad. Stuart Hogg's sudden retiral before the tournament created a vacancy at full-back and Blair Kinghorn and Smith had to step up quickly. The Glasgow man ended up playing in three of Scotland's four matches in France. It was more game-time than he expected and gave him the taste for more. "I loved the experience overall," he said. "It's a weird one because you spend so much time in pre-season getting ready for the World Cup. You then go away for a couple of months, so it's only now that you really have a chance to reflect on the whole experience.
"It was a good experience for me. I was maybe involved in more games than I thought I would be going into the tournament. I was involved in all four warm-up games, then only missed the Tonga games in terms of the tournament itself. So I played quite a fair bit. It's nice to have that trust and respect from the coaches to pick you against teams like South Africa and Ireland. It gives you confidence when they back you to go up against some of the best teams in the world.
"It's tough because when you lose a game, you obviously start looking at things you did wrong. But, in that Ireland game, I think we were beaten by a better team on the night, unfortunately. We weren't good enough as a team. They fully deserved to win. We knew there were areas where we could have done better. When you then come back to Glasgow, it does kind of help in a way to have something else to focus on, rather than being too disheartened."
One familiar face departed Scotstoun last week, Ali Price joining Edinburgh on loan for the remainder of the season. Smith doesn't blame the Scotland scrum-half for moving to Glasgow's main rivals in the search for regular rugby, particularly when Price and his partner Annie are expecting their first child. "It's the right move for him," said Smith. "He's got to think of himself. He's got a baby on the way and he wants to be playing his best rugby. I don't blame him for making the decision. I think he will do well for Edinburgh. With all his experience with Scotland and going on a Lions tour, he'll do well."
Price will return to Scotstoun in Edinburgh colours for the first leg of the 1872 Cup on December 22 and Smith admitted it would be strange to play against his former team-mate in an age-old fixture which has a special edge.
"It's a strange one," Smith said of the inter-city clash. "We do obviously spend so much time together with Scotland. I probably never appreciated it until the game at Murrayfield last season. You're obviously mates, but you do give each other a bit of chat to try and get into each other's head. There is still that niggle about it and you want to win, but as soon as the game's over it's a case of shaking hands and back to being good mates. It's maybe just mental warfare more than anything.
"It'll be funny seeing him when we play Edinburgh. I saw the pictures of him in an Edinburgh kit and it did look a bit strange. Scotstoun can be quite hostile at the best of times. When Ali gets the ball or his name is announced, I'm sure you'll definitely hear the crowd!"
Comments
 0 comments
Want to join the conversation? Please or to comment on this article.