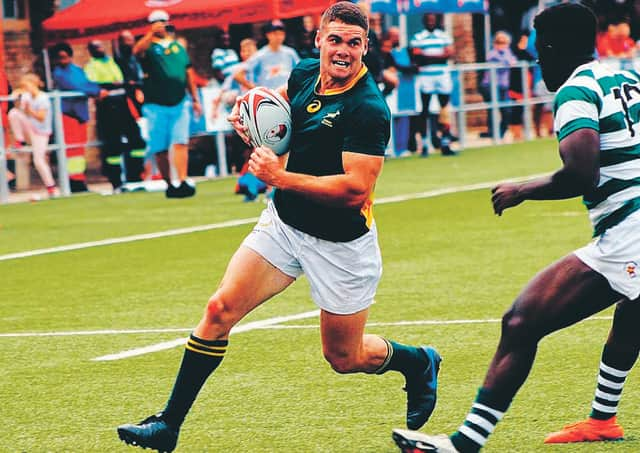 'I believe in a place called Hope." Remember that old line from a United States president? Not the current one obviously. In these "difficult times" we must stay strong and know that sport as we know and love it will get going again at some point.
We must also remember that life presents challenges, sometimes in the most awful manner, and new Edinburgh rugby recruit Jordan Venter, at the tender age of 18, knows that all too well.
As a 15-year-old, he was involved in a horrific car crash in South Africa after a holiday in Mozambique. He and his English-born mother survived but his stepfather and two stepbrothers sadly lost their lives.
Even in these bleakest of times it is a reminder that life is always a fragile thing, and Edinburgh coach Richard Cockerill believes the now 18-year-old centre can be an asset once rugby is up and running again.
"I was aware of his background, but also very aware of his capabilities as a player now and where he was at. Look, he's an 18-year-old lad who wants to play professional rugby, and we're going to give him an opportunity and see where he gets to," said Cockerill.
"The back story's the back story. It's an amazing story, really, which clearly has a bearing on how he approaches life and the opportunities he wants to take. So fair play to him."
Venter suffered a fractured skull, a cracked pelvis and a punctured lung and was in a coma. His mother suffered badly too but recovered.
An astonishingly nightmare ordeal to endure but Venter has bounced back, flourished in his rugby at the famed Stellenbosch factory of young South African talent and now could well be a young talent Scottish rugby fans can look forward to seeing once the game is back up and running.
"Matt Cornwell, who's our head of rugby operations, he puts together all the recruitment parts from an Edinburgh end," explained Cockerill. "He does a lot of research across all age groups across the world, and through seniors to juniors, and he had seen the lad play.
"Jordan has an English mother, so he has a British passport, so he can get into the country – a lot of these players cannot get into the country because they're not eligible to get in. And we watched his highlights playing from a schoolboy age group and we touched base. We had a conversation, we brought him and his dad over for a week.
"He's physically very well developed, and after reading his article [about the fatal road crash] you can obviously understand why. He's a young lad; he's very well thought of in the South African schools system. He's come to Edinburgh because he wants to play professional rugby and he wants to play for Edinburgh. We've given him the opportunity."
He follows in the footsteps of many South Africans who have represented Edinburgh, then Scotland down the years. With the new World Rugby residency rules now extended to five years, it means young centre Venter will have a triple option ahead of him. He is South African, of course, and he is English-qualified through his mother but also has the Scottish residency route.
"I don't know where that's going to end," admitted Cockerill. "In five years' time he can play for Scotland. In two years' time, if he kills it here, he can go and play for England or South Africa. At the moment he's still a young man, he's never played at this level, so we've no idea what he's going to be like at senior end.
"But we've got to explore these avenues around South African schoolboys or players from all over the world, because that's the nature of the business we're in. If he's better than young Scottish players, he'll get the opportunity. If Scottish lads are better than him and coming through the system – and we've got some very good ones coming through the system – they can play in front of him. It's about creating a deeper squad with the budget we have and create as much competition as we can."
Speaking from lockdown, Cockerill expressed understandable frustration that a season that had promised so much for Edinburgh – top of Guinness Pro14 Conference B
at the time of shutdown – looks to be over.
He is proud of his players' achievements, though.
" I think just we've kept our consistency. Our attacking game has improved and we're more fluent and more of an attacking threat – we've scored more tries and we're a lot more dangerous ball in hand. The way we've been playing is better to watch and we're winning more games, and also on the back of that our defence has actually got better.
"Normally when you open your attacking game, your defensive game becomes more vulnerable, but what seems to have happened with us is that the better we attack, the more we keep the ball. We've made it hard for teams to score against us. So our defensive game has improved on last season as well as our attacking game, so probably those two things have been the most pleasing."