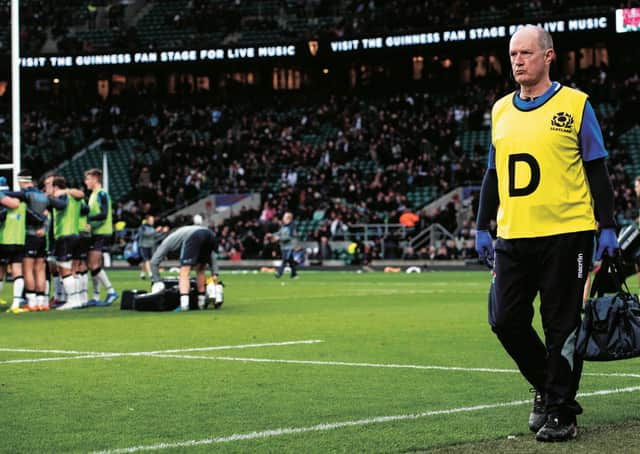 He may never have scored a try, kicked a goal or made a tackle but Dr James Robson MBE is one of the most respected men in Scottish rugby.
Who better at this time of health emergency to speak to the young rugby players across the land caught in this whirlpool of a situation than the man who has been chief medic for Scotland at six World Cups and for the British and Irish Lions on six tours.
Robson is most used to dealing with bruised limbs and, occasionally bashed heads, as he did famously with English centre Will Greenwood on that iconic South Africa tour in 1997 which immortalised the doc 
in the Living With The Lions documentary.
The good doctor was keen to speak at this moment, though, about the mental wellbeing of young rugby players, sportspeople, and anyone who at this difficult and confusing time is feeling out of kilter.
"We've looked very carefully at that because lockdown, as the government have flagged up, will lead to an increase in mental health issues and sportspeople are perhaps not more vulnerable because their usual routine has been quite significantly 
curtailed."
Robson added: "They're usually a gregarious bunch. I know [former Glasgow and Scotland centre] Graeme [Morrison] has spoken bravely about his issues in the past, so we're well versed in listening and as we've come into the lockdown we've made sure we've communicated very quickly and got stuff for the boys they can access.
"The government have quite rightly put money into increasing their service but we have our own service. In addition, each of the team doctors for the pro teams, myself and team doctors from the other groups like under-20s and women's team are all accessible to the players should they wish to contact us. "That's perfectly dealt with within the scheme and nobody would fault you for seeking a human voice and care, because we're all stumbling. Not just the players but the staff, we're all struggling with the change in our regime."
Dr Robson has pretty much seen it all, or thought he had, over the past three decades, but admits this new challenge has come as a shock.
"It's difficult to know where to start," he said. "We're in uncharted territory. I've never known a time like this, having been locked down, I've never felt so exposed and accessible. Work continues apace, I didn't realise there was so many ways of contacting people 
and I've had to learn to use new 
systems.
"There's an incredible amount of work going on behind the lockdown to cope with what we're given and planning for the future. I'm just a team doctor that's very keen on his sport and I know something about a few things, but I'm not an epidemiologist or immunologist, so a lot of this is new learning for me."
Dr Robson was open about what a return to rugby would look like, even in the most optimistic scenario, which at the moment seems unlikely.
"It would require a form of pre-season but it would depend on how long the lockdown goes on for," he explained.
"There is also an unintended consequence of the enforced lockdown in that it equals less stress on the players from my point of view.
"It's quite nice that players can enjoy a period of rest and recuperate just as long as they don't succumb to the virus.
"This season is the World Cup year, the top players have the Lions on the horizon [South Africa in summer 2021] and it will be quite a physical and mental tour. It will be good for them to maximise that rest in my opinion."
Asked how long it would take for elite performers to get back up to match peak, Robson said: "You would be taking around four weeks to be ready, perhaps five weeks, but, as the lockdown goes on, that may increase. Any typical pre-season evolves over six to eight weeks.
"It's very difficult to know at the moment just what you'd be required to do.
"As they began to work from home during the lockdown, initially the boys were working on individual programmes and you'll have seen some of them on social media.
"You will see just how ingenious they can be in keeping themselves fit and at the moment they are just ticking over. We are working on guidance from the World Health Organisation and the governing bodies and more locally our NHS as to when we may be able to restart.
"Once we know a restart date, then I'll be working with my strength and conditioning colleagues to come up with with a plan to get players ready to play rugby.
"It's not simply something you can just switch off and then switch on again."