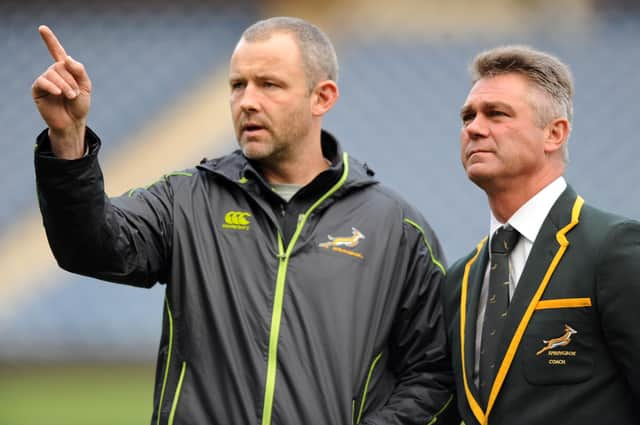 And just to confuse matters, he's called Richie Gray. This one is from Galashiels, not Rutherglen, and he's been around a bit longer than the Glasgow lock. Toulon's Richie Gray is a well-kent figure in Scottish rugby who has evolved into a renowned contact and collision expert whose services are sought across the globe. And not just in rugby. Gray combines his role at Toulon with working for the Miami Dolphins in the NFL. He knows what it's like to win the Challenge Cup having been part of the Lyon coaching team which steered the side to victory in last season's final in Marseille where their opponents just happened to be Toulon. Pierre Mignoni was in charge of Lyon then but he jumped ship to Toulon, his hometown team, and took Gray with him.
"It's funny, aye, myself and Pierre were with Lyon last year and it was the first time that Lyon had won a trophy since 1933, and it was against Toulon, and then for us to go to Toulon – but that's professional sport," said Gray who divides his time between the south of France, Miami and Galashiels. "I do all contact and collision 12 days a month, plus all the analysis. Who we are playing, how individuals are playing."
He's been impressed by Glasgow and is looking forward to reacquainting himself with Franco Smith who we worked with when both were with the Springboks. "They have done really well," said Gray. "They started slowly and Franco has done a phenomenal job. He is a good coach and they have very good players there. It is almost the Scottish national team."
Toulon aren't light when it comes to international players, either, with Cheslin Kolbe, Gabin Villiere, Dan Biggar, Baptiste Serin, Charles Ollivon and Sergio Parisse all picked. For Parisse, the great Italy No 8, who at 39 has signalled his intention to retire, it could be a final fling. "Great character. Phenomenal character," said Gray. "And you look at the try in the semi-final against Benetton that he set up for Duncan Paia'aua with a little chip through. He's got a lot of skills." Glasgow have been warned.