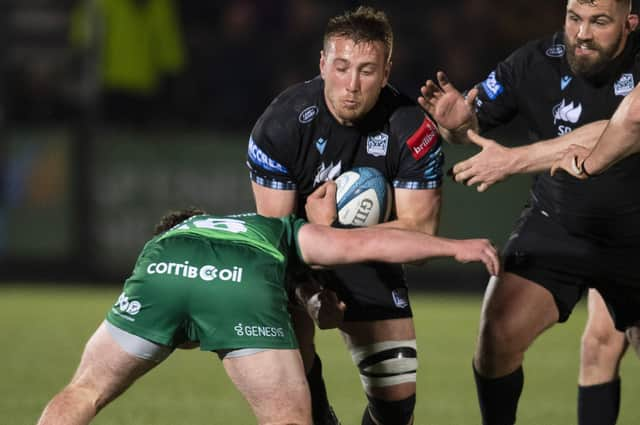 But Matt Fagerson has also put in a shift in the midfield, albeit in extreme circumstances. Having lost Jamie Dobie, Jones and Cole Forbes to injury during the game against Connacht last month, and with only two backs on the bench, Fagerson was pressed into service as an auxiliary centre for the final 25 minutes. It was a tough night for Glasgow but they hung on to win 29-27. Fagerson enjoyed the experience - he played a bit at centre at school - but the Scotland forward doesn't want to make a habit of it. Unfortunately, his coach's liking for a six-two split of forwards and backs on the bench means he may again be deployed in the 12 channel.
"We'd sort of prepped it a little bit during the week, and we know that with a six-two split if we do get injuries in the backs then we've got people who can slot in there," said Fagerson. "I think we were pretty calm when we came on: everyone knew what they were up to. Pete Horne [Glasgow's assistant coach] was coming on giving the messages. Yeah, I enjoyed it: whatever I can do for the team. It's good to know that we've got that cover."
Weighing in at over 17 stone, Fagerson is a bit bulkier than the average centre but he was able to draw on some youthful memories. "In my last year at school I played a lot at 12," he said. "I did a lot of the kicking as well. So I've got a little bit of experience there. Hopefully Franco doesn't start typing to pick me as a 12 usually, but I have had a couple of games there. Thankfully 12 is not too hard, When you get to 13 or on the wing you definitely have to make more decisions that are on the line. Thankfully I managed to slot in at 12. It's probably easier to defend there - I defend there off lineouts quite a bit. It wasn't too difficult and thankfully we'd prepped a little bit in the week."
Fagerson came off the bench again in Saturday's European Challenge Cup win over Scarlets but this time it was in his accustomed role in the back row, replacing Sione Vailanu as Glasgow booked their place in the final. They return to URC action this weekend, taking on Munster at home in the play-off quarter-finals as the quest for double success continues. Versatility - along with fitness - have been key planks in Smith's Glasgow manifesto since he arrived at Scotstoun in the summer. The coach is not averse to having backs in the lineout and joining the driving maul, a key weapon for the Warriors.
"He's massive on his fitness," added Fagerson. "He's drilled that into us from pre-season. We do a lot of skill stuff here as well with the tight forwards. He's happy with anyone playing on the ball. I wouldn't quite put one of the tight five in the backs, but I'm sure if it came down to it he wouldn't have a problem."