Luke Crosbie: Rugby is for everyone - it's important for me to keep in contact with Livingston
Luke Crosbie describes his younger self as "a big skinny drip" who stumbled into rugby almost by accident but the boy from Mid Calder is in line to make his Six Nations bow against England at Twickenham on Saturday.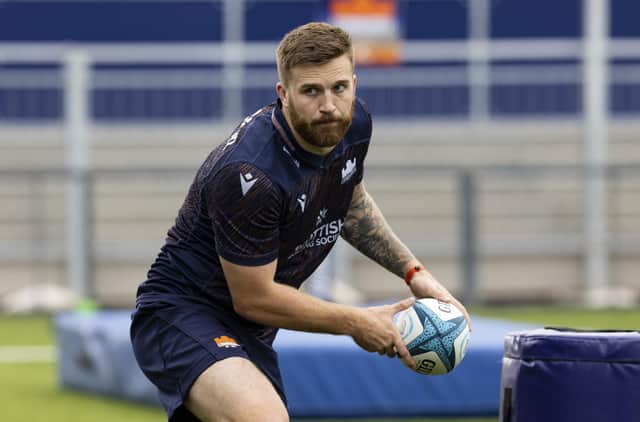 Crosbie, 25, has been outstanding for Edinburgh this season, no more so than last Sunday when his abrasive all-action attributes helped defeat Saracens in the Heineken Champions Cup. He's now playing at the pinnacle of the club game and looking to follow it up with a Calcutta Cup appearance. He calls it a "mad journey", his path from agricultural centre-half on the football field to international-class rugby player in the northern hemisphere's biggest tournament.
"I moved to Mid Calder where I played football but one day I was out for a walk with my dad and we stumbled across Livingston Rugby Club and there was a senior game on," he explains. "I didn't really know what it was and my dad didn't either. He used to watch the Scotland games but in terms of him growing up in North Lanarkshire and the Uddingston area, there wasn't much there. I saw it and said I wanted to give it a try because it looked fun. From there mum and dad were straight on the computer trying to find the number for Livingston and they phoned up to say I'm coming along to training and that was it! I think it was primary 5 that I started."
After learning the rudiments at Livingston he transferred to Currie as a teenager, progressing into the club's first XV. He was picked up by the Scottish Rugby Academy and then drafted into the national under-20 squad, playing in the 2017 World Rugby U20 Championships in Georgia, helping Scotland to a highest-ever finish of fifth. He now rubs shoulders with global superstars like Emiliano Boffelli and Finn Russell but hasn't forgotten where it all started.
"It's great when you go back to Currie and see how much it inspires the kids," he says. "I was at school at West Calder but they never had a rugby team so most of my development was at Currie. I started playing rugby at Livingston and sometimes it's difficult when you're younger and you've not got someone that has come through that pathway."
Crosbie is now that person, someone who proves you don't have to come through the private school system to make your mark in a sport which still struggles to penetrate across social strata."I would say that rugby is for everyone," adds Crosbie. "There are so many different characters of player and so many different positions. Everyone is welcome. It's important for me to keep in contact with Livingston to make sure they're still getting some exposure to rugby. The reality is there are a lot more rules than football so it's about getting people engaged, learning it and enjoying it."
Crosbie, who made his Scotland debut against Tonga in 2021 and won a second cap against Argentina last summer, doesn't shy away from the work it took to get him here. "I was just a big skinny drip," he laughs. "And then I got stuck into the gym when I came into the pro side. I just liked the physical stuff. I played football just because all the boys at school played and I was going into school with nothing to talk about. I didn't have a clue what was going on with rugby. But it felt like a sport more suited to me and something I could really enjoy. From there it spiralled and I chose rugby – not that I was any good at football! I was rubbish. I played centre half and used to just boot the ball. It could have gone anywhere, usually into the car park. So I just stuck at rugby and it's gone well so far."