The capital club head to Galway this weekend in desperate need of a win to lift their ailing United Rugby Championship campaign. Crosbie is likely to be in the squad after not being involved in Scotland's final three Six Nations games. It was tough luck on the forward who played well in the opening wins over England and Wales - particularly the former - as he got his first taste of the championship.
"Aye, a 100 per cent win record, so I'll take that," he smiled. "Growing up I couldn't think of a better game to play in than against England away, a packed-out stadium, getting a win and being involved and starting that game. The first two games were good. Obviously I was disappointed not to play the last three games when you've played well, but that's part of international sport."
He is reluctant to look too far ahead but Crosbie will be in Gregor Townsend's thoughts as the coach looks ahead to this autumn's Rugby World Cup in France. Back row is an area of strength for Scotland and Crosbie will concentrate on excelling again for his club as he seeks to help propel 12th-placed Edinburgh up the URC table.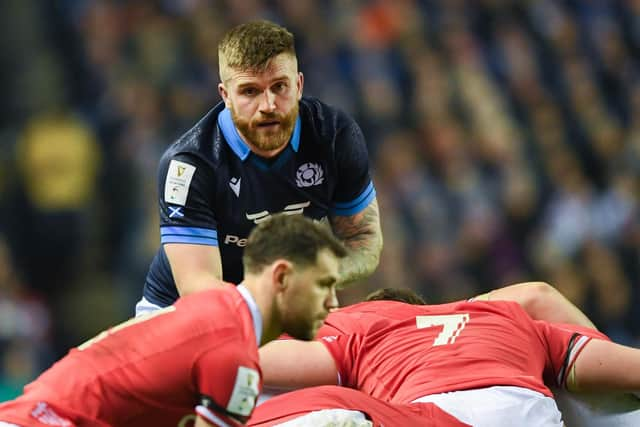 "Everyone wants to look ahead, but nothing is guaranteed," said the player. "In terms of my personal performance, I've come in in two big Tests and played well, so in terms of how I fitted into the team and performed in big-pressure games, I'm confident with that. And I'm sure it has stood me in good stead, but right now all my focus is on Edinburgh and making sure we finish the season strong. So I'm not even looking ahead to the game the week after this, it's just all focus on Connacht then on how we can maximise the results going forward until the end of the season.
"It's just good to come back to Edinburgh and fitting into training and being back with the boys. Every game going forward is a must-win for us: you could see that reflected in training - it's been intense, as it always is, but everyone knows what they need to do."
Steve Diamond has been parachuted in as 'lead rugby analyst' for Edinburgh and will assist head coach Mike Blair for the remainder of the season. Crosbie said the former Saracens, Sale and Worcester boss had made a good impression.
"Everyone's looking forward to working with him and excited for the future and just seeing how it goes. He came in and spoke to us at a meeting, but as I said it's big games for us going forward, which is the main focus. And it's just basically how we can get the most out of the team and the players we've got. Just small things going forward, but right now it's the same as always - just working hard in training and putting our best foot forward to get this win. That's the main focus this week."