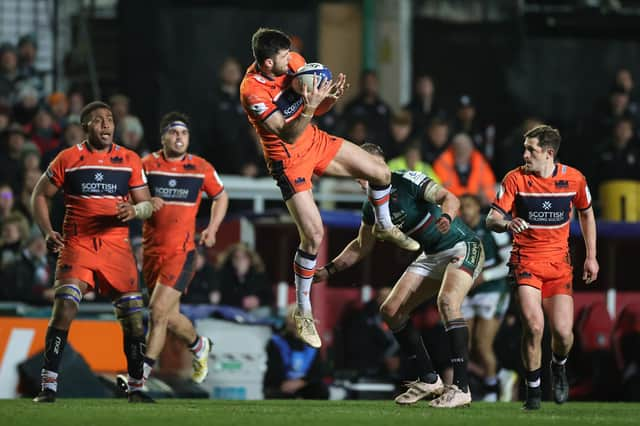 Second-half replacement Jasper Wiese scored the game's only try as the hosts won the last-16 tie 16-6 to effectively end Edinburgh's season and Blair's reign as head coach, with just two dead rubbers in the URC remaining. He is stepping down to concentrate on being an attack coach and it is uncertain as to whether that will be with the capital club or elsewhere. "I don't know at the moment," Blair said after the match when quizzed about his future. "We're disappointed it's come to this with the squad we've got but we're also aware that Leicester are a really good team, playing at home in front of 24,00.
"We lacked patience," he added on BT Sport. "We were right in the game and I think this kind of game is about who blinks first and we did. We just started pushing the extra pass a little bit. I thought the game was won and lost in and around the kick-cycle work. They put a lot of pressure in the air against us and we struggled to deal with that and they got a lot of turnover possession as well."
Freddie Steward, the Tigers full-back, launched high ball after high ball into the Edinburgh half and the visitors fumbled in the greasy conditions at times. "The conditions were tough," said Blair. "There were always going to be mistakes and our mistakes seemed to happen at crucial times. We're obviously disappointed with that. We thought we could come here with a really good chance of winning the game and I thought when we weathered the storm in the first half we came back into it and put pressure on Leicester and they were starting to look a little bit flustered. But unfortunately we gave them some points a little bit too easily."
Edinburgh trailed 3-0 at the interval and then edged ahead through two Emiliano Boffelli penalties but Wiese's superb try changed the complexion of the game and when Boffelli struck a post with his third penalty attempt, Leicester made them pay. Handre Pollard, their stand-off, had scored an early penalty in the first half and added two more after the Wiese try to give the home side a cushion. Edinburgh could not find a way back.
Richard Wigglesworth, the Leicester coach, rubbed salt in Edinburgh's wounds as he had a pop at the visitors' back row, and Scotland captain Jamie Ritchie in particular for failing to stop Wiese's try. Referring to his surprise decision not to start Wiese, Wigglesworth said "it might have fired him up a little bit".
"Apparently their back row were coming for him, so I might have whispered that in his ear pre-game," said the Tigers coach. "I think that was Jamie Ritchie he ran over the top of so he won't enjoy watching that back."
"I enjoyed it, it was a proper cup tie," Wigglesworth added. "I thought we were dominant in the second half and deserved the win."