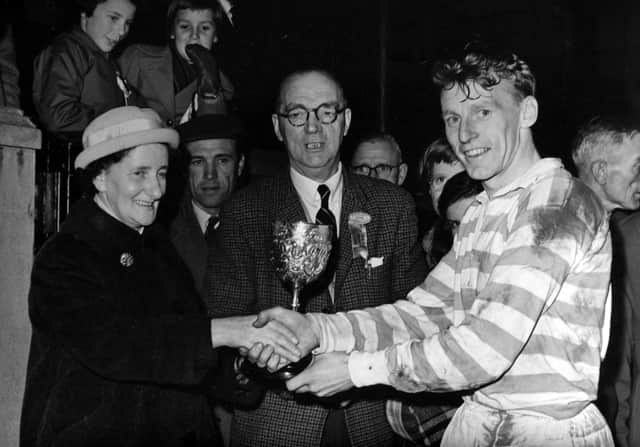 Capped 27 times by Scotland and five times by the British & Irish Lions, he was a special player whose talents were honed as a stand-off at George Heriot's School in Edinburgh. Those lucky enough to have seen him play speak of Scotland as a gifted and two-footed full-back who paved the way for the likes of Andy Irvine, Gavin Hastings and Stuart Hogg.
He was a hero for Scotland from his international debut, which came in a 6-0 win over France at Colombes in 1957 when he scored the points with a penalty and a drop goal. His name made him a headline writer's dream and he rarely let them down.
Scotland was, in fact, a double Scotland internationalist, capped by his country at both rugby and cricket, but his sporting career could have moved in a different direction.
"My father was a Hearts fan," he told the journalist Jeff Connor in his 2000 book Giants of Scottish Rugby. "But he was very enthusiastic about my choice of sport from day one. I started watching rugby during the war when they had wartime internationals at Inverleith, but the first big international I saw was at Murrayfield when Scotland played against New Zealand just after the war and from that day on I had this burning ambition to play for Scotland, to join these gladiators on the pitch."
He did just that, but his introduction to international rugby also marked his first competitive outing as a full-back, the position with which he was to become synonymous.
"I was doing my National Service with the Royal Signals at Catterick when I got a letter from the SRU to report to Hawick for the first Scotland trial, as reserve full-back, which was underlined," he told Aidan Smith in an interview with The Scotsman in 2017.
"I had been a stand-off all the way through school at Heriot's. But I had never played full-back. However, a trial was a trial and off I went. Anyway, when I got to Mansfield Park, I discovered that Mickey Grant, of Harlequins, who was nominally a stand-off but had been named at full-back, had called off, and I was in. I must have had a decent game because I kept my place, still in the minor team, for the final trial at Murrayfield."
Scotland impressed the selectors enough to be picked at full-back for his international bow in Paris and won the vast majority of his caps in this position. The Scotland squad visited the Folies Bergere on the Thursday night before the match and the famous cabaret was "an eye-opener" for the then 20-year-old debutant brought up in the shadow of Goldenacre in north Edinburgh.
Scotland embraced his move to full-back, establishing himself as first pick for the national side for seven successive seasons.
Given his late introduction to the position, it is perhaps not surprising that he approached it in a manner different to his predecessors. While traditionally the role of a full-back had been as the last line of defence, Scotland broke new ground by also joining back-line moves to create an extra man. He is also regarded as one of the first instep goalkickers, eschewing the more rudimentary toe-to-ball technique.
Such was his impact, that he was called up by the Lions for the 1959 tour of Australia and New Zealand. The tourists lost the series 3-1 to the All Blacks but Scotland was voted one of the Lions' five best players. "He floated like summer down through the New Zealand defence," reflected Kiwi writer Terry McLean.
As well as Heriot's, Scotland played with distinction for the Royal Signals, Cambridge University, London Scottish, Leicester and Aberdeenshire.
He is survived by his wife, Doreen.