John Barclay tweets support for Matt Scott after interview lamenting Edinburgh's decision to release him
Former Scotland captain hints on Twitter that treatment of Scotland centre went against rugby "values"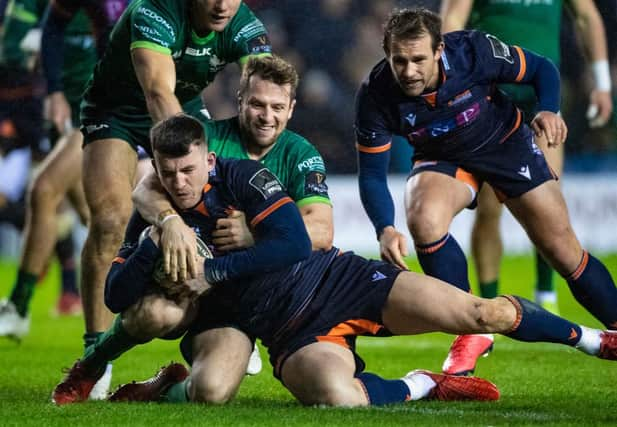 Former Scotland captain John Barclay appears to have backed up his former international and Edinburgh team-mate after the centre spoke at the weekend about not being offered a new contract with the capital club.
The 29-year-old, who has 39 caps, said in an interview that he was verbally offered a new three-year contract in November and claims to have returned within the deadline provided to accept only to be told it was never a firm offer and no longer existed.
Scott was one of the players who left Edinburgh as the Guinness Pro14 season was suspended due to the Covid-19 pandemic and has since signed for Leicester Tigers.
He spent five years with Edinburgh before returning after a two-year stint at Gloucester on a two-year deal which was blighted by injury.
"It wasn't like I'd been offered something and then threw it in the bin and was taking ages," Scott told the RugbyPass website.
"I came back within their deadline and said we'd take it. They said there wasn't an offer in the first place, the picture had changed and the pieces of the jigsaw just wouldn't fit with me in it. Financially, they couldn't afford to keep me on."
Yesterday, veteran back-rower Barclay, who has also released by Edinburgh said on Twitter: "Rugby clubs are eager to implore the values of the game; family, trust and respect top the list. Ultimately the game is a business. And players are the replaceable."
Scott added: "I was really perplexed; I didn't understand why it was happening. They said they thought I didn't want to stay. There was just a complete breakdown in communication.
"I just felt a bit let down because I'd been at the club for a long time and if they were getting the impression that I maybe didn't want to stay, or that the offer wasn't going to be on the table, I would have liked them to have said so. I felt like I hadn't done anything wrong.
"My wife was really looking forward to staying for another three years and we were looking to start a family. It was just gutting, to be honest."
Edinburgh Rugby refused to comment on the interview beyond referring to the remarks made by head coach Richard Cockerill when announcing squad departures at the end of April.
Back then, Cockerill said: "This period of the season is never easy for players – even more so in these unusual times – but all move on with our utmost respect for their hard work and commitment during their time at Edinburgh.
"These guys all leave having given their all to the club and that's all we can ever ask. It's been a pleasure to coach them and we thank them for their professionalism and attitude.
"We wish all our leavers the best of luck in their future ambitions."
Scott said he had been willing to take a pay cut to stay in Scotland. "I said to him [Cockerill, 'whatever money you have left in the budget, give me an offer. I'm happy to take a pay cut and stay'," he said.
"I'm leaving all my best mates at the club and after being told certain things like they're not looking at anyone else and then they sign two other centres [Jordan Venter and Matt Gordon]."
Scott is now looking to make the most of things when rugby resumes in the English midlands.
"The money that Leicester were able to offer initially wasn't good at all," he told RugbyPass. "But I didn't have anything, and I just was really taken by what they had to say about me and the club, how they have been underachieving but have recruited really well off the pitch with [former Springbok strength and conditioning coach] Aled Walters, Mike Ford, and Steve Borthwick, whose view I really liked.
"I just said, 'look, I want to make this work', and we managed to work out the finer details. When I told my wife, she started crying – 'Oh my god, we've actually got something!'
"I've come out of it okay, I've managed to get a contract with a baby on the way. I've been very lucky."
Comments
 0 comments
Want to join the conversation? Please or to comment on this article.