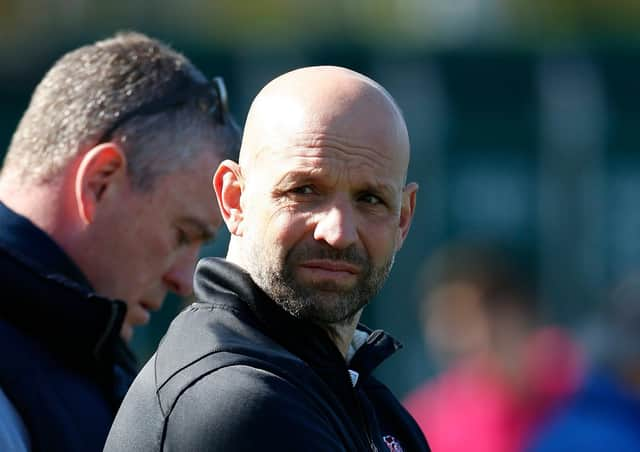 Jim Mallinder has effectively taken over from Scott Johnson at the SRU. Picture: Matthew Impey/Shutterstock
Jim Mallinder admits the current unsettling Covid-19 national emergency has brought a frustrating halt just months into his new job as Scottish Rugby's performance director but accepts it is necessary and sees a bright future when sport gets back on its feet.
The former Northampton Saints boss effectively took over as director of (elite) rugby at the union under a new title, replacing Scott Johnson when he returned to Australia last year.
"I came in in January and had a couple of months assessing the situation – really hoping to take my time to assess all aspects of the set-up – and then, with coronavirus coming in, it has stopped everything really," said the 54-year-old Englishman.
"We've had to address recent issues such as the furlough and pay cuts and things like that.
"I've got some ideas, and the academies are an area I've got a real interest in. We've got a good system in Scotland, but we can improve that."
Mallinder explained his remit: "It's looking after all the international teams and the pro teams. Also Sevens, the age groups, Super6, the Women's and it's looking after all those, really. Having an input into them, and making sure they're working efficiently."
Gregor Townsend, pictured, reports to Mallinder but the performance director insists he leaves the preparing of the national team completely down to the Scotland head coach. "I work closely with Gregor. I'm not on the field with him. That's up to him in terms of selection, his coaches and what they do day to day. I don't get involved with that," said Mallinder. "But I do get involved in talking and working with Gregor, on the coaches, who he wants in the national set-up coaching-wise, and we do talk. I challenge him and get feedback on the way the team are playing. I don't have any impact on the team. That's the coach's job and that's his decision to pick those 23, but I certainly speak to him about the way I see things and how the team are playing, and give him my opinion on individual players."
With rugby in shutdown, there has been a chance to look back on a Six Nations campaign which was starting to gather steam as wins over Italy and France followed narrow losses by Ireland and England before the final match in Wales was postponed.
"The team are making progress from what I've seen. Clearly, I wasn't involved in the World Cup, but, in the Six Nations, we were disappointed we didn't play that Wales game because, potentially, it was one we could have won," he said.
"But, if we went through it, the Ireland game I thought we played well. We attacked well.
"Defensively, we were clearly better throughout the tournament, and there's been some big improvements there, while, setpiece-wise, the scrum was a real bonus and that went on throughout the tournament."
A lot of credit for both those areas went down to new assistant coaches – Welshman Steve Tandy (defence) is contracted and scrum-specialist Pieter de Villiers, the former France prop, who was on a short-term deal but looks likely to be retained.
"Definitely, both those 
areas were real strengths of the team. I was delighted with both coaches – I knew Steve Tandy a little bit, not really come across Pieter de Villiers before but very, very impressed with him and his coaching ability.
"I think we saw the success of that translate on to the field.
"There was some really good areas and those are two coaches we really need to keep hold of. We'll be looking to do 
that."
When Danny Wilson moves on to become Glasgow head coach, it will leave a vacancy for Scotland forwards coach, and Mallinder said: "That is an area with Danny moving up to Glasgow, Gregor and I are in conversation about it at the moment.
"Clearly, there's no real immediate concern on that, but we're in dialogue with a few coaches and we'll be 
looking to bring in a new forwards coach in the near 
future.
"Ideally, we'd want that in before they next play. The summer tour's not going to go ahead now.
"We don't quite know the structure of the autumn internationals, but, hopefully, we will be playing some rugby then.
"It would be great to have the coaching team complete by then.
"Steve is already under a longer term contract and Pieter, we should, hopefully, have some good news coming out about that soon."