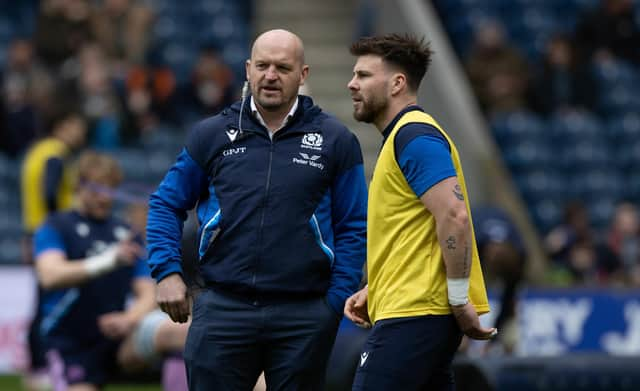 The 29-year-old scrum-half was a mainstay of Gregor Townsend's team until being dropped from the 23-man squad for the opening two Six Nations matches against England and Wales last month. After a positive response to what was a hammer blow for Price – with London Irish's Ben White seizing the number nine jersey throughout the championship – the Glasgow man was restored to the replacements' bench for the closing three matches against France, Ireland and Italy.
"I'm not going to give up, put it that way," he said, when asked about losing his place. "We all want to be starting, we all want to have a big impact within this team. It's been frustrating but I think personally, I've been pleased with how I've reacted and dealt with it. It's never easy but all I can do is work hard. I'd like to think my response to it has been positive. I'm doing all I can. But on the flip side, Ben has come in and had a brilliant tournament. He's played incredibly well and that's credit to him.
"If you've got depth and competition like that, it can only be good. We're all well aware that if you don't perform you'll be out the side because there are other guys playing well and pushing to play. It's frustrating but I believe I've responded positively and I'll take my opportunity if it comes again."
Price has also lost his status as first-choice scrum-half at Glasgow this season to George Horne, who was also involved in the Scotland squad for the Six Nations. Having won his 50th cap a year ago, Price was rocked when he found out he was not in the squad for Twickenham.
"It was incredibly disappointing not to be involved in the England game for the first time probably since I broke into the team," he said. "It hurt. But at the same time my performances probably hadn't been where I'd want them to be and I hadn't played as many minutes as I'd have wanted.
"I wasn't showing a true reflection of myself. Gregor spoke to me during the week building up to England and said he just wanted me to enjoy playing and get back to the best version of myself because when I'm that, I know I can compete for a starting spot.
"Personally I'm very happy with how I've responded to that because I could have been like 'I disagree, this is terrible' and all the rest of it, but you've got to recognise when you're not at your best and sort yourself out. I'd like to think I'm on the road to that."